It was on the eve of St Patrick's Day 2020, that the British Prime Minister Boris Johnson first announced new measures aimed at avoiding gatherings in crowded places, such as pubs, nightclubs and theatres.
The huge annual parade through London, which traditionally attracts up to 50,000 people, had already been cancelled due to Covid-19 health advice.
With few people yet familiar with the online world of Zoom, and with little time to organise any last-minute virtual events, the day was passed by many of the Irish in Britain and abroad, sitting at home for the first time.
"It was a very strange state of affairs. Basically everyone's plans were cancelled," says Ruairí Cullen, policy officer with Irish in Britain, a charity supporting a wide network of Irish organisations across Britain.
This year organisations working with the diaspora are more prepared, with enough online events and virtual concerts being held across the world to keep you entertained from dawn until dusk.
Celebrating the Irish in the UK
Close to 400,000 Irish-born people currently live in the UK, and all this month Irish in Britain has been running an online video series which celebrates the diversity of those people, from all 32 counties, called #countyconnections 'We are the Irish in Britain'.
Among them is chef and restaurateur Richard Corrigan, who despite living in London for over 30 years, explains in his video why he will always be a proud Meath man.
Before the pandemic, he says he would have travelled back to Ireland at least four times a year and says walking on the banks of the Boyne and hanging out for a pint in Trim, are some of his highlights that he is missing the most.
Our man for Meath is chef and restaurateur Richard Corrigan @CorrigansFood

Richard talks us through the delights of Meath and we hope he can get a pint in Trim before too long! ??#countyconnections #StPatricksDay #Meathhttps://t.co/CHQFQlLIl0 pic.twitter.com/uO6RXuQ8QZ

— Irish in Britain (@irishinbritain) March 16, 2021
Bridgeton and Derry Girls actor Jamie Beamish showcases his home county of Waterford with some pictures of the cliff walk along Dunmore East.
He says: "St Patrick's Day, you know, we've all had craic on Patrick's Day before and we will again. It's as simple as that… So, if this year's a bit quieter, so be it, it's all worth it in the end."
Comedian Alison Spittle says she can't wait to reconnect with her home county of Westmeath and with people who understand what the term "give out" means, whilst Lorraine Maher, founder and director of IAmIrish.org - a community that connects and advocates for Irish people with dual heritage or multi ethnicity, says there is nothing in the world like taking a stroll along the river in her home town of Carrick-on-Suir in County Tipperary.
Orla Hillary, a critical care nurse working in north London also took part in the series, representing just one of close to 13,000 Irish people who work in the NHS in the UK.
She is from Galway and hasn't been at home since Christmas 2019.
Working long shifts in a hospital during the pandemic has made this a difficult year for her, and she says she misses seeing her parents the most.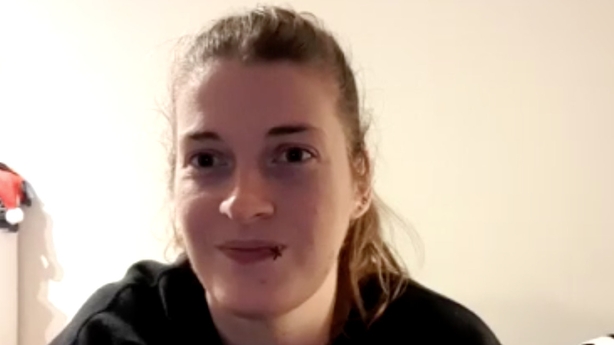 "I'm really looking forward to getting home, and seeing them, and seeing them healthy and being able to just give them a big cuddle, no masks, when the time comes, and when it's safe to do so.
"I've had a very hard year in ICU with the workload that we've had and because we've been so busy, I haven't really had the opportunity to talk to any of my family about it.
"It's very isolating not being with your family…And when we're having a really bad day, it's not easy to just ring somebody who's in another country to you, to just be able to cry or have a chat and try to explain what you've actually seen this year," she says.
She herself is now fully vaccinated, having received the second dose of the Pfizer jab just last week, but her parents in Galway, who are both in their 60s, are still uncertain as to when they will receive their vaccines.
Even though she is vaccinated, she says work and the rules around quarantine will keep her away from Ireland for now.
"Me and my partner, we're both nurses so it's just not an option to isolate for two weeks and take two weeks out of work, it's just not a possibility, so unless there's a different rule change of coming back into the country or coming to Ireland, without having to isolate, realistically it will probably be Christmas, before we get home again," says Orla.
She was working last St Patrick's Day, which she recorded in her diary as "the quietist Paddy's Day I ever had," and will be working again for this one, teaching people without a background in medicine, how to administer vaccines, as part of the UK government's drive to help meet mass immunisation targets.
"We're training non-medical members of the public how to deliver the vaccine, because obviously we've got these mass vaccination centres opening.
"We bring them in for a whole day of face-to-face training and we teach them how to deliver the vaccine and how to look out for signs of severe allergic reactions, how to treat people who are fainting or feel faint, we teach them how to do CPR in a worst-case scenario, how to wear the PPE correctly, how to wash their hands correctly."
She will then follow these new recruits into vaccination hubs to make sure they are following all these procedures correctly.
Orla says she was delighted to be picked for the county connections series: "There's a lot of Irish people that travel over to the UK to study nursing or medicine, so out of my colleagues alone, there's loads of Irish people that I work with.
"It's really important that they get recognition for how much work they've put in for the last year, especially being so far from home."
Minding your mental health in Chicago
In 2020, Chicago's St Patrick's Day parades and its famed river dyeing event were cancelled just days before they were set to take place, as the Covid-19 pandemic took hold, interrupting a tradition that had been in place for over 50 years.
This year's event was expected to be cancelled too, but in a surprise about-turn, the city's mayor Lori Lightfoot allowed the greening operation to be carried out by stealth last weekend, tweeting afterwards: "Although we didn't gather, we were able to honor long-standing tradition by dyeing the Chicago River green, thanks to the Chicago Journeymen Plumbers."
Happy St. Patrick's Day Weekend, Chicago! ??

Although we didn't gather, we were able to honor long-standing tradition by dyeing the Chicago River green, thanks to the Chicago Journeymen Plumbers. If you're heading out today, make sure to mask up and watch your distance. pic.twitter.com/UfU2GI74nC

— Mayor Lori Lightfoot (@chicagosmayor) March 13, 2021
For Chicago, St Patrick's Day is not just a one-day event but is normally celebrated in the city for the whole month of March.
This year, Irish Community Services which provides social services and immigration advice to the city's Irish community, decided instead to create 'Mind Yourself March', after it was approached by several community members, expressing concerns about the impact Covid-19 was having on people's mental health.
"Chicago is just wall-to-wall Irish events in March, in different parts of the city. So, it can be quite triggering for people, it's almost akin to Christmas, for people who are far away from home," says Paul Dowling, director of Social Services, who is originally from County Wexford.
"It's a time we remember our Irishness and our connections at home and it's a time we want to be at home, so I think that's particularly acutely felt this year, when it's not possible for so many of us."
The organisation has already held a suicide prevention training event, with support from the American Foundation of Suicide Prevention and every Tuesday evening a series of wind-down events, teaching meditation and mindfulness has been held, in addition to regular yoga sessions.
This Saturday, Dublin GAA star and 2013 All-Ireland winner Shane Carthy will be interviewed online about his battle with depression, as outlined in his book 'Dark Blue'.
"What we've really learned is that the Irish community is one of gathering," says Paul.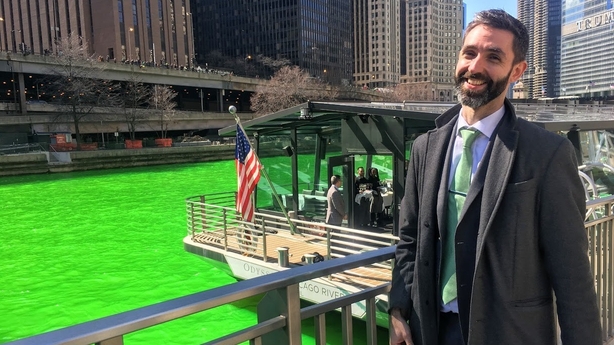 "So, it's been really tough for our seniors who haven't been together for a long time. Financially, they're probably the group that was least impacted, being retired with pensions, but soulfully, I think they were very heavily impacted "
He says that for some people the pandemic has taken away their coping mechanisms.
"If you take the inability to travel away and you couple that with, you can't gather here, which would off-set some of that loneliness or isolation. That gets compounded again if you have reduced working hours, or have been let go.
"It's particularly challenging for people who may have been struggling before the pandemic anyway and anything they were experiencing is being exacerbated by the way the pandemic is forcing them to live."
Paul himself would normally travel home to Ireland roughly every nine months, and this will be the longest he has ever been away from home since he emigrated 11 years ago.
"I don't think I'll be home before Christmas again, so it will have been over two years before I'm back. And for me personally, it's getting harder and harder as we go on. I can't wait to get home."
Coming 'home' in a pandemic
At this time last year, the charity Safe Home Ireland was contacted by Irish people from all over the globe, who had been living abroad and found themselves in crisis, due to the knock-on-effects of the pandemic.
"People who had been undocumented in the States, people who had difficulties in the US with healthcare and also people who had lost their jobs unexpectedly and really had no choice but to return home, because they were not able to pay rent or a mortgage, there were difficulties there," says the group's chief executive, Karen McHugh.
"In the period from July to December, we directly assisted 22 households to return, and they were from crisis situations including from the UAE, Thailand, Canada and Australia."
Today, the group is organising an online lunchtime concert on Facebook Live with performances from artists including singer and harpist Lisa Canny; singer-songwriter Megan O'Neill; and Sean Nós dancer and teacher Emma O'Sullivan. The charity which turns 21 this year, also has a new ambassador in the form of singer Seán Keane.
Seán Keane says the event is "an opportunity to get attention abroad, where it is really necessary," letting Irish people who do want to come home, know that there are services, supports and information to help them do so.
Seán himself worked in construction around London in the late 1970s and early 1980s, whilst launching his career in music. He says a lot of the people he worked with then would now be in their 50s and 60s. He says that for some of those people, age and injury may have caught up with them and they have little support where they are.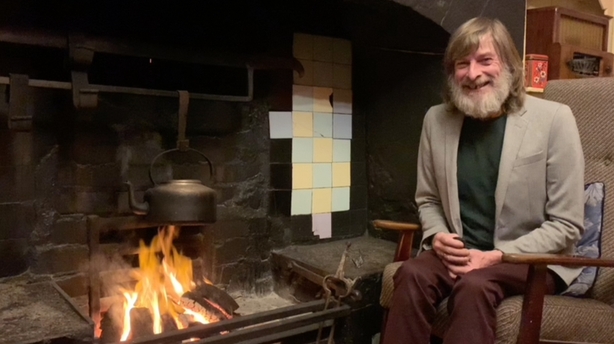 "There's a lot of people that do want to return here, from London especially, but it's very difficult. They wouldn't always have the where-with-all to make it happen."
One family which did return here this year are the Creamers, with three generations uprooting from rural Somerset to settle in County Leitrim in the middle of the pandemic. Their story will be featured during today's online concert.
81-year-old Bertie Creamer, who worked as a builder in the UK, and his wife Philomena, a social worker, moved to the UK in the late 1950s, but went back to Ireland to retire.
However, they moved back to England again to support their daughter Carrie, a single mother, when she had her daughter Grace, now aged 9.
Collectively the multi-generational family made the move to live in Mohill, County Leitrim, last September.
"It's a slightly crazy thing to do in the middle of a pandemic," says Carrie Creamer, "but it felt like a really good fit for us to just make a great escape".
She says: "My parents were getting quite a lot older, and they really wanted to be home. They wanted to be back with the wider family and in a community they knew and that was familiar to them."
She says Brexit was also a factor in her decision to leave, as well as wanting her daughter to grow up knowing about her Irish roots.
Whilst her family didn't receive any financial support from Safe Home Ireland, she says their information services were "invaluable".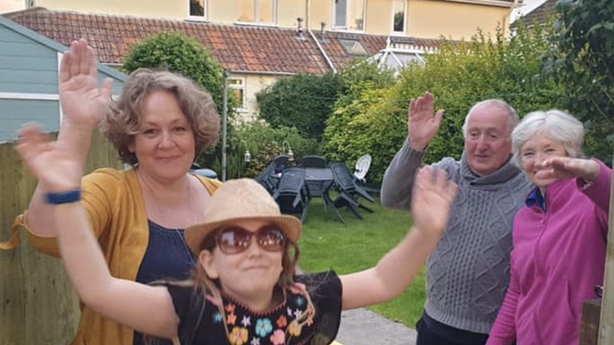 "From selling a property in the middle of the pandemic, to packaging everything up, relocating schools, everything else. It was fairly daunting. They just made things a lot more simple."
Karen McHugh says during the pandemic, many people have reflected on what is most important to them, and for some, this was realising that they wanted to come home to Ireland.
Whilst the current travel restrictions have put most other returns on hold for now this year, she expects there to be a higher number of people wanting to return once they are lifted and there have been plenty of requests for information.
Planning a virtual tour around the world this St Patrick's Day?
You can tune into Safe Home Ireland's free lunchtime concert which starts at 1pm and features performers from around Ireland and the world here.
From 4pm, the London Irish Centre is presenting three hours of Irish culture and heritage, featuring storytelling, film, music, dance, language and fun.
From 7pm the event goes fully live with presenter Angela Scanlon, who will host conversations with Imelda May, Richard Corrigan, Emma Dabiri, Dermot O'Leary, Boni Odoemene, Siobhan McSweeney and more.
Later, you can watch one of the world's oldest St Patrick's parades live from New York. The 160th parade to be held in the city will be scaled back and will honour frontline and essential workers.
If you're staying up late from 11:30pm, you can watch Shades of Green: a celebration of Irish-America including a performance from writer and rhymer Roseanne Cash and acclaimed Irish dancer Morgan Bullock. The event is free, but you have to register first.
I'm so excited to join artists across Ireland & the U.S. in being part of #ShadesOfGreen, @IrelandEmbUSA's St Patrick's Day celebration of Irish-America! Tune in on March 17th by registering here - https://t.co/OZoFynBx9N
#ShadesOfGreen

— Morgan Bullock (@Morrghan) March 10, 2021