An 82-year-old Liverpudlian, who was plucked to safety as a child from a sinking passenger ship, has appealed for information about his rescuer.
Patrick Murphy was just two years old when the City of Cork Steam Packet Company's MV Innisfallen travelling from Liverpool to Dublin, on 21 December 1940, struck a German mine and sank with the loss of four seamen.
Patrick and his mother had been on their way to spend Christmas with her family in Mourneabbey in Co Cork.
The retired artist, who now lives in Pembrokeshire in Wales, said he will never forget the man who rescued him.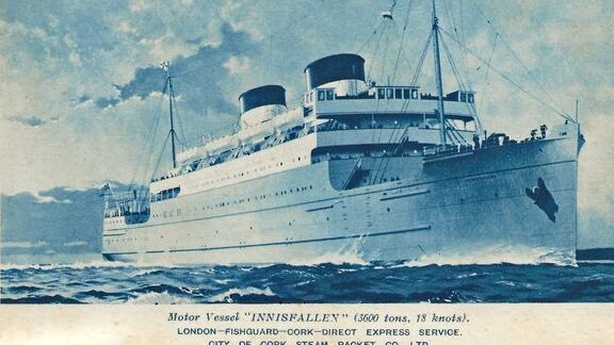 "He came down in a sinking ship - it went down in 45 minutes from explosion to hitting the bottom of the River Mersey - but he came down in the dark looking for me.
"I remember him finding me. He picked me up, opened his great coat and shoved me down unceremoniously, fastened up and then he went down on his hands and knees and he was scrambling along and I can remember that I was facing the floor slung underneath him."
In the aftermath of the ship's sinking, Patrick's family tried several times to trace his rescuer but without success.
"We tried to trace him but during the war, of course, there wasn't that much information going if you ask about who was on a ship.
"I owe my life to him. He never asked for thanks, didn't leave his name, we just don't know who he was, we don't even know who his family were.
"I don't know if he was a sailor or not, he may well have been just a fellow passenger, a young man who took a risk."
We need your consent to load this rte-player contentWe use rte-player to manage extra content that can set cookies on your device and collect data about your activity. Please review their details and accept them to load the content.Manage Preferences
Every year on 21 December, Patrick places a wreath in the River Mersey to remember the man who saved him, and the four sailors who perished in the explosion.
He was due to attend a commemoration in Dublin last December to mark the 80th anniversary of the ship's sinking but could not travel because of Covid-19.
But he is very grateful to President Emeritus Richard McCormick of the National Maritime Museum, who on hearing his story, offered to place a wreath for him on the Seaman Memorial at City Quay.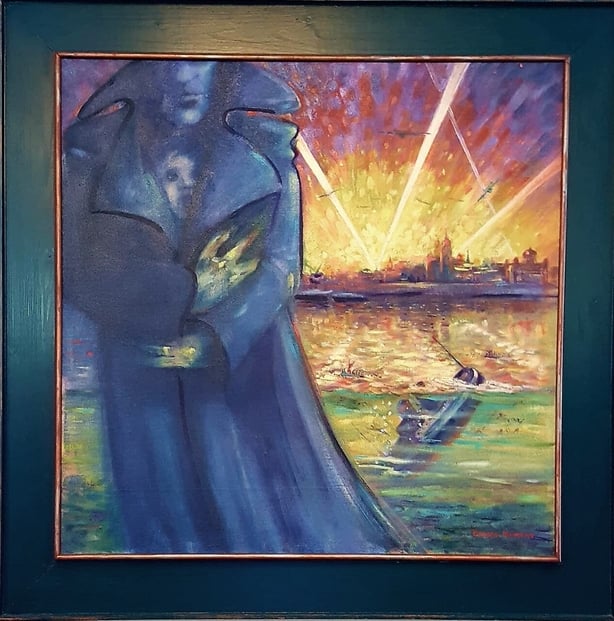 Patrick captured his rescue in a painting he treasures called 'Christmas Package', which hangs in his study serving as a daily reminder of his good fortune.
"The painting has been a great thing for me, although I have no material contact with him, I have made something material in the painting that gives me an external expression of the importance of that event to me."
Patrick is hoping his appeal will stir a memory.
"Oh, God it would mean so much. I'm probably now the last living survivor of that incident and to solve that before much more time passes - at 83 there's not going to be much more time passing - but if we could solve that, that would be brilliant."