Firefighters will remain on-site overnight at the R&H Hall animal feed storage facility in Cork harbour which has been extensively damaged by fire.
At least two large warehouses used to store imported animal feed have been destroyed in the blaze which has been burning since early morning at the compound on the Port of Cork's deepwater berth at Ringaskiddy.
Shortly before 11am the Port of Cork issued a statement confirming that there were no casualties, but shipping traffic in the port would be suspended temporarily.
It has since resumed, but the deepwater berth remains closed until tomorrow morning.
The fire was brought under control before lunchtime but five crews of two with breathing apparatus are continuing to put out smaller fires within the feed storage bays, as other firefighters hose down the outside of the buildings.
Following a multi-agency meeting this afternoon, local residents were told that the fire no longer posed a risk to public health and residents can exercise within their 5km outdoors.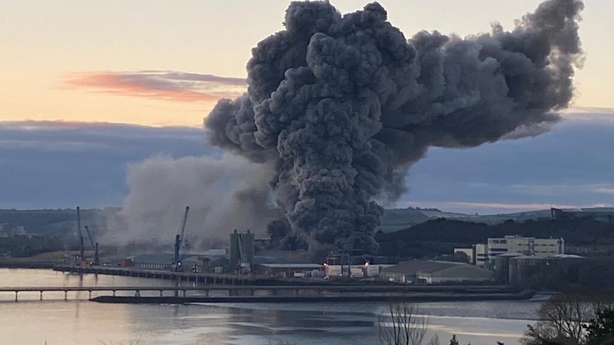 Cork County Fire Service units from Carrigaline, Crosshaven, Midleton, Cobh and Bandon tackled the blaze throughout today and tonight.
They were aided by a crew from the Port of Cork who helped take sections of the buildings down to aid access.
Carrigaline Fire Station Officer Chris Gledhill said that when he left home this morning he could see the plume of smoke coming over nearby Carrigaline.
He said: "We knew from then it was going to be a big one so when we got on the scene all we saw were flames coming out of the building and a lot of smoke."
The alarm was first raised at around 8.45am.
Local residents are angry that they weren't contacted directly when the fire broke out.
The Ringaskiddy & District Residents Association is calling for improved communications and the publication of an emergency plan for the area.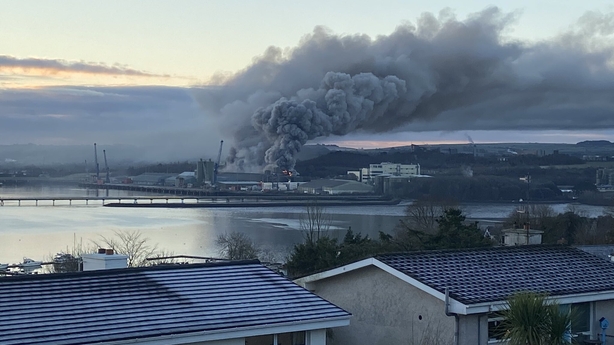 Vivian Prout of the Association said: "There is only one way in and out to the village and if there is a very serious situation down here we are actually locked into this vicinity down here and there is no way out."
Local Fianna Fáil Councillor Séamus McGrath said residents have legitimate concerns.
He will be raising the matter at Monday's County Council meeting and looking for an investigation and full information in relation to an incident emergency plan for the village.
The Health and Safety Authority has been notified and their investigators are due on site.
In a statement issued this evening, R&H Hall, who employs seven people at the site, thanked the emergency services and the Port of Cork team for "their quick response and ongoing management of the incident.
"We would also like to apologise to local residents, neighbouring businesses and our customers for any inconvenience caused by the incident.
Gardaí say they are not treating the fire as arson.
Fire Officers are looking at whether a conveyor belt used to transport animal feed between buildings could have been the source of the fire.