By David McCullagh and Donal Byrne
When Taoiseach Charles Haughey met George HW Bush in the White House in February 1990, the US President was in reflective mood about the end of the Cold War. He was, he said, delighted that Soviet troops were leaving eastern Europe and going home.
But he wanted the US to stay engaged on the world stage and avoid a return to isolationism.
"The President said that the enemy used to be the USSR but the new question was who is the enemy now? … There is now no bad guy in Europe."
No new bad guy emerged in Europe in 1990, but Bush got his enemy in August, when Iraq's Saddam Hussein invaded and occupied neighbouring Kuwait. Saddam would eventually be dislodged by Operation Desert Storm, which began in January 1991.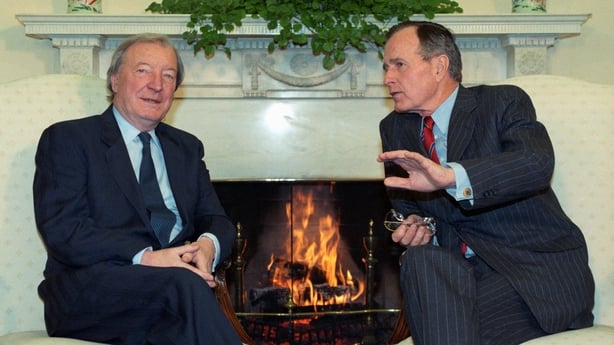 In the meantime, concern grew for Irish citizens working in the region. There were more than 1,300 of them, 300 with the Parc hospital group in Iraq, and another 1,000 in Saudi Arabia.
Relatives met the Taoiseach, appealing to him to visit Baghdad and intervene with Saddam to allow Irish people to leave the region safely.
Haughey said he would be willing to make the trip "if it was possible and results could be achieved".
However, according to notes from the meeting, the Taoiseach went on to tell the relatives the trip would not be possible, because the Government could not "break ranks" with other European Community member states and that "the 12 together carry more weight than any single country".
Haughey then said he would make a communications room available for relatives in Ireland at the Department of Foreign Affairs. They would be provided with a fax machine and facilities for local calls in Ireland.
However, phone calls from people in the Middle East to their families in Ireland would only be paid for by the State at the rate of one per week "retroactively" - a less than generous gesture in the circumstances.
A Department of Energy briefing note at the time suggested war in Kuwait could present a "very real threat to Irish oil supply security", as 7% of world oil production had been disrupted. Petrol prices might rise by 25 pence per gallon and diesel by 21 pence.
In response, the government approved the extra storage of oil at Whiddy Island.
A briefing paper from the Department of Finance on 27 August referred to Export Credit Arrangements and the State's responsibility for underwriting costs to companies exporting goods and services to Iraq.
It said the Parc hospital group was owed £14 million by Iraq and it also pointed out that the Goodman Group was suing the Minister for Industry and Commerce for "voiding insurance cover on beef exports" for between £40 million and £50 million".
[Based on documents in 2020/3/438, 2020/3/439, and 2020/3/427]