Eir Chief Executive Carolan Lennon has told an Oireachtas committee that the salary for customer care staff at the communications company is between €21,000 and €23,000 a year plus bonuses.
Appearing before the Committee onTransport and Communications Networks, Ms Lennon said that they were the only call company across the country to offer sick pay and maternity benefits.
She was responding to Fianna Fáil Senator Timmy Dooley who said that he was "shocked" to hear that 80 people gave up their job between March and July when so many people were losing their jobs.
However, he said that he was not surprised that people had left if the salary was so low and the burden was great.
Ms Carolan said that the company had put 500 good jobs into rural Ireland and it paid bonuses to staff through the pandemic.
Mr Dooley said this was not good enough and if the company was serious about putting in place permanent pensionable jobs, it would have to pay staff more.
He added that between 15% and 18% of staff had walked out in the middle of a pandemic and he said that should raise a "red flag".
Responding Ms Lennon said all contact centres have a high level of staff turnover.
She said that she does not agree that the company would have to look at its pay structure.
Labour TD Duncan Smith said the reputational damage to Eir cannot be overstated and he asked if the company did any research into why the 80 staff had left.
Ms Lennon said that in many situations their circumstances were not good enough to work from home.
She said that many found it very difficult and that it was not what they had expected the job would be.
Ms Lennon said that as wait times worsened, customers were cross and many staff members decided it was not for them.
We need your consent to load this rte-player contentWe use rte-player to manage extra content that can set cookies on your device and collect data about your activity. Please review their details and accept them to load the content.Manage Preferences
---
Read more:
Eir customers 'left out in the cold' as complaints surge
---
Remote working, a reduction in staff numbers and IT challenges have been blamed by Eir for disrupting their customer service operations.
During the pandemic, some customers complained of having to wait for periods of more than an hour to speak to customer service staff.
Last week, Tánaiste Leo Varadkar and Minister for Communications Eamon Ryan met both Eir and Vodafone to express their dissatisfaction with both companies customer care services.
Eir has hired 120 staff since restrictions eased after the first wave of Covid-19 and average call wait times are now ten minutes.
Sinn Féin TD Darren O'Rourke asked if Eir would make a gesture of "goodwill" to customers - for example a month's waiver to pensioners.
In response, Ms Lennon said the company would not be doing this because she said there was no need.
Deputy O'Rourke asked what Eir would do to reward customers who had stuck with them.
Ms Lennon said it would fix customer services but she said that to say nothing is going right is not correct.
Deputy O'Rourke said the company was underestimating the scale of frustration that customers were feeling.
Ms Lennon also told the committee that the company had received around 230,000 calls a month recently.
She said that the numbers had been "quite high" at the start of the Covid-19 outbreak, but she said this was not all complaints.
Ms Lennon also said that Eir should be fully staffed by the end of December.
She said the company had to recruit at small numbers at the moment to ensure it is complying with health and safety standards.
Deputy O'Rourke said that Covid-19 was not an excuse not to recruit as he pointed out that the company was an essential service.
He said there are many other industries that are managing in a far more challenging environment.
He also said the customer service provided by Eir was "inexcusable".
Fine Gael Senator Jerry Buttimer said Eir's customer service is "diabolical" and the company must restore this service and its image.
He also said that Eir's relationship with National Broadband Ireland needs to be addressed.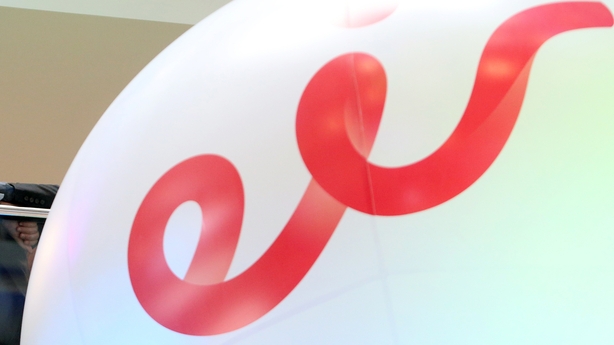 Meanwhile, Sligo Leitrim TD and Minister for State at the Department of Health Frank Feighan has welcomed the withdrawal of comments made by Ms Lennon about Sligo which he described as "clumsy" and "unfortunate".
The Eir CEO told the committee that staff in Sligo did not have the skills needed to operate a customer contact centre.
Speaking on RTÉ's Drivetime, Mr Feighan said he received calls from "irate staff at Eir, angry Sligo people and the business community" who he said were worried about the consequences of the remarks.
He said he believes damage was done but he is satisfied that Ms Lennon has withdrawn the comments and clarified that she did not mean any offence.
In a statement this evening, Ms Lennon sought to clarify the comments saying when she spoke of mistakes in relation to Sligo, she was referring to mistakes she, and the management team had made in underestimating the complexities of building a care centre on a greenfield site.
"We have a talented team in Sligo and we also have every support we could ask for from the IDA and regional authorities, which we are grateful for," the statement said.
"eir is committed to Sligo, we are committed to our Rathedmond care centre, just as we are committed to the hundreds of eir employees working in care and field operations throughout the region and indeed, the thousands of eir employees working all across Ireland," Ms Lennon said.