RTÉ presenter Miriam O'Callaghan has apologised after she was photographed along with other colleagues at a gathering where social distancing was not fully observed.
A number of images appeared in the media on Friday, which showed some RTÉ personnel posing for photographs with a long-serving colleague on her last day at work in RTÉ.
Among those present were Bryan Dobson, David McCullagh and Eileen Dunne, who have all apologised for what they described as an error in judgement.
Speaking on RTÉ's Sunday with Miriam programme this morning, Ms O'Callaghan said it was completely her own fault.
She said as someone who is in the public eye "it's important to lead by example".
"I let everyone down and for that I will be forever sorry," she said.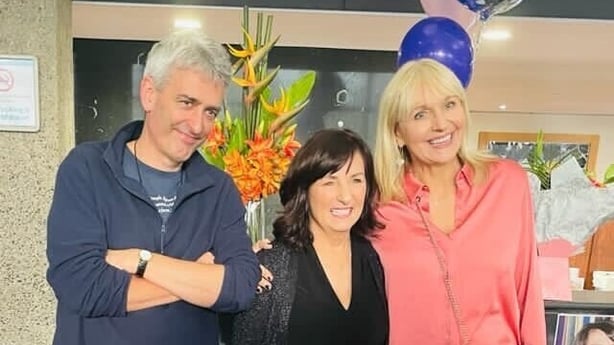 Also photographed at the gathering was Managing Director of News and Current Affairs Jon Williams, who said: "I deeply regret not thinking through the consequences of a momentary lapse of judgement. It was wrong and I'm very sorry."
Meanwhile, former minister Éamon Ó Cuív has said that RTÉ has not dealt with the controversy in the same manner as it dealt with similar incidents.
Speaking to Nuacht, Mr Ó Cuív said that other people who broke the rules, including politicians, were not afforded the opportunity to apologise on prime time television without being questioned.
He said that RTÉ dealt differently with their own stars than they had with others. He said that they should have been treated in the same manner as others who broke the lockdown rules.
RTÉ has confirmed that a meeting of its Covid-19 Group has taken place, at which the images were discussed, and a review will take place.
A follow-up meeting of the Covid-19 Group, including representatives of unions, will take place next week.
This afternoon, a spokesperson for Fianna Fáil told RTÉ news that Deputy Niamh Smyth, who is chair of the Oireachtas Media and Culture Committee, will raise the RTÉ social distancing issue with the other members of the committee when it next meets to see if they want to take further action.
In a statement yesterday evening, gardaí said they are "carrying out enquiries focused on the organisers into an alleged event as described and the advices of the Director of Public Prosecutions will be sought in respect of any further actions to be taken.
"Personal responsibility in attendance, social distancing, wearing of masks (other than on public transport and in commercial premises) and other such public health guidelines are not penal regulations."
The Irish Secretary of the National Union of Journalists, Seamus Dooley, has described the incident as "an egregious departure from standards".
Taoiseach Micheál Martin has described photographs as "very disappointing".