A restaurant worker who lost her job in lockdown never expected her hobby of painting silk scarves to transform into a business. 
Iseult McCormack, from Bray, Co Wicklow, had been working in Dublin city centre for the last five years and when the restaurant closed in March, she became overwhelmed by the uncertainty about her future. 
"It was a bit of a shock to go from working full time to nothing and really feeling like I needed to keep myself busy," she said. "I was terrified." 
Finding herself with extra time on her hands, Ms McCormack began experimenting with different paints and after she completed her first scarf, she shared it online. 
"I totally innocently I put it on my head, and I put them on Instagram. At the end of the day I had 12 or so orders from friends and family," she said. "I thought I might be onto something."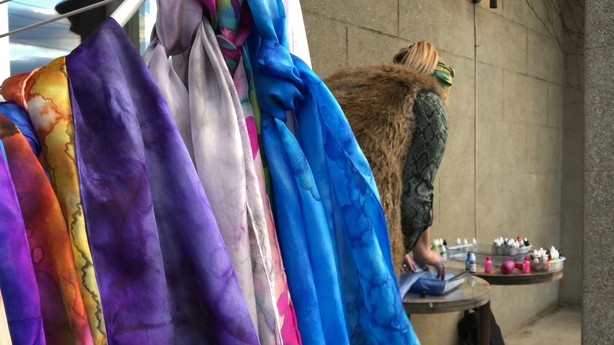 Since then, she says the business has "exploded" for her. 
Not only have Ms McCormack's scarves become a source of income, she says they were also vital as a method of escapism. 
"If I didn't have my art or the scarves during lockdown I think I would've had a very different experience. I'm one of those people who feels a bit too much sometimes watching the news," she said.
"But at least when I could sit in my room and get my paints out, I was in my own little world with colour and feeling good about life. It would've been really different if I didn't have the art." 
All this week we are sharing some of the personal stories behind small Irish businesses or start-ups in this most difficult of years.