National ploughing matches and competitions scheduled to take place next month with no spectators have been cancelled.
The National Ploughing Association cancelled the sport's annual national competitions with the exception of some national and international qualifiers because of the spike in Covid-19 cases.
The main event was set to attract 350 competitors to Ballintrane, Co Carlow, over three days from 15-17 September.
The decision to cancel the event followed a meeting of the NPA's executive last night.
Six of 21 senior competitions, including qualifiers for the World Ploughing Contest, have been postponed until 6-8 October but are conditional on Health Service Executive and Government recommendations at that time.
"With the latest escalation of Covid-19 in the country our executive felt it wouldn't be in the best public interest to go ahead the competition in its entirety," NPA assistant managing director Anna Marie McHugh said.
In May, the National Ploughing Championship's trade exhibition was cancelled but the ploughing competitions were expected to take place next month.
Ms McHugh said the association had hoped that "by September the national ploughing classes could go ahead behind closed gates".
"However, as public health and safety is the NPA's foremost priority and with the recent surge in Covid-19 cases the association felt that the safest option for everyone involved was to cancel the competitions," she said.
Last year's National Ploughing Championships attracted 297,000 people to Co Carlow.
The NPA has planned a programme of online activities during what should have been 'Ploughing Week'  starting on 14 September.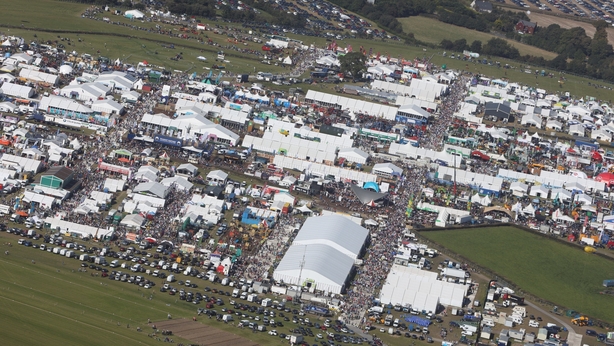 These will include the Enterprise Ireland and NPA Innovation Awards, some exhibitor promotions and the National Brown Bread Baking Competition finals.
John Whelan, assistant managing director of the NPA and current All-Ireland champion in the reversible ploughing class, said the absence of the full National Ploughing Championships would be missed.
"It's a massive loss in terms of revenue and in terms of hotels and B&Bs. It is estimated to be worth €45 million to the economy. That's a massive loss to any area," Mr Whelan said.
"It is a social event. It is a huge showpiece for businesses.
"When Covid struck earlier on in the year people thought it would be over now and they were going to use the National Ploughing Championships to springboard their year again and give it a boost but this pandemic has dragged on a lot longer than people thought. It is tough times for everyone," he added.