A woman whose husband died two weeks after being admitted to hospital from a nursing home with a facial wound that had become infested has said she has still not received any formal response from HIQA, the HSE or the Minister for Health, despite contacting all of them.
Ultan Meehan, 79, died in June after he was brought to hospital from Kilbrew Nursing Home in Co Meath.
Speaking on RTÉ's Morning Ireland, his widow, Mary Bartley Meehan, said no family should have to endure the grief and pain she has suffered, and continues to suffer, because of what happened to her beloved husband.
Mr Meehan had dementia and terminal cancer, but when he was admitted to Connolly Hospital in Blanchardstown at the end of May, medics noted that the nursing home was "unable to manage" a wound infestation of maggots on the right side of his face.
Mrs Meehan said she was able to visit her husband in the nursing home's garden before he was admitted to hospital and said she made her concerns clear to staff there because "his nails weren't cut" and there was "a desperate smell" from the wound.
She said she had to take off her gloves and cut his nails that were "long and black and filthy with congealed blood" because he was scratching at the open wound on his face, but because of his dementia he would not have been aware of the infection.
Mrs Meehan said she was too upset to sleep that night and called the nursing home's director of nursing the following day to say she was appalled at Ultan's face and was told "that was the way cancer presented".
She said she later saw a video of her husband's wound after he was admitted to hospital and "a large cluster of maggots" could clearly be seen around the wound.
Mrs Meehan said she wants a full independent review into what happened to her husband while he was in the care of the nursing home and has not had any formal response from HIQA, the Health Service or the Minister for Health.
She said that without the support of the Sage advocacy service, she would not have been able to cope during the last few months.
Mrs Meehan said older and vulnerable people deserve better and asked "can official Ireland not do better?"
She said she had previously expressed concerns that her 52-year-old son Adrian, was being cared for in a nursing home because it "wasn't a suitable place" for a young man, but the HSE said they had no other facilities available.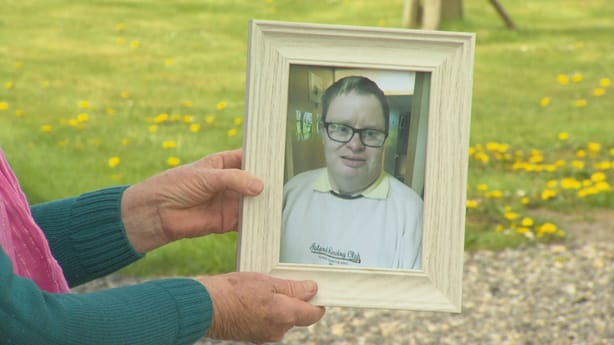 She spoke to RTÉ News in April after Adrian, who had Down syndrome and dementia, died from Covid-19.