Drinks giant Diageo has announced it is to launch a $100m global fund to help pubs and bars recover following the Covid-19 imposed shutdown of the sector.
The fund will provide supports for bars to implement new physical distancing measures, digital investment and other technology to help deal with reopening.
The company will allocate €14m of the fund to Ireland.
The fund called 'Raising the Bar' will be focused on the provision of equipment, confidence building measures for consumers and hygiene provision in bars, according to Diageo.
The closure of the pub and restaurant trade has had a massive impact globally. The true scale of the lockdown on the sector has emerged as Diageo confirmed that the St James's Gate Brewery was only brewing to maintain its vital yeast during the lockdown.
That is something which has not happened since the 1916 Rising.
Production at St James's Gate is now at full capacity as the global reopening of bars and restaurants looms.
Director of Operations at the brewery Aidan Crowe said that the stocks of beer on site were meeting retail demand during the lockdown.
The company has also outlined how it is dealing with "hundred of thousands of kegs" from around the world that have been returned because they are out of date.
The beer will be used to provide fertiliser for willow and Christmas tree plantations. It will also be used for composting and much of it has been sent to anaerobic digestion to make bio-gas.
In announcing the Diageo fund, the company is also calling on governments to provide long-term recovery packages for the hospitality sector.
Managing Director of Diageo Ireland Oliver Loomes said: "The hospitality sector in Ireland requires long-term investment and support to get back up and running.
"It will also be essential for the authorities on this island to work together with our industry to build both a safe and a sustainable hospitality and bar sector."
Meanwhile, one Dublin pub is testing possible solutions to deal with physical distancing when it reopens.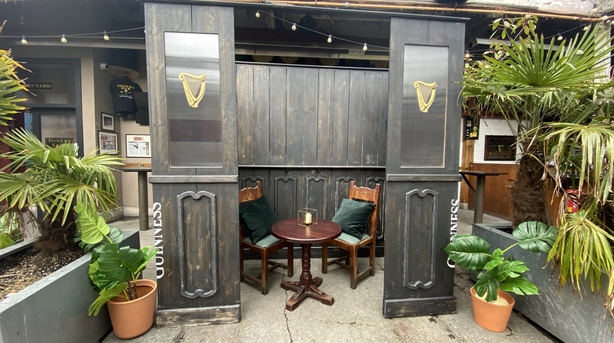 Toners on Baggot Street has built a temporary snug, which it is considering using.
The popular Dublin pub will reopen, like many others, as a pub/restaurant. Its manager Paul Corcoran told RTÉ News that he feels it will be difficult to operate, and a very different experience for customers.
"I find it a fairly big challenge at the moment, with alterations and moving tables.
"It will be totally different from what it used to be. This was one of the busiest pubs in Dublin, but all that is going to change with all the new rules and regulations we have to keep to.
"Everyone will have to adhere to the two-hour rule, we will find that a little bit strange, especially for locals, but it is for one and all and I am sure they will understand the situation we are in," he said.