Irish Paralympic hopeful Leo Hynes went to great lengths to ensure his training stayed on track during lockdown by building a swimming pool in his front garden in Tuam, Co Galway.
Mr Hynes had hoped to qualify for the 2020 Paralympics in Tokyo, which have now been postponed to next year due to the coronavirus. He aims to qualify to compete in the triathlon event at the tournament.
After being diagnosed with age-related macular degeneration in 2009, Mr Hynes is now legally blind.
After Covid-19 restrictions meant swimming pools were closed, and the two-metre distancing advice ruled out open water swimming as that involves being tethered to a guide, he went in search of another way to keep on top of his swimming training.
When he came across a Canadian parathlete Danielle Kisser's homemade pool made from wooden pallets, he decided to give that a try with the help of his brothers.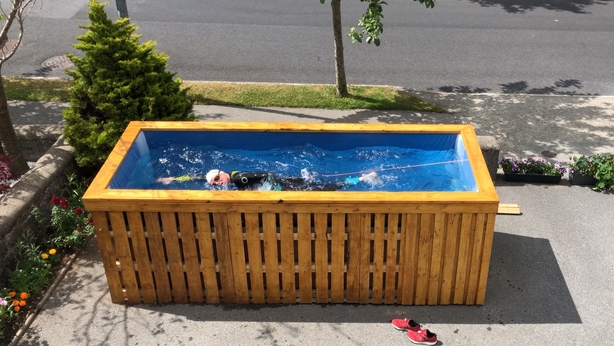 The impressive end result allows Mr Hynes to swim in his front garden, with a bungee chord around his waist creating a sort of treadmill effect.
"When I swim, the chord pulls me back so I keep stationary. It's a bit like running on a treadmill, you're not going anywhere. I'm swimming, but I'm not going anywhere," Mr Hynes said.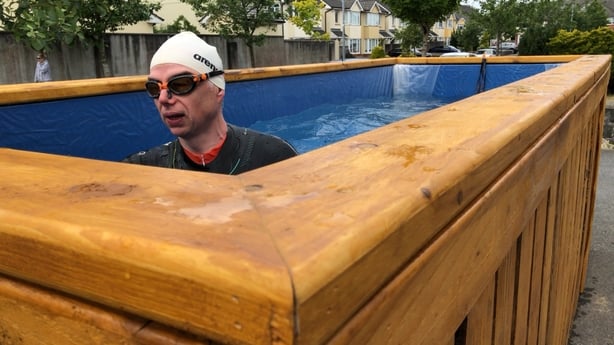 Despite restrictions lifting to allow elite athletes to return to training, Mr Hynes is unsure if his local pool will reopen, but he is content with his homemade solution.
"I'm going to use this all the time, even if it's wind, rain, snow, I can get in and I'm two or three metres from my front door. It's perfect," he said.
On his training progress with the pallet pool, he added: "I'm definitely getting fitter and getting faster so it's progressing in the right direction."