Up to 70,000 homes along stretches of the coastline and riverbanks could be at risk from coastal flooding caused by climate change over the next 30 years, a Dublin-based data company has suggested.
Richard Cantwell, a senior spatial data scientist with Gamma Location Intelligence, said that "in a worst case scenario" sea levels could rise by between three and six metres by 2050, with homes in Dublin, Louth and Clare most at risk.
The analysis makes the predictions based on current climate change levels as well as including factors such as Spring tides and storms.
Mr Cantwell told RTÉ's News at One that the analysis shows the largest impact would be felt in Dublin, with any low-level property from Donabate to Dún Laoghaire at an elevated risk of flooding.
He said the other "hotspots" identified for future flood risk are in Dundalk and Drogheda in Co Louth and along the Shannon estuary from Limercik city to Shannon and Ennis.
It also predicts an impact in parts of Galway and Cork city centre.
Mr Cantwell explained that the data was developed for insurance companies to "assist them to refine product offerings" in Ireland.
However, it does not identify individual properties at risk of flooding but looks at regional assessments.
---
Read:
Climate action on agenda in government formation talks
---
He said the predictions could be offset by a lot of mitigation measures that can be taken to reduce the impact of local coastal flooding.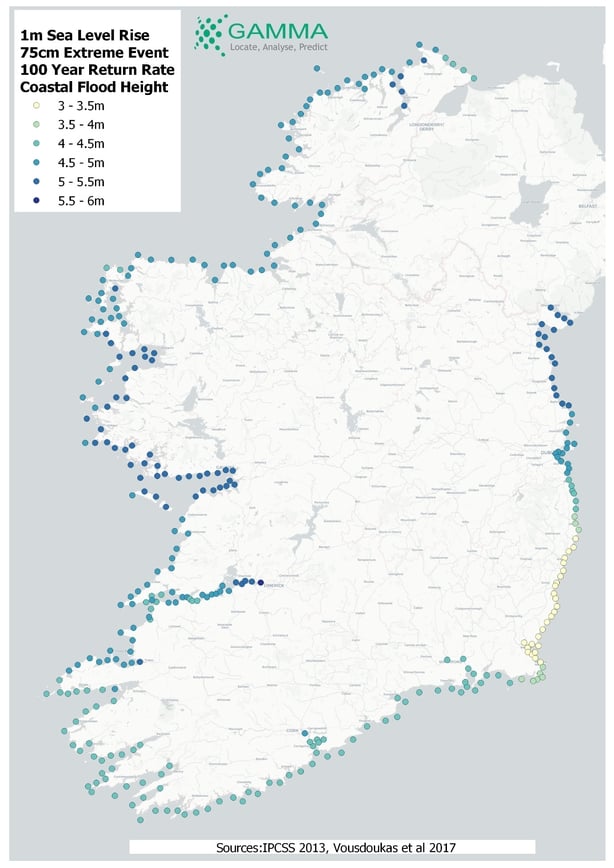 He said the research could be used by local authorities and other agencies to consider where to get the best value out of investments in flooding defence measures.
The findings are based on a predicted 2° Celsius rise in temperature, causing higher sea levels and more extreme weather events, leading to coastal flooding.
This temperature increase is expected to happen by 2050, but could be delayed by reduction in carbon emissions.