The drugs and homeless service Merchants Quay Ireland has called for the Government to help plan meeting the needs of new and existing clients after Covid-19.
The service is reporting an increase in the number of clients reporting mental health difficulties since restrictions were put in place.
In the first of two reports, Social Affairs and Religion Correspondent Ailbhe Conneely examines the impact of Covid-19 on homeless services in the capital.
---
Rebecca had "a slip" in recent weeks. She let someone inject her. It was the first time she used a needle.
"I'm after getting a big abscess on my arm and it's all swollen, so I came here to get an antibiotic because I didn't know much about it," she said.
Rebecca is standing outside Merchants Quay Drugs and Homeless Centre, which looks out over the River Liffey on the quays in Dublin.
The service is not running as normal in order to meet Government guidelines.
Weeks into the Government's Covid-19 restrictions, Rebecca feels lonely and lost.
"I miss it a lot and I'd say there are thousands (of others) as well," she says.
"You could just come here for a cup of tea and something to eat during the day if you couldn't afford it. It's open for people anytime. They'd never close the door."
The door remains open, but not fully.
Access to the building is limited to clients who are in crisis or need to see the public health nurse or the mental health team.
The social aspect of staff and clients meeting in the social area is gone.
Basic facilities, such as accessing a shower, are also difficult because of the layout of the building.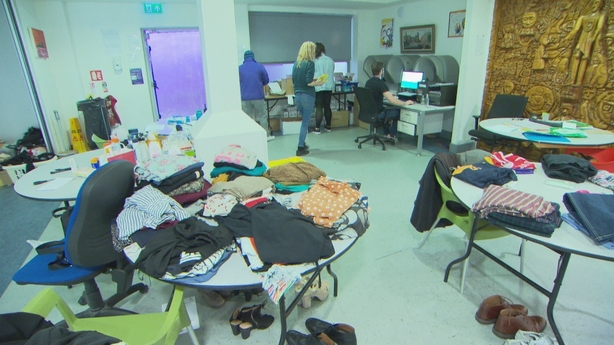 Food is still available as hot meals and sandwiches are distributed to those in need throughout the day, but it's fragmented, according to Nurse Marguerite Kilduff.
Marguerite speaks quickly, aware that there is a queue of people waiting on the street outside to see her.
"It was a one-stop shop. They came here for hours, a cup of tea or whatever it was needed, but now it's difficult for them, it's very stressful for them," she says.
The clients "don't really know what's going on", so it has to be explained.
"They weren't aware of what was going on in Italy. We knew if we didn't implement the restrictions properly it was not going to work out well for everyone," she says.
'The lost souls of the pandemic'
The levels of anxiety among the client group has grown.
People are presenting with suicidal ideation and self-harm, according to Sarah Scully, who is a mental health care assistant.
"When you are experiencing homelessness, addiction and mental health issues, you're already feeling isolated and marginalised in society. With everything going on with Covid-19 and the new measures, it's exacerbating the feelings of loneliness and we're seeing that among our clients," she says.
Staff in Merchants Quay describe their homeless clients as "the lost souls of the pandemic".
When the streets emptied in March, they were the only ones left.
Christine who is queuing outside to see Marguerite describes it as a "ghost town".
She doesn't know if her friends are alive until she sees them on the streets.
Around the back of the building, the needle exchange is functioning as normal.
It is where clients can access methadone treatments.
There has also been an increase in the number of them trained to administer Naloxone, which is used when someone overdoses.
It sounds grim to people who may not be aware of how the needle exchange works, but it's necessary and it's working, according to CEO Paula Byrne.
She is eager for a plan to meet the needs of new and existing clients after restrictions are lifted and predicts that an economic downturn will result in new clients.
"It's been manic for everyone to reconfigure the services and meet the needs of clients, but our focus is looking at the next three months," she says.
Ms Byrne points out that Merchants Quay can't do it alone.
She suggests that a taskforce be set up to plan for coming out of the pandemic, just as there was going into it.
"I know the Minister for Health is anxious to have some engagement with addiction services so we can plan," she said.
"I just think we all need to collaborate to meet the needs of the clients given the changes we've had to make to services."