Work is resuming at 35 construction sites across the country, where almost 1,000 social houses are due to be completed in the coming weeks.
The sites were allowed to re-open earlier than other workplaces because building work there was almost done and the houses were deemed essential by the Housing Agency and by the Government.
A dozen of the sites are spread among three local authority areas in Dublin. Dun Laoghaire-Rathdown is the exception.
Other sites where construction work is resuming or has already resumed are in Kilkenny (three), Waterford and Westmeath (two each), and one each in Carlow, Kildare, Louth, Meath, Tipperary and Wicklow.
Work has resumed at three sites in Cork City, at White Street, Blarney Street and at the Knocknaheeny Regeneration Project.
The regeneration project in Knocknaheeny represents an investment of €170 million. It's being undertaken in stages over the course of a decade and is due for completion by 2024.
Four hundred and fifty houses are being demolished and are being replaced by 650 homes and apartments.
Among the areas due for demolition is Glandore Park.
Mary Bishop and her husband Jack moved to Glandore Park in August, 1974. Together, they raised five children there.
The time has come to move, though.
Mary's new home is currently nearing completion, in one of the building sites where work has already resumed.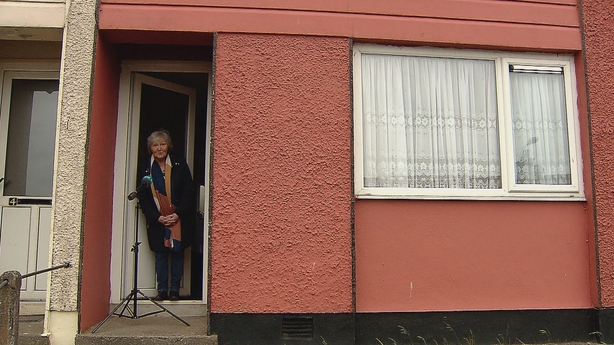 Her new home will be a few hundred metres away on Harbour View Road, part of the Knocknaheeny Regeneration Project.
Like many residents in Glandore Park, Mary initially struggled with the idea of moving house.
"We have a wonderful community here and always had," Mary told RTÉ News. "No matter what kind of trouble you had, you could always go to your neighbours. Even now, with the lockdown, I have my family but my neighbours, if they are going to the shop, they will ring me or tap on the window. I couldn't buy my neighbours."
One of the guarantees given to residents in areas being regenerated was that they will be moved together to the same developments, preserving relationships built up over decades.
On that basis, Mary looked forward to the move. Then the lockdown happened and building work on the Knocknaheeny Regeneration Project was suspended. Mary and her neighbours were expecting a delay of perhaps several months in getting the keys to their new homes.
They were therefore delighted when news came through that permission had been granted for work to resume.
"I think we were all worried, obviously," Mary says. "We knew there was going going to be a setback, but I wouldn't like any worker to get sick building my house and I'm sure we all felt the same: none of us would like any worker to be sick."
Norma Kenny lives across the street from Mary Bishop at Glandore Park. Her home for the past 36 years is due for demolition too.
Norma thought her move to a new house would also have to be postponed by months when work ceased due to the Covid-19 restrictions. But, with work resuming, she's now going to be able to make the move an awful lot sooner.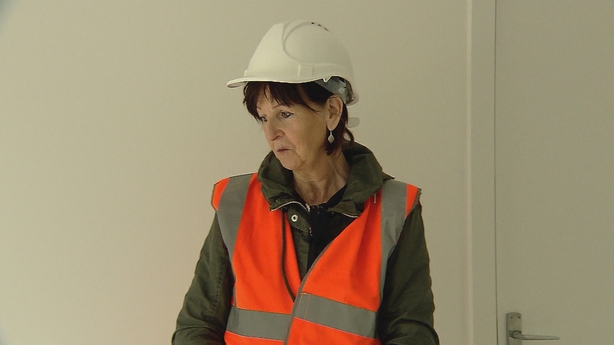 Norma's new house is nearing completion and she was being shown around when RTÉ News visited.
"It's kind of ready to move into really, bar a few jobs," Norma said. "I kind of got a flutter when I went in -- this is going to be our new home and it's lovely."
At peak construction there were up to 80 people working on this site, under contractors Murnane and O'Shea. That's now down to around 35 as the houses approach completion.
Cork City Council now hopes that the 32 new houses and 15 apartments in this phaze of the Knocknaheeny Regeneration Project at Harbour View Road will be ready for people to move into within the next six weeks.