The Irish Medical Organisation has reassured members that pension entitlements and death-in-service benefits those employed in the HSE or General Practice will not be reduced due to the Covid-19 virus.
In a communication to members this evening, the IMO said that it had received queries from members regarding the implications of Covid-19 for entitlements following correspondence which went out from the trustees of the General Medical Services Superannuation Plan warning of possible reductions in certain benefits.
However, the union confirms: "No changes have been made to death in service benefit for HSE and other public health service employees and pension entitlements are unaffected by Covid-19."
Earlier, General Practioners had expressed concerns after receiving a letter from the trustees in relation to a possible reduction in certain pension entitlements under the GMS Pension Scheme due to the virus.
They have now clarified the position to provide "clarity and comfort" to members.
Their new letter states: "It is not the case that if a member dies of Covid-19 that their estate or beneficiaries will receive no benefit."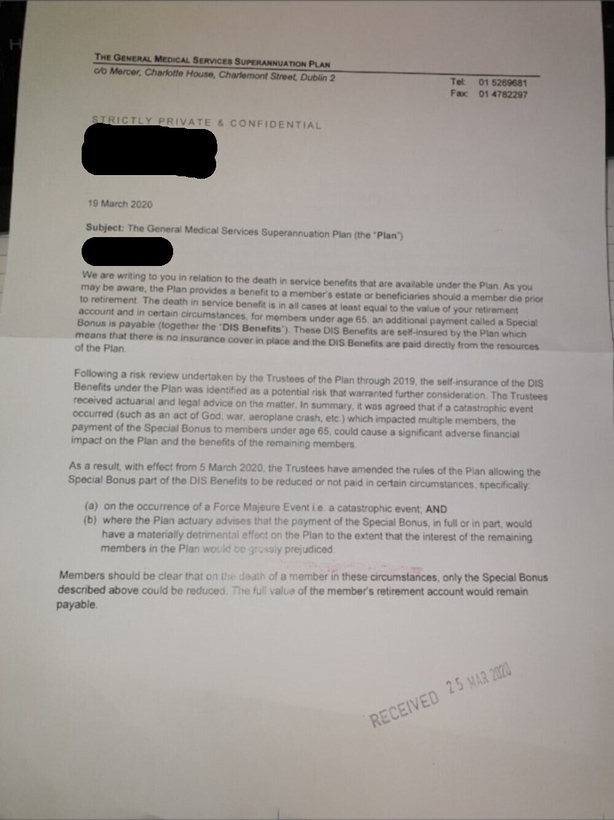 They say that the possible reduction mentioned in the earlier letter applies only to the Special Bonus that can be payable on death in service and go on to say: "It would need very large numbers of members to pass away as a result of Covid-19 before any possible impact to members' benefits would be considered".
The scheme trustees also indicate that "... the Trustees believe that the likelihood of a catastrophic event that would give rise to such a reduction is very low. This view has not changed with the emergence of Covid-19".
Their letter states that under all circumstances, the member's Retirement Account is payable to the member's beneficiaries should they die in service.
They also clarifies that the purpose of the earlier letter was not to address the Covid-19 issue, but rather that the change highlighted in the letter had been discussed and agreed by the trustees last year, before Covid-19 existed.
The Trustees of the General Medical Services Superannuation Plan conclude by saying that it is their "absolute intention" to continue to pay out the Special Bonus in line with current practice - and that they will only take a decision to change this "in the most extreme of circumstances".
The scheme is administered by Mercer who are also advisors to the trustees. However, it's understood that any decisions are made by the trustees.