In 1920, Cork was one of the most prosperous cities of the British Empire. However, as opposition to British rule intensified, it was also one of the most violent.
The city and county were places where Sinn Féin and the IRA were highly organised - and the War of Independence had become a significant threat to continuing British rule.
Cork may not have risen in 1916 - because of the countermanding orders issued from Dublin - but there were many Republicans who now saw their opportunity to intensify. 
One of the most influential figures in this movement was Tomás Mac Curtain - a businessman from the Blackpool area of the city. In 1920, he was the Sinn Féin Lord Mayor of Cork, a popular public figure and IRA commander.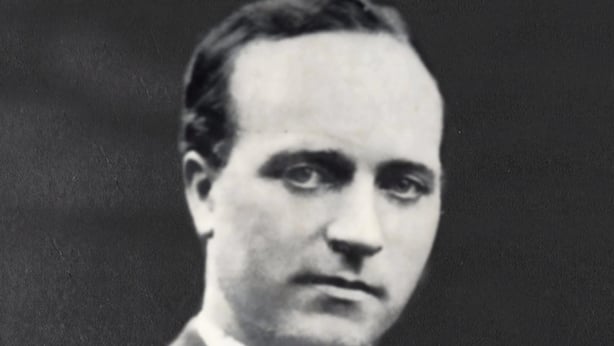 He was a military strategist who pressed the IRA's advantage in guerrilla warfare. As members of the RIC were increasingly targeted, so too would he and other IRA figures be. Nevertheless, the consequences of his assassination would reach far beyond Cork.
Mac Curtain was born in the village of Mourneabbey between Cork and Mallow, where his parents were small farmers.
He was educated locally and later at North Monastery in Cork city. The Irish language was always a strong influence on him - indeed his maternal grandmother had been a hedge school teacher.
When he went to school at North Mon, as it is known, his love of the language and music further developed. It was here he also became interested in politics and Irish nationalism.
It was that combination of interests that came to the fore when he left school and began teaching Irish and music locally, all the time immersing himself in the independence struggle and the changing political landscape of Europe and the world at the time.
The Gaelic League, through which he met his wife Eilish, was a hugely important platform for him and he energetically encouraged its development in Cork City and beyond.
An inevitable result of that commitment was a movement into local politics - Sinn Féin identified quickly him as the preferred candidate for Mayor. 
Only a short time beforehand, he had been elected to Cork Corporation to represent the Blackpool area.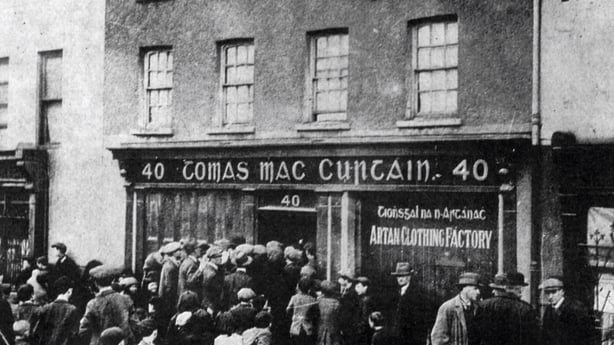 At the time he was running a successful women's clothing factory in Blackpool.
His energy and organisational skills would mark him out as a most effective Republican leader.
They would also mark him out as a target for the security forces, who monitored his activities constantly (Mac Curtain had previously been imprisoned in England for his IRA activities) . 
His murder, however, was not anticipated and he was not seen as a target - despite the murders of at least three members of the RIC in Cork city, for which he was held responsible by the police. 
A large group of men arrived at his home in Blackpool on 20 March - the night of his 36th birthday - and shot him as his family watched. 
Several of the men in the house had blackened faces and the subsequent inquest blamed members of the RIC, including Detective Inspector Oswald Swanzy.  
University College Cork historian John Borgonovo notes that the national and international reaction to the murder (15,000 people attended his funeral at a time when the population of the city was 75,000 and the inquest received international coverage) may have significantly toned down a policy of reprisals by the State and said he believes De Valera and Arthur Griffith might also have been targets had the Mac Curtain murder not happened.
It did not, however, prevent an escalation of violence, he believes.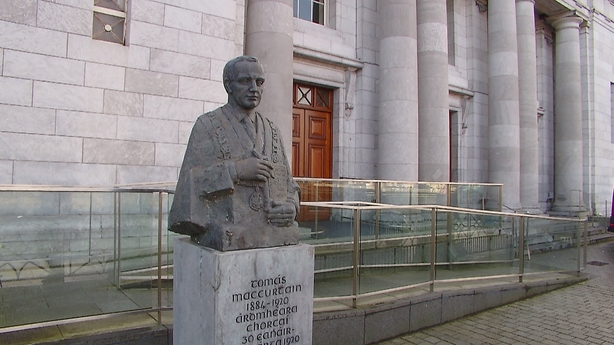 Mac Curtain's successor as Mayor of Cork, Terence MacSwiney, would die on hunger strike in Brixton Prison months later; the city centre of Cork would be extensively burned, attacks on RIC barracks and ambushes would increase, as did retaliation against republicans. 
Oswald Swanzy was later shot dead in Lisburn, Co Antrim, after a church service - by two IRA men from Cork, who reportedly carried Mac Curtain's revolver - for which, ironically, Swanzy had signed a permit.
His death, in turn, led to wide scale reprisals against the Catholic community in Lisburn.
Ireland has entered its most violent period of the War of Independence.
You can see a special report on the death of Tomás Mac Curtain on Nationwide on RTÉ One tonight at 7pm.
Donal Byrne reports on the Decade of Centenaries for RTÉ News.