Flowers are piled high on the grave of Keane Mulready-Woods this weekend. He's remembered as a son, a brother and a cousin. Amongst the funeral sprays of roses, carnations and gerberas, there's an arrangement in the shape of a scrambler bike.
Keane's bike was his life and at his funeral on Thursday his helmet was poignantly carried to the altar by his younger brother Ryan. His white coffin had a red scrambler painted on the side. At just 17, Keane's life came to a tragic end.
At the funeral this week, parish priest Fr Phil Gaffney took a brave decision. With many of Keane's friends in the congregation, he used the opportunity to plead with them to learn from Keane's mistakes.
The priest described Keane as "young and naive". He had his troubles he explained and he fell in with the wrong people, not knowing the dire consequences. As mourners wiped their tears, Fr Gaffney continued with his powerful message.
He didn't sugar coat the reality for the teenagers there, some of whom were wearing expensive designer baseball caps. He laid bare the devastating reality of gangland crime.
"I hope that his death will be a warning to other young teenagers who are been groomed by the ruthless criminals, that the promise of money and gifts will inevitably end in tragedy," he warned.
"Keane's association with them, sadly led to the inhuman, unthinkable way in which his young life was to end. Please learn from his mistakes, getting involved with dangerous criminals, thinking some of them were his friends and yet they would sacrifice him in a such a brutal manner."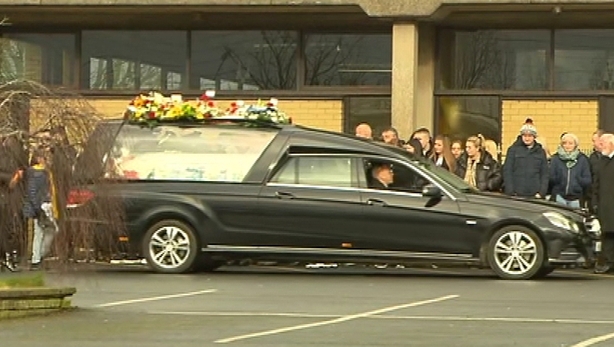 He continued with an appeal for the violence to end. "Let's all hope and pray it ends before more lives are lost," he said.
It's been a difficult and trying few weeks for Keane's family since his murder on 12 January. For his parents Elizabeth and Barry, his brothers Darren, Jack and Ryan and his sister Courtney, what has happened is unthinkable.
For them, the gruesome and brutal killing has been shocking on so many levels. The barbarity of the dismemberment and the dispersal of Keane's remains has only added to their grief.
Keane was due to celebrate his 18th birthday on 6 February but instead those closest to him were planning his funeral. They had been hoping that the rest of the teenager's remains would be found before Thursday and yet despite the relentless efforts by local gardaí determined to afford them that dignity, there's been no breakthrough.
It seems the hardened criminals behind Keane's killing, who believe they are invincible and untouchable, have no regard for the living or the dead.
"We're used to people being shot and losing their lives in this drug culture, but the manner in which this young man was taken away was horrendous," explained Fr Gaffney on local radio station LMFM this week.
"The last four-and-a-half weeks have been such a difficult time for his family. We spent a good bit of time with them. At least with the funeral, there's a little bit of closure, now they can mourn, they can go to the cemetery and remember him," he said.
At the funeral on Thursday, plain-clothes armed undercover officers guarded the two entrances to the church. The armed response unit was across the road and several unformed officers were present.
Fr Gaffney said the garda response has been comforting in recent weeks but it's also sad because they are just containing a situation that has gripped the town for over two years.
He is hopeful that this murder will be a "wake-up call", but no one with any knowledge of the feud believes it will be the last killing.
In this case, gardaí have identified a number of suspects for the murder. One is in his 20s, another in his 30s; one is from the Drogheda area, the other from the Coolock area of Dublin.
Gardaí continue to carry out searches and build a case, based on forensic and DNA evidence gathered a house in Drogheda, the suspected murder scene.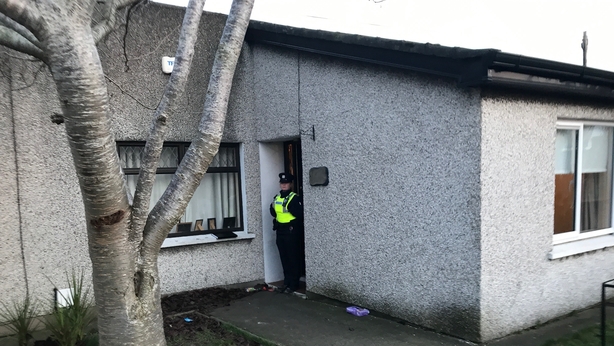 However, they still want information and Fr Gaffney believes someone out there knows where the rest of Keane's remains are.
"Young people are conscious of being a rat, it's not cool and it has consequences but I would certainly be available if they want to talk in confidence. Somebody out there knows where the rest of Keane's remains out there," he said.
This feud is deeply personal.
"There is an element now that is separate from money and power and it's bloodlust," according to addiction counsellor Pio Smyth.
"Recreational use of drugs in the town is significant too, these people don't make the connection between drug use and the death of Keane Mulready-Woods," he added.
That's a point that Fr Gaffney also raised in his homily on Thursday calling on the government for a nationwide response.
"We've invested a lot of money in drink-driving campaigns and it's taken effort and time for people to change their attitude.
"We have to be aware if we're taking drugs on a casual level, we're fuelling this problem in our society. If the demand wasn't there, these kingpins wouldn't be making the money they're making," he said.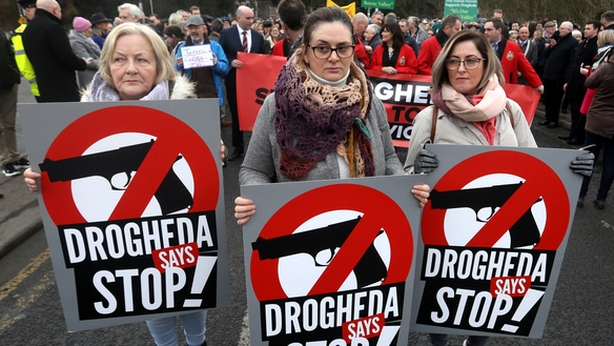 While the message from Drogheda this week has been powerful, Fr Gaffney acknowledges that it may not be heard. However, he says he is determined to make a difference to young people.
"I think we have to reach out to them. A new priest has been appointed as chaplain to St Oliver's Community College. I would see the importance of reaching out to the young people in school. These children at 12 or 13 years of age need to hear the harsh reality of what they're facing," he said.
"I would be in touch with some families who are in fear and they would tell they have a drug debt. They're afraid of the repercussions of their children or grandchildren running up drugs debt.
"Children will tell you straight too, if you arrive into Drogheda, within five minutes, you'll get whatever you want by just making a phone call."
Mediation attempts over the past two years have failed to resolve the feud in Drogheda. The gangs have refused to engage with church leaders, politicians and community leaders.
"We have to be hopeful. I would hope that we as a community can work together to help these people make sense of the situation and bring peace to our town," he said.
"Even in the midst of all this horror, if there's a spark of faith or the divine in any of us, and it is, even in the hardest of criminals I would appeal to them, let it end now."
For Keane Mulready-Woods and his family, any resolution to this bitter dispute will come too late.