Twenty one years ago the British prime minister Tony Blair allowed his petty side to devalue one of his most significant political achievements.
The year after the delivery of the Good Friday Agreement, he uprooted his Northern Ireland Secretary Mo Mowlam and promoted her to a non-job in London.
Last Thursday, Boris Johnson went a step further in macho politics behaviour. In order to publicly display the importance of blue blood Toryism, he didn't just bruise an important limb. He severed it.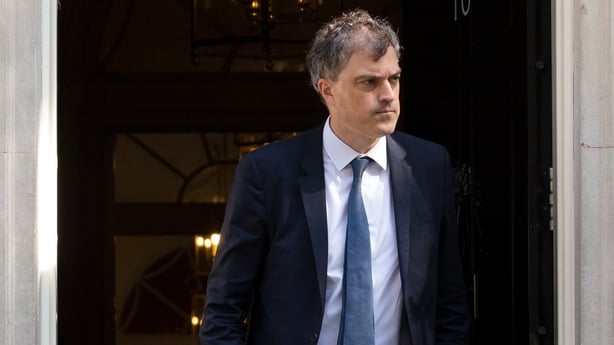 It was in July of last year that Julian Smith surprisingly found himself in Northern Ireland. He arrived with significant shrapnel wounds. Born in Scotland, educated in England, the son of a now deceased lecturer in electonic engineering, he was first elected a Yorkshire Conservative MP in 2010.
He was a Remainer during the Brexit Referendum campaign. Under prime minister Theresa May, he served as the party's chief whip from 2017 to 2019.
In the febrile post-Brexit Referendum Westminster atmosphere, where the Tories were relying on the DUP to keep their administration in power, he was unable to get the necessary support for the Withdrawal Deal of his boss, Theresa May. That failure was a significant part in her undoing and her ousting by the Brexiteers' champion, Boris Johnson.
Karen Bradley, a close friend of Theresa May, was one of the first victims of the new regime. Julian Smith was not expecting the call to serve as her replacement in the Northern Ireland office. The House of Commons arithmetic had not shifted during the Tory regime change. The support of the DUP ten was still critical and that power bloc varied between neutral to supportive about the Smith appointment.
The Corleone Assignment
For those with Corleone instincts it could be seen as the fitting assignment for a man of questionable loyalty, dispatch him to a political jungle where he is likely to fail.
Mr Smith got off to a rocky start in his new posting. His first foray on 27 July was to Derry to meet a number of organisations and to get a sense of feelings on the ground. Word of his travel plans leaked out. Why was he visiting some interest groups but not others?
By the time the new Northern Secretary arrived at Derry's Guildhall, a number of factions, some with placards were there to agitate. To the surprise of many protesters, Julian Smith stopped to talk to them.
He established a house style on that first day. From then until his dismissal on Thursday, some of Julian Smith's strongest qualities were his willingness to listen, to talk and to try to learn.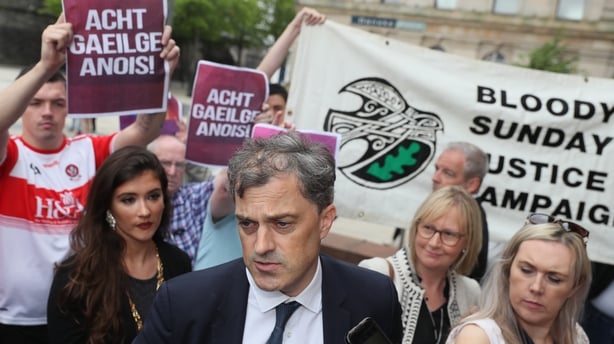 My first decent chat with him was in a small café In Warrenpoint, Co Down. He made the call and set up a meeting for 8.45am. He had two advisors with him, Ross Easton and Lilah Howson-Smith. She was busy doing justice to a very attractive fry. They seemed young enough to be my children. I would soon learn that it was a struggle to keep pace with their speed of thought.
The new appointee showed unusual familiarity with RTÉ 2 schedules. It turns out that his wife, Amanda Wilson, is a senior executive in the British television company behind the highly successful RTÉ television series, Raised By The Village.
One story illustrates Julian Smith's dogged side. In March 2019, DUP leader Arlene Foster and one of her advisers were flying back to Northern Ireland, via Heathrow Airport, after a trip to Washington for the St Patrick's Day shenanigans.
The travellers were seriously tired. As they worked their way through Heathrow security, they were made aware the Chief Whip of the Conservative party was keen to meet them. At the time Julian Smith was involved in ongoing political arm-wrestling with the DUP's Westminster contingent.
He made it his business to know the movements of the party leader. He got up at cock crow to be in place at the airport as she moved through it. As it worked out, no significant business was done but Arlene Foster saw at first hand someone who was prepared to make the extra stretch in pursuit of a goal.
Strands across the border
The standard dynamic in Minister for Foreign Affairs/Northern Ireland Secretary relationships is respectful engagement but with an awareness of competing interests as well as shared values and goals. There are three strands to the Good Friday Agreement - the internal Northern Ireland matters, north-south dealings and the Great Britain, island of Ireland east-west dimension.
Very regularly, invariably through the promptings of unionists, visiting ministers from Dublin are reminded that the internal affairs of Northern Ireland are none of their business.
Often in recent years during the many rounds of negotiations chaired by the British and Irish governments, the Northern Ireland secretary took the lead in dealing with the DUP, while the Minister for Foreign Affairs concentrated on delivering Sinn Féin. Sometimes both would engage with the smaller parties. Other times they would take turns.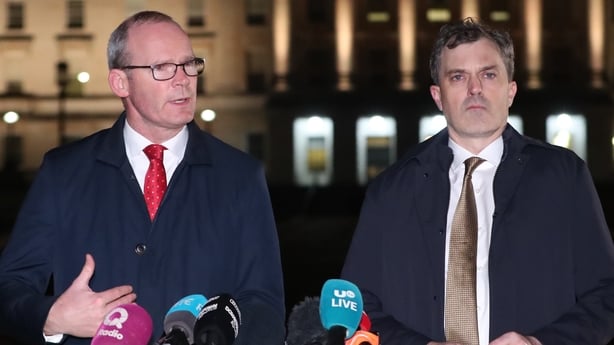 Through the autumn as Julian Smith became more deeply involved in his brief, it was more than a coincidence that some of formal demarcation lines were blurred and significant risks were taken.
The withdrawal deal that Boris Johnson negotiated with Brussels had its origins in the discussions he had with Leo Varadkar. It avoided a hard border on the island of Ireland, it had support throughout Dáil Éireann and it provided the impetus for the new British prime minister to contest a successful December Westminster election.
The DUP were bruised because their misgivings had been overlooked in order to achieve that deal.
But the danger of the hard border for which they would have been blamed, was gone.
Julian Smith did only limited canvassing in his Skipton and Ripon constituency for those Westminster elections on 12 December.
He spent a lot more time in Northern Ireland preparing for the push to restore power-sharing at Stormont. In the days immediately before Christmas, he and Simon Coveney publicly called out the DUP, stating it was the only one of the five main parties holding up a breakthrough.
The holiday break was short. When pressure cooker politics resumed, health workers were on strike and the Smith mantra suggested Assembly elections would be called unless a government was in place by 13 January.
He and Simon Coveney jointly rolled the dice on the night of Thursday 9 January when they made public their take it or leave it deal. Some of Sinn Féin's key negotiators felt the haggling had been ended prematurely.
But it was the decisive gamble that ended three years of Stormont deadlock.
The following Monday, Prime Minister Boris Johnson came to Stormont to publicly acknowledge the breakthrough and to bask in the reflected glory of success.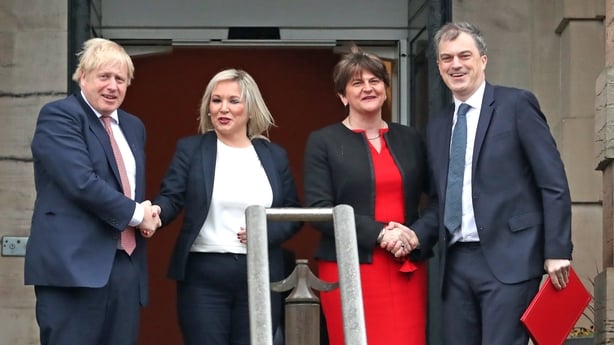 The same day, 13 January, in what turned out to be his final out of area activity before calling the General Election, Leo Varadkar and his Tánaiste travelled north, briefly to share in the celebrations.
In the Great Hall, when asked by UTV's Tracey Magee about how secure Julian Smith was in his Northern Ireland Secretary role, Mr Johnson praised his role in the restoration of power-sharing and said he has "a bright future".
That night, unusually, a few from our trade went to celebrate the end of what had often seemed like reporting about the darkest and deepest of political rabbit holes.
The venue for the post-mortems was the Errigle Bar on Belfast's Ormeau Road. An hour into the chat, we remembered how the young press officer who worked with the Northern Ireland secretary was soon heading to a new job in the private sector. He accepted to invitation to join us and did not come alone.
A five-minute walk from where orange and green often clashed on the Ormeau bridge, up the road from the Ballyinfeigh Orange Hall, the Northern Ireland secretary joined in the bar banter.
Each time he went to the gents, a minder kept an eye on him. But his return journeys to the discussions were invariably punctuated by customers who chatted with him. No one raised a voice. Many thanked him.
There had been a pub quiz going on but we were not tuned in. At the end of the night a man presented himself to Julian Smith and said "you didn't take part in the quiz, but you won this". He handed him a bottle of wine.
Is everything personal?
Some are suggesting there was a target on Julian Smith's back. They say that because of his Theresa May links, his record as a Remainer and his absence of a relationship with Boris Johnson and Dominic Cummings his sacking was inevitable.
But a near compelling case can be made that this example of ruthless score-settling amounts to a public display of political stupidity.
There have been 21 British politicians who have served as Secretary of State. Tory Francis Pym was in the post for just 92 days. He had to leave in March 1973 after Labour won the General Election.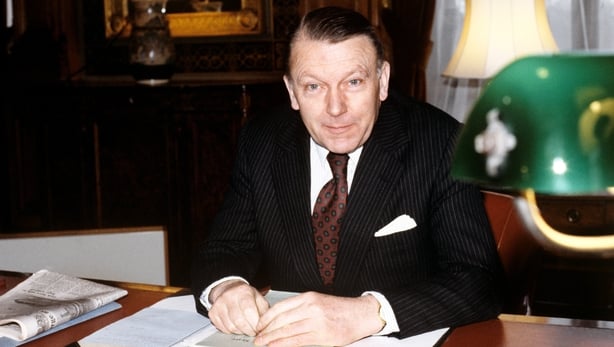 That Pym term apart, Julian Smith's was the shortest since the Secretary of State position was established in 1972.
During his 204 days, all three strands of the Good Friday Agreement improved and one of the festering elements of Brexit was resolved.
By their actions Boris Johnson and his close circle have cast doubt on the worth they attach to those achievements.