A beauty therapist with spina bifida has opened a wheelchair accessible beauty salon in Cork with the help of a charity.
Sarah Dullea, 23, from Dunmanway in Co Cork, who uses a wheelchair, finds salons are not easily accessible.
Sarah said: "With spina bifida, the majority of people are in wheelchairs and that causes challenges in itself with going into salons because they're tight.
"You have to just sit in this tiny room and it's tight and awkward and you feel uncomfortable like you are putting the therapist under pressure."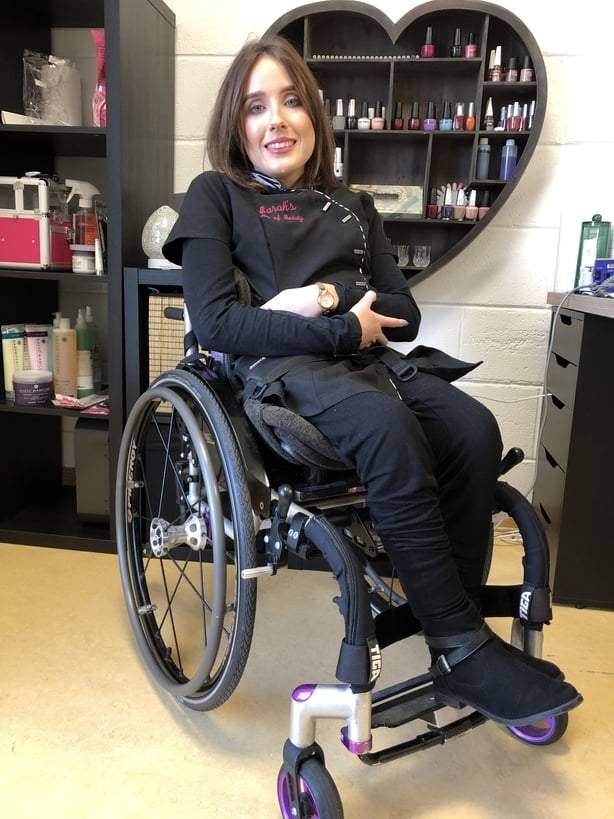 After qualifying as a beauty therapist, Sarah found it a challenge working in other salons.
She said: "I tried to get plenty of jobs. One place, I went in and the tables were so high I couldn't even see over them.
"I've had to get my client to sit on a chair behind me and paint her nails in the air which was awkward.
"As good as a nail technician, as I am, nothing was going to save that."
Sarah approached The Crann Centre with the idea of opening a salon at their premises which was wheelchair accessible to both therapist and customer.
The Crann Centre is a charity which supports people living with spina bifida, hydrocephalus and other related conditions.
It is based in Ovens, Co Cork, in a fully wheelchair accessible building.
Kate Jarvey, the charity's founder, said it was important to the organisation to help Ms Dullea set up her salon.
She explained: "Sarah is a beacon of light. We all know that work dignifies life.
"Unfortunately, so many people with disability are not able to enter the workplace and that's such a shame.
"We believe in her story, that rather then people with disability being a net receiver of benefits, that people with disabilities should be net contributors to society.
"Sarah is the epitome of that."
For Sarah Dullea, the opening of Sarah's Art of Beauty salon is "a dream come true".
She explained: "Some people, for my whole life, have said, 'no, you can't do this. You're in a wheelchair'.
"It just means a lot to me that someone said, 'yes, absolutely. We can do this'."