Fianna Fáil is understood to have concluded its negotiations with Minister for Finance Paschal Donohoe tonight at Government Buildings, after some of its key budgetary demands were met.
RTÉ News understands that the party's call for hundreds of additional gardaí will be factored into tomorrow's Budget.
Fianna Fáil has also secured commitments that the Budget of the National Treatment Purchase Fund will be increased from €75m to €100m.
There will also be, it is understood, one million additional home support hours at a cost of €45m.
It is also believed that Budget 2020 will lead to a significant increase in staff focused on special needs education.
Minister Donohoe, who was said to be in an upbeat and determined mood tonight, is expected to increase the rate of stamp duty, which currently stands at 6%. RTÉ News understands the increase will be in the order of between 1 and 2 percent.
It is still unclear by how much the Minister will increase carbon tax, but it is believed the hike will be between €6 and €7 per tonne.
The details of the budget will be announced at lunchtime tomorrow.
Budget 2020: Here's what to expect
Separately, thousands of people aged over 70 will become eligible for a medical card as part of a Budget package set to be announced tomorrow, RTÉ News understands.
The move follows negotiations earlier today between Mr Donohoe and Independent Alliance colleagues.
The new eligibility threshold for a single person increases by €50.
That means someone in receipt of a gross weekly income of up to €550 will soon be able to apply for a medical card.
And a couple who have a weekly income of up to €1,050 will be eligible to get medical cards.
That is up from the current weekly limit of €900.
The changes are set to benefit around 56,000 people at an annual cost of €30m.
Last minute talks ahead of the Budget are continuing this evening.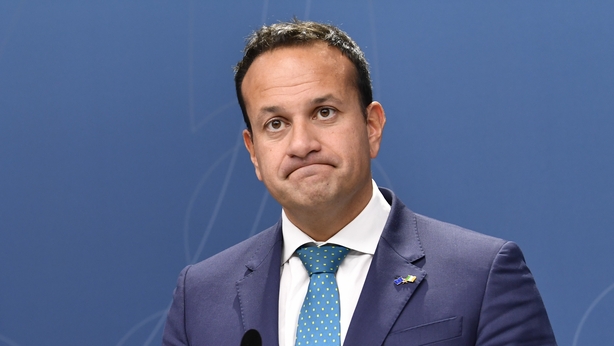 Earlier, Taoiseach Leo Varadkar said tomorrow's Budget will work to protect the progress that has been made in recent years.
Speaking to staff at EY in Dublin following an investment announcement by the firm, Mr Varadkar said the Budget would also aim to advance social justice, equality of opportunity and improve the quality of life for people.
He said the economy and the public finances were being well managed.
He said the Irish Fiscal Advisory Council would "get it wrong again" as the Government would run a surplus this year, as it did last year, he claimed.
Mr Varadkar said 2.3 million people are at work, more than ever before, and the unemployment rate is at 5% and falling.
He said that economic growth was still more imbalanced than the Government would like it to be, but it was better spread across the country than it used to be.
Wage growth was solid, he added, growing at around 3% a year, well ahead of inflation.
Mr Varadkar said poverty and deprivation rates had fallen for four years in a row
The Taoiseach said that while public spending was rising, it was only doing so at about half the rate it did during the Celtic Tiger period and that makes it sustainable.
Important reforms have also taken place in social protection, he said. While housing construction is increasing, with 20,000 homes built in the past year, he told the audience.
Mr Varadkar said that it needs to be 35,000, but at least it was going in the right direction, and he said there was evidence that house prices were leveling off.
He said the Government cannot mitigate for all the economic risks facing the country at present, but it can take decisive and positive action to prepare for them.
Donohoe finalising Budget 2020
Talks to finalise Budget 2020 are continuing with discussions across Government departments.
The traditional build-up has been dwarfed by heightened fears of a hard Brexit. Despite the low key approach, however, the broad outline of Budget 2020 seems clear. There will be a carbon tax increase, probably in the order of €6 to €7 per tonne.
That would break down at 2 cent on a litre of petrol or diesel and it would also mean an increase of about €15 on a tank of home heating oil. Modifications to the help-to-buy scheme for first-time home buyers are also on the cards. There will not be blanket tax cuts and welfare increases.
Instead, there will be targeted changes, with the elderly and children at risk of poverty the main focus for Government.
Speaking on RTÉ's Today with Sean O'Rourke, the Minister of State for Disability Issues, Finian McGrath, said major progress had been made in regard to disability issues, but there was more work to do.
He said that the Independent Alliance had concerns about the impact of carbon tax on lower income families.
Although things were difficult, with Brexit negotiations ongoing, the most vulnerable must be protected in Budget 2020, he added.
Additional Reporting Will Goodbody
---
Read more:
Blanket social welfare increase in Budget ruled out
Taoiseach says Budget will have modest welfare increase
---

There will be full and comprehensive coverage and analysis of Budget 2020 on RTÉ Online, TV and Radio tomorrow afternoon.