The association representing officer grades in the Defence Forces has voted to accept the Public Service Pay Commission proposals aimed at addressing acute staff shortages.
The Representative Association of Commissioned Officers (RACO) voted in favour of the €10 million package of allowances at its annual conference in Naas, Co Kildare today.
However, announcing the result, its General Secretary said that if any other group had been treated so badly, it would have taken industrial action.
Commandant Conor King said the decision to accept the proposals by around a two thirds majority had been taken after a lot of "robust" debate.
He said RACO was placing its faith in the Government to meet the deadlines in the implentation plan "Strengthening Our Defence Forces".
Commandant King said the fact that RACO was unwilling to take industrial action, and would never let the State down, should not be exploited.
He said that what members were seeing in the Defence Forces was a "permanent form of industrial action" - whereby people were voting with their feet and leaving the jobs they loved never to return.
He said the proof of the pudding would be in the month to month figures indicating the strength of the Defence Forces, adding that those figures are currently "going south".
Commandant King sait that turnover was at the "unprecendented" level of 10.3%, with a 9% shortfall in members.
However, he cautioned that as 500 members in training could not legally be deployed, the realistic shortfall could be as high as 14%.
He said it would take time to redress that balance, but that if this did not happen, the organisation would be in trouble.
The ballot result was announced a day before RACO's annual conference is addressed by Minister of State for Defence Paul Kehoe and Defence Forces Chief of Staff Vice-Admiral Mark Mellett.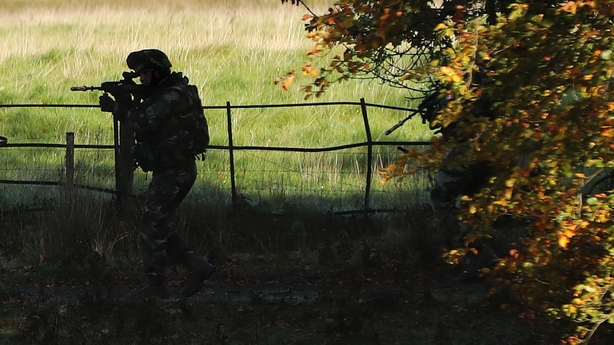 The Permanent Defence Forces are supposed to have 9,500 military, naval and Air Corps members, but the latest figures show its current strength at 8,653.
If fully staffed, the Army would have a strength of 7,520, but membership currently lags at 6,979.
The Air Corps has just 705 of the 886 members it is supposed to have, while the Naval Service total at 969 is below its target of 1,094.
The two Defence Forces representative bodies - RACO for 1,100 officers and PDFORRA for the remaining enlisted members - have repeatedly insisted that pay must rise to halt an exodus of serving members, arguing that some even have to resort to social welfare payments to make ends meet.