It is hard to believe that only 4% - just 97 individuals - of more than 2,500 Dublin Bus drivers are female.
To try to address the imbalance, Dublin Bus is running a series of female recruitment open days throughout September and October, including today.
The company is unhappy that women are underrepresented in driving roles and it wants to do something about it.
A spokesperson: "We want to be reflective of our customer base and the communities we serve so are proactively recruiting women drivers."
But Dublin Bus is not alone. Despite making strides forward in gender equality, many occupations are still heavily populated with men.
Here, three women share their experience of bucking the trend in traditionally male-dominated industries.
---
Aoife Gormally - carpenter and foreman
Aoife Gormally is a section foreman at the DIT campus in Grangegorman in Dublin where she heads a team of 40 men.
After the merger of DIT, IT Tallaght and IT Blanchardstown, the Grangegorman campus will be at the heart of the new Technological University Dublin when it is finished.
Aoife is overseeing the basement section of the main building, which will house lecture theatres and a range of facilities for staff and students when it is finished next year.
A carpenter by trade, Aoife has been working with Sisk & Son Ltd for the last ten years.
"My dad is a carpenter by trade as well. I used to go with him on Saturdays when he would be doing work," she recalls of her childhood.
From Ashbourne in Co Meath, Aoife remembers visiting the Guinness Storehouse with her father when it was being built back in the late 90s.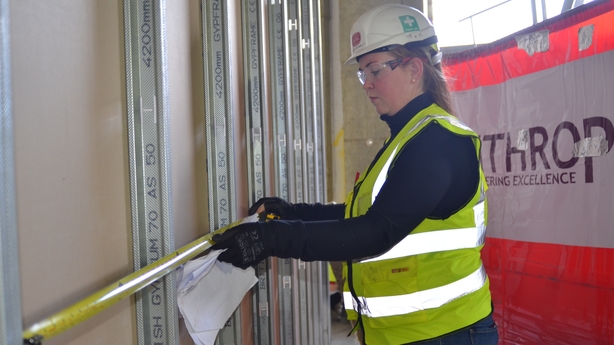 "He brought me up to the Sky Bar and there was no windows in at the time so it was fully open and I remember him pointing me out bits of Dublin and I thought this was brilliant," she says.
Aoife took woodwork classes at school, which she enjoyed, but after finishing her Leaving Cert she was unsure of her career path.
"I was going to do nursing, but I think when it came [to it], it wasn't what I really, really wanted to do.
"I [had] done woodwork in school and I really enjoyed it. And then I had an interview with Sisk and I came in that way," she says.
The construction sector has the lowest proportion of women at work in Ireland, with men representing 93.6% of those at work, according to the last Census figures.
But Aoife says that she hasn't suffered any discrimination in work.
"I was never treated any differently with Sisk. You're one of the lads whether you liked it or not, you were with the lads.
"I've met an awful lot of nice people here and I've never been made feel that I shouldn't be here or [that] it is a man's world," she explains.
However, she admits she did have some reservations before training as a foreman.
"I thought becoming a foreman was going to be harder [than becoming a carpenter]. Would a grown man listen to a girl in her 20s, her telling him what to do?"
But her worries were short-lived as she has found that the key to successful management is communication.
"Once you communicate and have a good relationship with somebody, it's never going to be an issue. Even in a management position, people do understand and do listen, once you build up a good relationship," she says.
In fact, Aoife has noticed one perk of being the only woman on her team.
"What's the difference? We've our own toilet. That's the only real difference," she quips.
Aoife is passionate about her career and thinks the best aspect of her job is the variety.
"Every day is different and every job is different. You're constantly moving and you're meeting new people. What I like most ... it's the people and the projects.
"And you see things develop from a hole in the ground to a finished building. It's job satisfaction really," she adds.
---
Dr Suzanne Little - computer scientist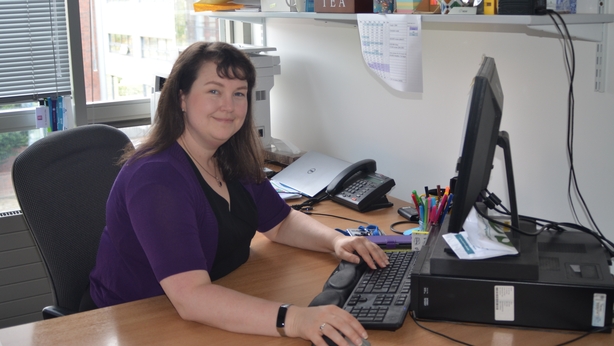 Construction isn't the only sector where women are heavily outnumbered, Dr Suzanne Little has noticed a stagnation in the numbers of girls taking up third-level tech studies.
Suzanne is a computer scientist and assistant professor at the School of Computing in DCU.
She is hoping to attract young women into the field of Science, Technology, Engineering and Maths, commonly known as STEM, with initiatives such as Girls Hack Ireland.
"The Leaving Cert results for girls in maths are great. They're taking honours maths, they're doing really well in honours maths, but they're still not going into computing," she explains.
In OECD countries, fewer than one in three engineering graduates and fewer than one in five computer science graduates are females.
"Anecdotally, one of the bigger influences on choice of study area is parents," she says.
"Then you put the whole thing of 'You know what girls get treated like in those sorts of tech companies, maybe you shouldn't do it'. That can be off-putting," explains Suzanne.
Suzanne recalls noticing a gender imbalance when she began studying 20 years ago.
From Australia, she did a four-year software engineering degree before a masters in computer science at the University of Queensland.
"There was definitely a lot fewer girls in the course," she says.
"There was certainly moments when you would look around the class and [think] 'oh, only three of us'."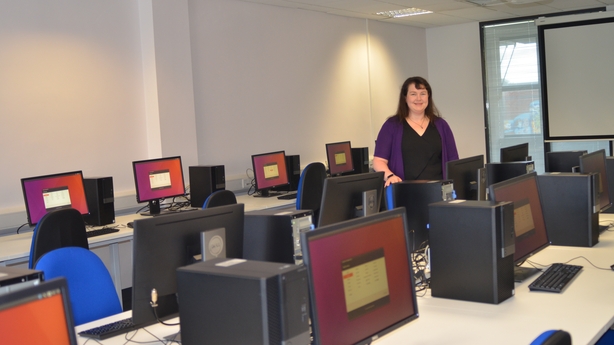 After completing her studies, Suzanne spent a number of years working on research projects and teaching in Europe before moving to Ireland seven years ago.
"It's been a bit of a family joke, I left Australia for 18 months and that was 13 years ago," she laughs.
"I came [to Ireland] as a research fellow, moved up through the post-doctoral ranks and was fortunate enough to be given a lecturing position nearly four years ago now," she says.
However, Suzanne is aware of being in a minority among the lecturers at the School of Computing.
"We're getting better, but it is a majority of male academic staff. There's probably six or seven females in a 30-odd academic teaching staff," she says.
As the college academic year returns this week, is it mainly men coming into STEM?
"Sadly, yes. In fact, I think it's getting worse, which is really sad," she says.
"Even from when I was an under-graduate, it has not really gone up.
"I think women's participation in computing peaked in the 80s. And it hasn't really progressed in a lot of places."
Not to be deterred, Suzanne is involved in a number of progressive initiatives aimed at girls in school.
"There's a collective of female lecturers in computing across Ireland, we meet up every couple of months to talk about 'are there actions that we can take or are there things that we could do to support this?'," explains Suzanne.
"About five years ago, Girls Hack Ireland was started by The Insight Centre for Data Analytics, which I'm a principal investigator in, with the idea of introducing teen girls to the possibility of careers in STEM in general.
"But I think there's a lot of fantastic initiatives for doing this and we've been involved with a few different ones and Girls Hack Ireland is one of many really great ones in Ireland," says Suzanne.
"We're hoping that, perhaps, things like CoderDojo Girls might start - they're too young yet - they [the girls] might start to filter through [to university] in a few years' time."
Girls Hack Ireland has run a number of events and workshops around the country.
"The idea was to say: here's what my life looks like as a computer scientist and let's show you how easy it is and how much fun it is," adds Suzanne.
---
Rachael Lee - firefighter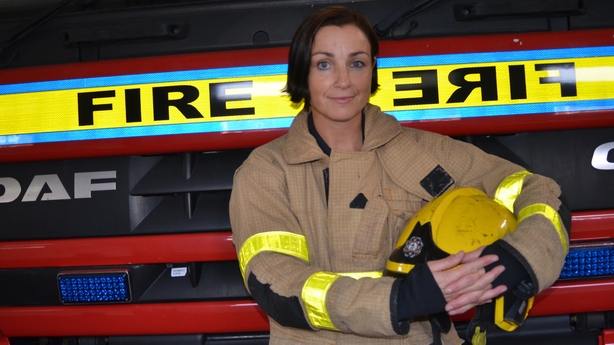 Job satisfaction is what firefighter Rachael Lee enjoys most about her job.
"I've never had a day where I don't like coming into work. I really enjoy the camaraderie. I work with a great bunch of lads and every day is something different," she says.
Rachael has been a firefighter with the Dublin Fire Brigade (DFB) since 2005. Based in Phibsboro Fire Station, Rachael is the only woman on a team of 17.
And while Rachael enjoys her job, she says it is not without its challenges.
"You might have a day where it's very easy or you might have a day where it's a day from hell."
As well as responding to fires, the DFB members are all trained paramedics. They also deal with road traffic accidents and provide water rescue services.
"You have to want to be a firefighter and being a firefighter means getting your hands dirty, getting in there and doing it," she says.
"I was a nurse before [joining the DFB]. I started nursing in '97 after school. I always had an interest in helping people," explains Rachael.
Rachael recalls that the idea of joining the DFB was a suggestion from a friend.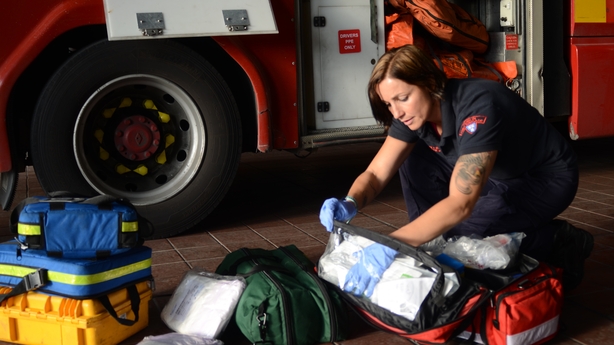 "At the time I was big into sport and swimming and a few of the lads I was training with were firefighters and they had said to me 'Rachael would you think about going into the fire brigade'."
But Rachael was happy with nursing. She then went to Australia for a year and on her return she found out that the DFB was recruiting.
"So I went for it, didn't think anything of it ... and I got it."
Along with her career as a firefighter, Rachael juggles motherhood and she is an accomplished swimmer.
In 2016, Rachael swam the English Channel in 9 hours and 40 minutes, setting a new Irish record.
As to why more women don't consider firefighting, Rachael says that it is a physically demanding job.
"You have to be fit coming into the job. I was quite fit and coming from a swimming background ... so that aspect didn't bother me."
Rachael recalls the Grenfell tower fire in London last year and noted that the chief firefighter was an "incredible woman".
"I thought that was great to see.
"I do think things are changing and I think it's perception and I think it's down to education. When I was in school I knew nothing about firefighting."
And while Rachael says she has noticed more women in the job, she says there are no women in the current recruit class of 24.
"I was actually shocked by that because there's normally three or four in [a class of] 30-40."
As to why the numbers are low, Rachael considers: "Is it down to schooling? Is it down to education? Is that what women want to do in work?"
"It's a brilliant job but again it is very, very daunting. And if you're not a strong-minded person, never mind a physically strong person, then it's definitely not the job for you, especially as a woman because you do feel you have to prove yourself," she says.
Being the only woman on her watch doesn't bother Rachael.
"You still hear people saying fireman," but Rachael is not put off by that. "I don't feel I have to prove or identify myself as a firefighter, I know what I am and I'm happy with that."