It is understood that a vessel brought ashore to Inis Oírr in the Aran Islands yesterday is a US Navy target boat.
The upturned boat was spotted by the crew of the Doolin Express Ferry.
It still had its two engines attached, although it appeared to have been in the water for some time.
Initially, it was thought the vessel was a rapid rescue boat belonging to the US Coast Guard.
However, the Doolin Ferry Company issued an update this morning.
It said: "After thousands of shares on social media, national news coverage and many phone calls and suggestions, we think we have gotten to the bottom of this intriguing mystery.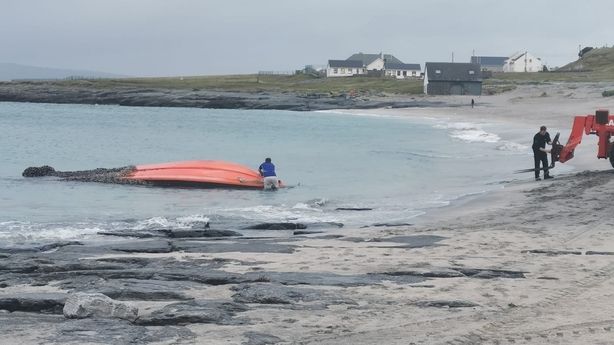 "We believe the boat originated in Norfolk Virginia and it's not actually a rescue boat, but a High Speed Manoeuvrable Surface Targets, or HSMST.
"Essentially, they are remotely operated and used as target practise by the US Navy. This boat was built in 2015 and it is likely that it was lost during a training exercise."
Liam O'Brien, owner of Doolin Ferry Company added: "We couldn't have predicted the interest from the public that there has been in this boat.
"There was a lot of growth on it, it had clearly been there for a long time.
"We already have a shipwreck on the island, so everyone's saying this is the new one.
"This is definitely the most unusual thing we have discovered and it's drawing in lots of tourists to the area."
---
Read more
Vessel believed to belong to US Coast Guard turns up off Co Clare
---