Government officials in Northern Ireland have warned that they cannot rule out having to cull thousands of dairy cattle if there is a no-deal Brexit.
But they say "the doomsday scenario" would only be considered if all other options are exhausted.
Farmers' leaders have labelled claims that more than 40,000 animals might have to be killed as scaremongering.
We need your consent to load this rte-player contentWe use rte-player to manage extra content that can set cookies on your device and collect data about your activity. Please review their details and accept them to load the content.Manage Preferences
The BBC has reported that senior industry sources have said around 45,000 dairy cows would have to be culled if new higher tariffs are applied to British milk in the event of a no-deal Brexit.
There are more than 3,000 dairy farmers with around 300,000 cattle in Northern Ireland.
The dairy industry is viewed as particularly vulnerable to a fall in demand because milk cannot be stored for long periods.
Nearly a third of all raw milk produced in Northern Ireland each year, up to 800 million litres, is exported to the Republic of Ireland for processing.
That generates around €200m for dairy farmers.
Exports of dairy products such as cheese, butter and powdered milk generates around an additional €130m.
If tariffs are applied, the price of milk products from Northern Ireland could escalate by an estimated 40%, meaning a possible collapse of large proportion of the market.
We need your consent to load this YouTube contentWe use YouTube to manage extra content that can set cookies on your device and collect data about your activity. Please review their details and accept them to load the content.Manage Preferences
RTÉ News has established that the Department for Agriculture, the Environment and Rural Affairs (DAERA) in Northern Ireland has warned the British government that a no-deal Brexit would have a serious and immediate impact on the industry.
However, government officials stress that they are not currently planning a cull and are working hard to avoid that scenario arising.
They say that while it is impossible to completely rule out a partial cull, it would be a measure of absolute last resort.
The Ulster Farmers' Union has been warning for some months about the potential impact of a no-deal Brexit.
But it does not accept that a large scale cull of animals would be required if there is a significant and immediate fall in demand in the weeks after Brexit.
"No dairy farmer I have spoken to believes a cull is likely," says Ivor Ferguson, the UFU President.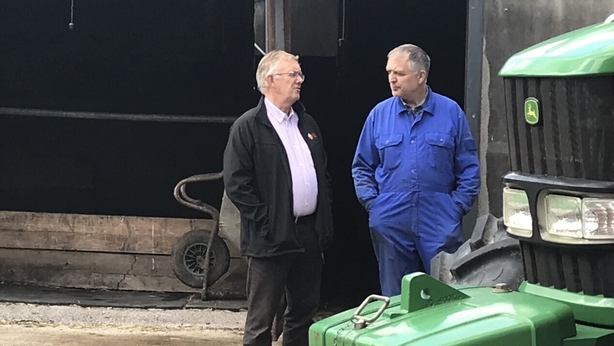 "I speak to officials at Stormont and in London on a weekly basis and none of them has ever raised the possibility of a cull.
"I don't know who it is making these claims. The only thing I can think of is that someone is scaremongering, and that is very dangerous while negotiations are going on.
"To cull a large number to address a surplus of milk would be out of the question in my mind."
Even if there was to be an initial sharp fall in demand for Northern Ireland milk and other dairy products, Mr Ferguson said the union and its members were confident they could find ways to deal with the surplus.
"Our processors told us last week that they would have three to four weeks' capacity to handle the extra milk at the moment," he explained.
"After that you know we do have the GB market, for example, there are 65 million people, there's a lot of milk consumed there."
William Irvine is the seventh generation of his family to farm dairy cattle in the Mountnorris area of south Armagh.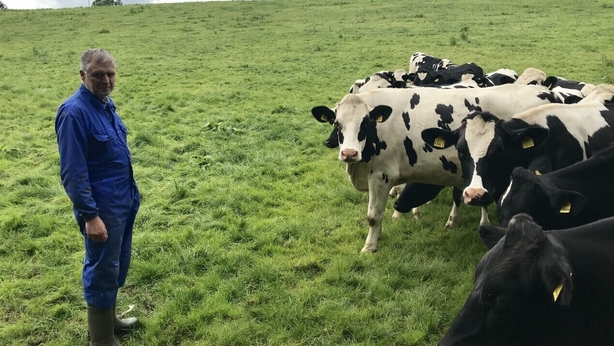 He also rejects any suggestion that a large scale cull will be necessary and warns that such a move would have serious long-term consequences.
"It takes years, the dairy farmer herd of cows is generations of breeding and once you cull it they are gone," he said.
"It would take a lifetime to get it back to that again."
The last large scale cull of farm animals was in 2001 after a widespread outbreak of foot-and-mouth disease in Ireland and the UK.
Government officials say there are currently no plans for a cull and they remain confident they scenario.
No return to destruction of 2001 - dairy expert
An Irish dairy expert has said that should a major cull take place, we would not see a return to destruction of livestock seen during the foot-and-mouth crisis.
Professor Karina Pierce stressed that any potential cull would be different to the foot-and-mouth crisis of 2001.
The Associate Professor of Dairy Production in the School of Agriculture and Food Science at UCD said that any decision on what would happen would be decided by the market over time.
During the 2001 outbreak, more than six million cows and sheep were killed to halt the spread of the disease.
It saw thousands of animals culled on the island of Ireland and generated distressing images of animals being destroyed.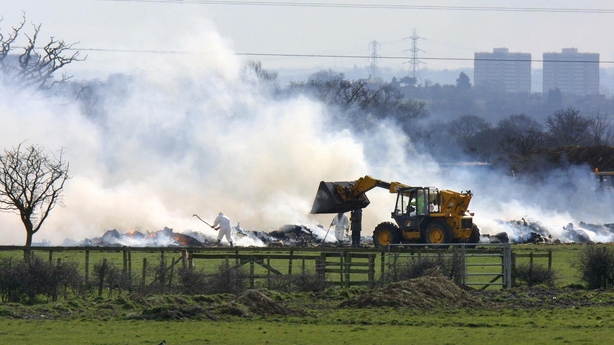 Prof Pierce said: "What was indicated [in the report] was the particular difficulty it poses for farmers in Northern Ireland in the case of milk production where about a third of Northern Irish milk, which is somewhere around 700 or 800 million litres is processed in the south annually, which is equivalent to about 10% of the milk in Ireland, so it is quite significant for the whole island.
"If tariffs were to apply in the case of a no-deal Brexit that means that the bringing of that milk from north to south could be very uneconomical.
"If there wasn't a market for the product, the herd size and the milk output in the north, one possibility is that it would have to reduce to respond to that changed market.
"A cull or a reduction in the size of the herd in Northern Ireland would not be a popular decision, so you'd imagine that the UK in their no-Brexit discussions is discussing the possibility of that milk moving to mainland UK.
"But we haven't heard too much on this other than the negotiators were very quick to come out this morning to say that a reduction of the herd there wasn't something they were anticipating. So, they are obviously planning for another outlet to open for that milk if it can no longer come south."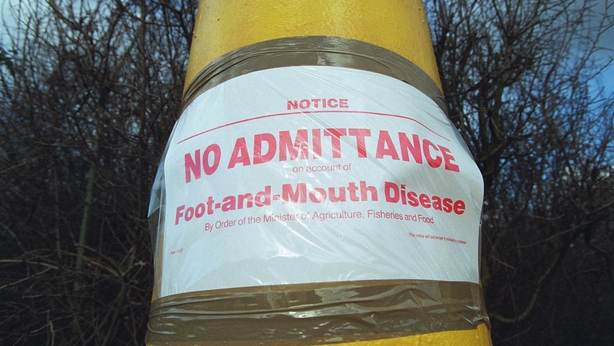 The foot-and-mouth cull in 2001 is not the only one to have taken place in Europe.
Since 2016, a national dairy cull has been slowly taking place in the Netherlands to reduce the country's phosphate production from livestock manure.
According to provisional figures by Statistics Netherlands, between 1 January 2017 and 31 December 2018, the number of dairy cows there were reduced by 190,000 - 11% of the country's national herd.
Additional reporting Mark O'Flynn