"I can hold my breath for six minutes. That's the length of Bohemian Rhapsody!"
Claire Walsh's passion is one of the most dangerous extreme sports on the planet.
The Leixlip woman is a competitive freediver - an athlete who swims to extreme depths without breathing apparatus.
She is currently training for the 2019 AIDA World Depth Championship, which takes place in Villefranche sur Mer in France in September.
Freedivers from all over the world will compete in three disciplines: constant weight, constant weight without fins and free immersion.
"The deepest I have been is to 60 metres below sea level. That's in free immersion, which involves me pulling down to descend on a rope," Claire said.
Having first tried freediving while travelling in Central America in 2015, Claire's preparations for France began in earnest last November.
"It was exactly 16 November 2018. Physically, I wasn't in good shape. Mentally, I probably wasn't feeling the strongest. But I had this idea, this ambition, to be the first person to represent Ireland at the AIDA Depth World Championship," she explained.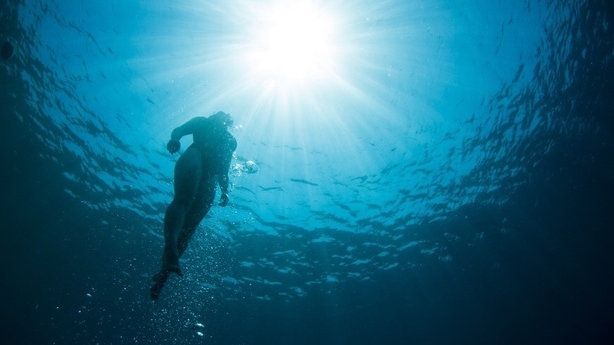 Claire began a training regime under the guidance of Keith Grainger, a personal trainer and coach at Custom Fitness in Sandyford.
"I'm used to training GAA players and MMA fighters. Claire is certainly a unique client," he said.
Earlier this summer, Claire left Ireland to spend three months dive training in Dahab in Egypt.
"The first thing you learn when you freedive is that you never dive alone. In Dahab, I have a team of wonderful buddy divers.
"They provide the training and always escort me down on a dive and escort me back to the surface. There are dangers to the sport but if you play by the rules, it's safe," she said.
Away from freediving, Claire has a background in performance.
"I worked as a puppeteer at the Lambert Puppet Theatre for years. I am also a voice and movement coach, so breath-work is a common thread in what I do."
"Learning to hold your breath and take it underwater requires a level of mental strength, awareness and focus like no discipline I've experienced.
"Busy minds, racing thoughts and self-talk become amplified underwater and manifest in physical tension.
"Freediving challenges me to turn my focus inwards and achieve a state of softness, relaxation and quiet. Only then will your mind allow your body to visit depth.
"Breath-work, relaxation techniques and mindful meditation are key elements of this sport. Whether I'm in water or on land, freediving helps me live better."