Women gardaí have been celebrating the 60th anniversary of the first female recruits, in a ceremony at Farmleigh House in Dublin.
Women were allowed join the garda force in July 1959, after a long running campaign by civic groups.
With the support of the then Garda commissioner and government, 12 women joined An Garda Síochána.
Noeline McGrath and Angela Leavy were two of the first recruits in the class of '59.
While attending today's ceremony, Ms McGrath spoke fondly of her time as a garda.
"We joined the guards in July 1959, we were the first group of women in Ireland, there were 12 of us. It was lovely, it was a lovely experience.
"We trained in the Garda Depot, Phoenix Park and then we went down the city at Christmas. It was all lovely and the people accepted us very well and we were very happy."
Ms Leavy agreed with Ms McGrath but said she would have preferred if one rule in particular had been changed sooner.
"I'm number two, she was number three, there were 12 of us. There's only seven or eight of us left, we miss them, we've kept in contact, we've made great friends.
"I was asked by somebody about the men guards, they were very good to us and very helpful to us, so we couldn't complain. But we had to leave when we got married. It was either drop your fella or drop your job, so what do you do? Fellas were scarce."
Speaking today, Garda Commissioner Drew Harris said: "Sixty years ago these pioneers of policing in Ireland took the brave and honourable step of becoming a garda and, in doing so, not only helped protect the communities they served, but also inspired many other women to follow in their footsteps."
An Garda Síochána has come a long way since it allowed 12 women to join in 1959.
Currently, 3,780 women make up 27% of garda members.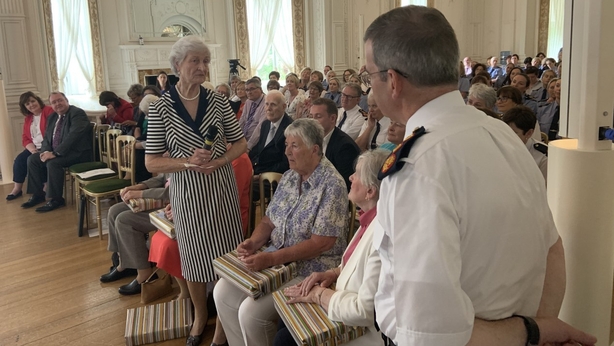 "Without sounding really cheesy, I joined because I always wanted to help people," said Sergeant Laura Dragoi, who is stationed in Kilkenny and joined the Garda in 2007.
"That was my intention and that hasn't changed in the last ten years. So is it rewarding, very much so. Is it challenging, very much so. We have good days and bad days. But overall I think it's more rewarding than challenging.
"I think it's still a male-dominated job but I think women have been embraced and they have been supported. I myself have been supported all through my career."
Ellen O'Mally Dunlop, Chairperson of the National Women's Council of Ireland, was a guest speaker at the event.
She said she would like to see more women apply for jobs in An Garda Síochána.
"I'd like to see more women entering the force, I'd like to see more women in senior positions as well as right across the force. And I would like, again, to see in time, another woman Commissioner."
The number of women garda members is above the European average for female representation within police services.
In addition, 26% of the Garda Reserve are female and 76% of garda staff are also female.
Commissioner Harris also said more needs to be done to encourage and support women in joining An Garda Síochána and specialist units to continue to increase female representation.
As part of this, Commissioner Harris said An Garda Síochána would be establishing a Women's Network to support and encourage women in the advancement of their careers in the organisation.
Absent from the proceedings at Farmleigh House was former garda Majella Moynihan who declined her invitation.
Recently she met with Minister for Justice Charlie Flanagan and Commissioner Harris, who apologised for the treatment she experienced in An Garda Síochána after she became pregnant in 1984.
Ms Moynihan had been subjected to an investigation and threatened with dismissal when she became pregnant by another garda recruit.