I nearly became a road traffic statistic.
A motorist tried to squeeze past another car. He darted into the cycling lane without looking and hit my bike.
I pulled the front wheel away from the kerb in the nick of time, managed to keep the bicycle upright and fortunately avoided injury.
It happened on my way home from work on a Thursday evening in broad daylight on Merrion Road in Dublin. It is a stretch where motorists and cyclists compete for every inch of space - like many other parts of the city.
The car's bumper hit my pannier, which absorbed some of the shock. That saved me from a potential hard impact, which would have propelled me towards the pavement.
I stopped and approached the motorist who lowered his window.
The driver was dressed in white shirt and bow tie, possibly on his way to a night out. He immediately accepted it was his fault and asked if I was OK. He seemed shaken too.
The driver didn't look in his wing mirror before veering into the cycle path.
If he had checked he would have easily seen me, as I try to be as visible as possible by using bright lights and wearing a hi-viz jacket.
Having tweeted about the incident, I was contacted by two local councillors, Hazel Chu of the Green Party and Dermot Lacey of Labour, who volunteered raise to the issue with Dublin City Council.
Unpleasant experience cycling home last night. Motorist tried to squeeze past another car by darting into cycling lane without  looking and hit my bike. Lucky not to be injured. But drivers please use mirrors and look left for bikes in cycling lanes.

— David Murphy (@davidmurphyRTE) June 7, 2019
But collisions such as mine with much more serious outcomes, sometimes fatal, happen too frequently.
It is not just motorists who make dangerous manoeuvres putting cyclists' lives at risk.
Many people on bikes are equally guilty of dodgy decisions, such as breaking lights at busy junctions, weaving between cars, not using lights or even wearing a helmet.
Much of the tension on the roads could be avoided by an adequate infrastructure, such as cycle paths that are properly segregated so motorists cannot drive into them.
Over the coming weeks, the Government will attempt to turn attention to its Climate Action plan, which will also focus on sustainable transport.
No doubt there will be plenty of photo-ops for politicians flaunting their green credentials.
But the evidence of investment in cycling infrastructure to date shows a drop in funding over some years, despite the rising number of cyclists.
The funding has declined from €19m in 2015, to €10.5m in 2016, €7m in 2017, with €8m planned for spending last year.
However, the Department of Transport says funding in 2019 for broader walking and cycling programmes has increased to €48m, a rise of 30%.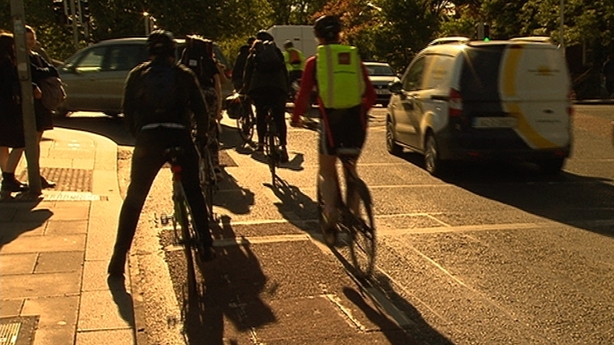 It also says construction is due to commence on a number of major projects this year - including additional bike paths along the canals, beside the Liffey and from Clontarf to the city centre.
But critics say some of the existing cycling lanes are in poor condition with potholes and broken surfaces. Others are badly designed coming to a halt abruptly - funneling cyclists into the traffic.
So far, there have been five bike fatalities this year. Last year, there were nine, a decrease of five from 2017.
As well as deaths, there are frequent injuries, which sometimes leave people with life-changing impacts.
Many of the collisions are avoidable and government has big role to play. Potential bicycle commuters are put off because they feel travelling by bike is unsafe.
But individuals have responsibility too. Both cyclists and motorists need to think about their behaviour.
I was lucky that day cycling home from work. But we can't rely on luck every day.