A mother of a premature baby who has received numerous blood transfusions is appealing for people to give blood.
Ann-Marie Gallen from Kildare gave birth to her son Alex on 3 May unexpectedly.
Born 15 weeks' early and weighing the equivalent of just half a bag of sugar, Alex has been in intensive care at the Coombe Women & Infants University Hospital in Dublin since.
It has been a rocky road for the pair and Alex has received a number of life-saving blood transfusions.
Today is World Blood Donor Day and as baby Alex turns six weeks old, his mother is hopeful that he will not need any more transfusions.
Alex's original due date was 15 August but after a routine test at 25 weeks, Ann-Marie and her partner Daniel Cobane were told that doctors had concerns about the baby's growth.
Further scans flagged a problem with the blood flow in the umbilical cord.
"You could see that there was reverse flow in the cord, the blood was actually flowing from the baby to me, rather than me to the baby," explains Ann-Marie.
Alex was delivered by emergency Caesarean section at 9am on 3 May.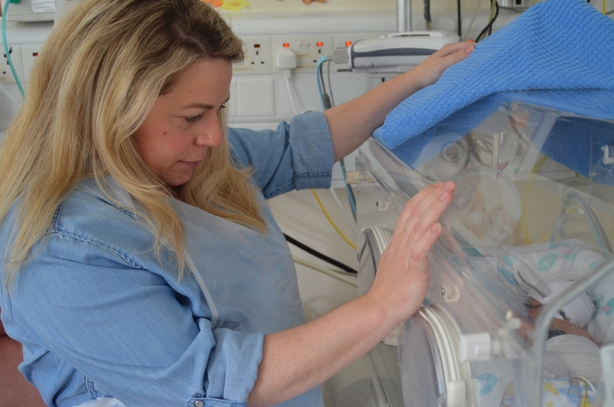 "He was delivered and he cried straight away, which was a really good sign, we were delighted. Daniel went over, they invited him over to take a few photos and then they showed him to me and then they took him away to ICU (intensive care unit)," she says.
"He was tiny, he was only 570 grammes ... half a bag of sugar … he looked like a little bird."
At just three days old, baby Alex became critically unwell. The doctors were concerned that he may have developed a condition called necrotising enterocolitis (NEC).
"It's where they get a hole in their bowel and their bowel becomes infected with bacteria," Ann-Marie said.
Parts of the bowel can die from this condition and one in ten premature babies develop NEC.
Alex was transferred to Our Lady's Children's Hospital Crumlin for emergency bowel surgery. While the surgery was successful, Ann-Marie was told that some babies get very sick in the 12-24 hours post-op period and that they can't cope with the recovery.
His condition went up and down over the next few days, but Alex gradually steadied.
"Everyone kept saying how strong he was for such a tiny little guy," said Ann-Marie.
Alex spent eight days in Crumlin before returning to the Coombe.
"He's still at risk for NEC now, because he's so premature. He didn't have it, he just had the hole. We're still aware that that might happen again but we hope not," she said.
As well as undergoing major surgery, Alex has had multiple transfusions.
"He had a really low platelet count, the platelets help you clot and stop bleeding.
"They transfused him red cells, platelets and octiplase before he left for Crumlin and he got red cells and platelets over in Crumlin as well."
"He got more red cells when he came back here [to the Coombe after his surgery] while they were still stabilising him," explained Ann-Marie.
Blood carries oxygen and nutrients to all parts of the body. It also carries carbon dioxide and other waste products back to the lungs, kidneys and liver for disposal.
"It's an extremely anxious time, you really don't know whether you're coming or going. You're worried what to think, you don't want to think what might happen. Everyone says you have to try and stay positive but it's very hard, especially when I knew, having worked in Crumlin myself, I knew what these babies went through," she says.
Ann-Marie is a clinical perfusionist in Crumlin, working in cardiac theatre.
"You never think that you're going to need a blood transfusion or anyone belonging to you is going to need a transfusion.
"To see the blood going into him, I'm not going to lie, it petrified me because you just never want that for your baby, but [I'm] also extremely grateful and thankful to people who took the time to go and donate that blood," says Ann-Marie.
A typical unit of blood lasts for just 35 days, but in some cases, such as blood used for babies, the blood must be used within five days of its collection from a donor.
"I don't think people realise that donating blood is a life-saving thing to do. They don't think about where their blood is going to."
"You can save somebody's life. Just take an hour out of your life. Go do it and you can save somebody like Alex," said Ann-Marie.
Babies like Alex are relying on the altruism of other people to donate blood.
But only 3% of the eligible Irish population give blood, providing blood for a population of over four million.
Gerard McDonnell from Co Louth has been donating blood for half a century and this week gave his 271st donation.
Speaking at the blood donor clinic on D'Olier Street in Dublin, with his daughter Siobhán, who also gives blood, Mr McDonnell said: "It's a lot of blood ... I'd like to think it's done a bit of good along the way."
He said a free bottle of stout attracted him to his first donation when he was a university student.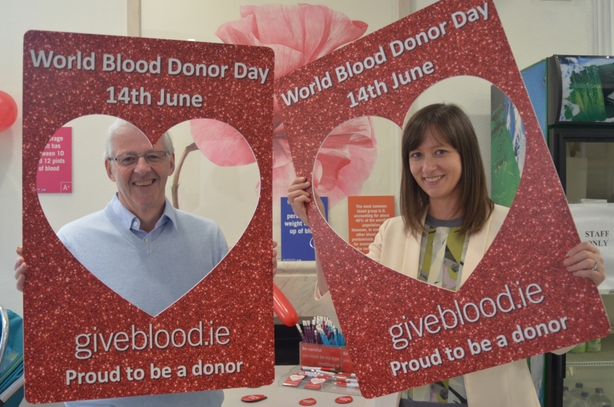 "Just over 50 years ago I was in Trinity and the blood bank came in for the day. And in those days you could have a free tea or coffee - or a free bottle of Guinness! So of course, five of us went in to get the free bottle of Guinness and I just kept coming thereafter," he says.
Mr McDonnell has donated both blood and platelets over the years. A component of blood, platelets are needed for the treatment of patients with cancer and leukaemia, as well as premature babies and burns patients.
"There's a lot of people, children and adults, in hospitals all around this country and they're in bed, they're in discomfort, they're in pain, they're waiting on surgery, they're waiting on transfusions," said Mr McDonnell.
"They're not waiting on superman or superwoman, they're waiting on some Joe Bloggs like me to come into a clinic and give a donation."
"And it costs me nothing, it's worth nothing to me but it's worth everything to them," said the 69-year-old father of three and grandfather of eight.
One in four people will need a blood transfusion at some point in their lives, according to the Irish Blood Transfusion Service (IBTS).
"It's wonderful to be able to give a gift that's priceless but costs you nothing except maybe an hour of your time," adds Mr McDonnell.
We need your consent to load this rte-player contentWe use rte-player to manage extra content that can set cookies on your device and collect data about your activity. Please review their details and accept them to load the content.Manage Preferences
Donations usually drop off in the summer months, said Paul McKinney, Operations Director at the IBTS.
"With schools closing now [with] exams coming to an end, a lot of people go on holiday and a lot of the farming community are out working very hard while the weather is good.
"So summer is always a very difficult, challenging time for us," he said.
Every week, 3,000 blood donors are needed in Ireland and around 70,000 patients will have transfusions in Irish hospitals this year.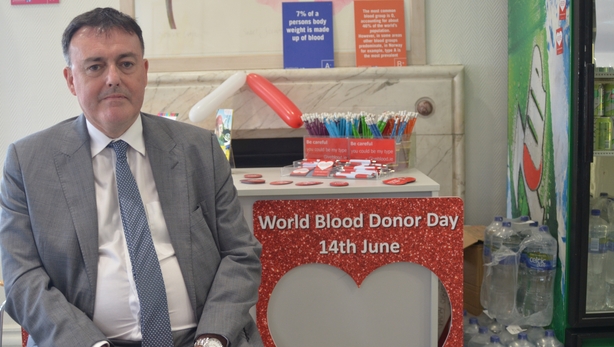 "Today is World Blood Donor Day, it's one of only three international days that the World Health Organization promote. It's a very important day for us," said Mr McKinney.
"It's giving the message about the importance of blood donations; it's thanking our donors, all across the world who do donate; and asking new donors to consider coming in and help save lives," he explained.
"The clinics are nationwide. All the details are on our website, giveblood.ie," he added.
For now, Ann-Marie is hoping that baby Alex will not need any further blood transfusions as he begins to produce his own red cells.
"We'll just take it day by day and we hope to God that he doesn't, that his bone marrow is regenerating his own blood now as he gets a little bit older," she said.
Ann-Marie is focusing on September - when Alex will be able to go home if he continues to thrive.
"He's 950 grammes now, so he's still not even a kilo. But he's packing on the pounds over the last couple of nights, which is really reassuring. We're hoping for September, " she said before adding "... that he'll be home for Santa Claus".