Representative groups of the Travelling community have called on the Government to publish the Traveller health action plan.
According to the groups, on average, Traveller men die 15 years younger than those in the general population.
It comes as dozens of men from the Travelling community took part in a football match today, which aimed to encourage Traveller men to talk about their mental and physical health.
The event was organised by the Eastern Regional Traveller Network.
According to statistics from the All Ireland Traveller Health Study, the suicide rate among male Travellers is seven times the national average. It accounts for 11% of Traveller deaths.
Many of the people taking part in today's event at Phoenix Park have been directly affected by suicide.
Michael McDonald, who played in the football match for Pavee Celtic, said a number of his relatives have suffered from mental health difficulties and have died by suicide.
"When something happens in the Traveller community, it gets swept under the carpet ...I want to see changes," he said.
Health screening also took place at the event, with cholesterol and blood pressure checks available to attendants.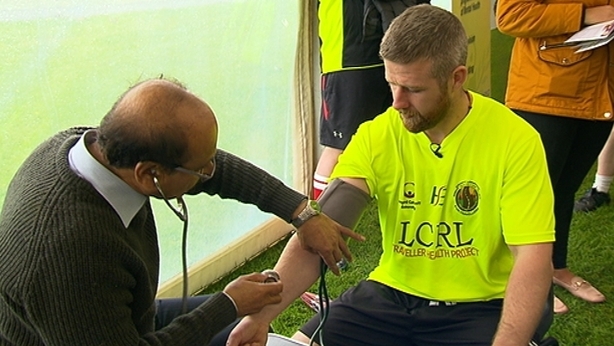 One of those availing of them was Sean Stokes, who helps run a soccer club in Longford town.
He says that he has seen a drop off in young men taking care of themselves and getting exercise.
Speaking to RTÉ News, he said: "It [the club] has been going for the last 50 years, but last year we didn't have a team because we were struggling for numbers.
"Normally we had 25 players coming in, last season we couldn't get 11. I think that's a big problem."
Martin Collins from Travellers rights group Pavee Point said the health inequalities for Travellers are huge.
Facing high levels of unemployment and poor living conditions, he says on average Traveller men die 15 years younger than men in the general population.
Mr Collins said that what is required now, is action.
Pointing to the Traveller Health Action Plan promised by the HSE and the Minister for Health, he said it contains key recommendations that if implemented would have a very positive impact on members of the Travelling community.
Mr Collins said he was disappointed that the plan has not yet been published.
The HSE has said work on the plan is still going on, and are consulting with stakeholders.