Sinn Féin TD Maurice Quinlivan has settled an unfair dismissal case with his former parliamentary assistant, despite winning the case at the Workplace Relations Commission last year.
Mr Quinlivan was present at the Labour Court for the appeal by Mary Roche.
As he left, Mr Quinlivan said the appeal had been withdrawn and he had no further comment to make.
He declined to respond when asked whether he had agreed to pay any financial compensation to Ms Roche before she told the court that she was withdrawing her appeal.
She also declined to comment as she was leaving following the settlement.
Ms Roche had originally taken her case to the WRC against three potential employers: Mr Quinlivan, the Sinn Féin party and the service provider which oversees the delivery of secretarial services to members of the Houses of the Oireachtas.
Following a WRC hearing on 23 March 2018, Adjudicator Catherine Byrne determined that Mr Quinlivan was Ms Roche's employer.
She had signed a contract of employment with him on 21 July 2016, having previously worked for a number of Sinn Féin TDs and senators from June 2012.
This arrangement was under the "Secretarial Assistance Scheme" overseen by the Houses of the Oireachtas.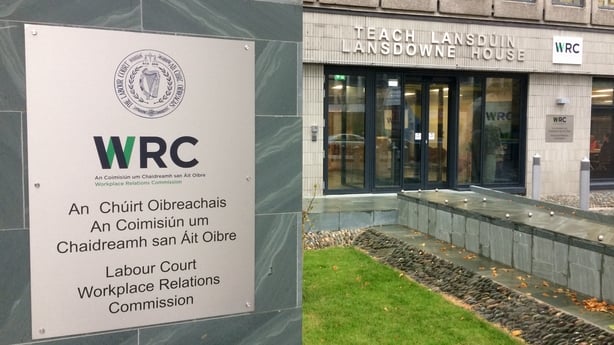 Under that scheme, members are entitled to employ a secretarial assistant under two arrangements.
The first known as the "staff option" involves employing a PA who is paid by the Oireachtas.
The second arrangement known as the "vouched allowance" option provides an allowance totalling €41,092 for a TD or Senator to employ either a temporary vouched employee, or to engage one or more contractors to undertake the work on their behalf.
On 19 January 2017, Mr Quinlivan wrote to Ms Roche notifying her that instead of employing her through the Oireachtas scheme, he was transferring to the "vouched allowance" option.
The letter stated: "I regret to inform you that it would be in the best interests of my office to avail of the Vouched Allowance Expense scheme that is available to me and is outlined in Appendix 1 Note (d) of your contract."
He went on to say: "Therefore I am now giving you two weeks' notice and informing you that your final date on the Leinster House payroll will be February 3rd 2017. The (Service Provider) will be responsible for your termination payment and I have attached a letter from them outlining what payments are due to you. Should you have any queries about this payment, please contact them directly."
He also told Ms Roche her services were being dispensed with immediately, stating: "Furthermore, I would like you to use tomorrow (January 20th) to take any personal belongings with you as I wish you to take gardening leave for the duration of your notice period i.e. you will be on full pay but will not be required to attend the office. I wish you all the best in your future."
At the WRC, Mr Quinlivan argued that Ms Roche had been made redundant due to his decision not to employ a Parliamentary Assistant in the future.
Following the WRC hearing, the Adjudication Officer dismissed all Ms Roche's claims.
As she had only been working for Deputy Quinlivan for less than a year, she was not entitled to take an unfair dismissal claim.
The Adjudication Officer also dismissed her claims in relation to her contract of employment, working hours, breaks, annual leave, public holidays and minimum notice.
At today's Labour Court hearing, chairperson Caroline Jenkinson advised the parties that a key issue would be continuity of employment, and adjourned proceedings to allow them to consider their positions.
After two hours, both parties confirmed that Ms Roche's appeal to the Labour Court was being withdrawn "on consent".
No indication was given in court as to whether a financial settlement had been made.
Asked whether Deputy Quinlivan would be paying for the settlement reached with Ms Roche, a Sinn Féin spokesperson said the case had been withdrawn and the matter had been resolved.
The spokesperson said Sinn Féin would not be commenting any further on the nature of the case.