Ireland is by no means immune to the world of online hate and extremist views.
A globalised world places the country in a position where images, views and opinions are read and shared on a daily basis. Violent and racially charged content is part of that and easily accessible.
A simple search on Twitter reveals comments from accounts about "bogus" and "fake" asylum seekers in Ireland, communities being "ravaged" by multiculturalism, Islamophobia and racially loaded tweets around the notions of true 'Irishness'.
Who is "truly" Irish along with anti-refugee and anti-immigration sentiments on social media are fuelling a normalisation of hateful content, according to experts in the field.
A recent study shows that online racist speech is prevalent in Ireland and its focus it to put Irish people "first" with an anti-refugee and anti-immigration discourse while criticising their access to welfare and housing including moral deservedness.
Facebook posts and tweets examined and collected by DCU researchers, document the extent of a far-right movement here with posts lambasting and questioning genuine refugees and economic migrants while taking care of "our own" first.
It is part of a wider growing extremist sentiment spreading around the world.
The study links the pattern of language between Irish accounts with the adoption of racist ideologies in the United States and European nations.
In Christchurch for this year's Ramadan solidarity visit, I expressed my support & admiration for the Muslim community after March's horrific mosque attacks.

Hate speech is spreading like wildfire on social media. We must extinguish it. https://t.co/bMv0Mw0jRz pic.twitter.com/ccPwPMvVP5

— António Guterres (@antonioguterres) May 14, 2019
Across the world, far-right groups are funnelling content throughout social media by various means.
Sometimes it is wholly noticeable. Fake and edited images of singers, including Taylor Swift and Lana Del Ray, as figures of a supreme white race wearing Nazi clothing with captions flood timelines.
But the hateful content can be hidden too and pass under the radar, free from suspicion of social media giants.
In one instance an image, seen by RTÉ News, shows a baby in cot with a toy sword, stuffed wolf and a wooden sundial. At first glance it seems harmless but further inspection reveals the true nature of the picture. It's a far-right message of a superior Aryan race: a white baby, the toys representing Aryan ideologies while the sundial is a relatively unknown symbol of Nazis, one that would not be immediately recognisable as the infamous swastika.
While a meme may seem funny, it can be damaging and unhelpful states Maura Conway, Professor of International Security at Dublin City University.
"A lot of the time they [memes] are supposed to be funny or ironic but their message a great deal of the time is a message of hatred", she said.
Prof Conway pointed to the case of James Alex Field Jr in the United States, who was sentenced to life in prison for killing Heather Heyer and injuring a number of others by driving his car into a crowd of counter protesters in Charlottesville in 2017.
Court documents show that Field shared two memes on Instagram showing a car ploughing protesters months prior to the events in Charlottesville. One of the posts carried the caption, "You have the right to protest, but I'm late for work."
The expert in international security said people need to be more aware of the negative impacts of this kind of content, encouraging people to call it out.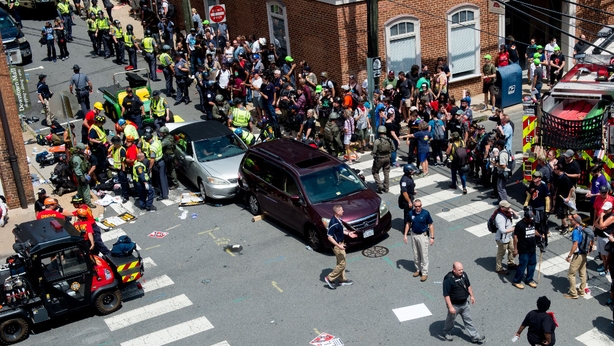 That being said, reporting implied hate speech, insinuated violence and racism is usually avoided online as it can lead to accusations of being over sensitive and "playing the race card", said the DCU report. But Ireland should not be complacent stand up to such behaviours, said Prof Conway.
"There is a normalisation over the last couple of years of hate content - ideas that wouldn't have been acceptable to voice publically and that has changed. There has been a shift in what is viewed as acceptable discourse in a public setting and that's not a good thing" Prof Conway said.
A change in culture is one aspect, changing the tools within a platform to vocalise these posts is another.
Taoiseach Leo Varadkar joined world leaders at a summit in Paris this week designed to tackle the growing threat from online hate speech in the wake of the New Zealand terror attacks in March, in which 51 people were murdered by a white supremacist.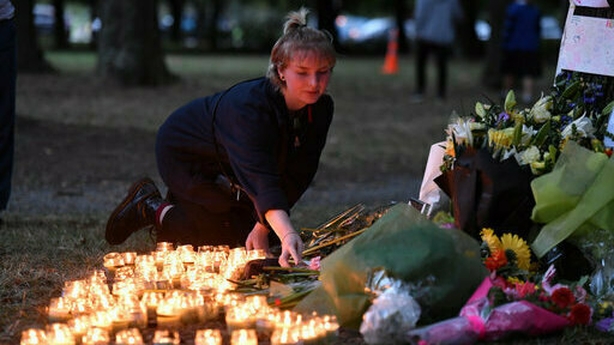 The attack on two mosques was live-streamed on Facebook. Within 24 hours Facebook had removed 1.5 million copies of the atrocity.
However, eight hours after the event it was still accessible on YouTube, which is owned by Google, and when the tech company tried to remove it, it was subjected to an unprecedented online attack by individuals who appear to have been primed to do so.
Technology companies have been widely criticised for being too slow to remove hateful or atrocity-related content from their platforms.
But the New Zealand attacks have been a turning point, Prof Conway said. New Zealand is a small country that is not normally associated with terrorism and the incident shocked and surprised many.
"It drew attention to the way in which it can take place anywhere and that we can't wholly dismiss the possibility of attacks in any jurisdiction including our own" the security expert said.
We all have our part to play though against hateful speech online and it is our duty for us to call out harmful material, said Ms Conway.
She states that the "Christchurch Call", announced by New Zealand Prime Minister Jacinda Ardern and French President Emmanuel Macron, is another stepping stone but efforts to tackle the online realm of hatred is not new.
The very first impactful piece of international law that addressed harmful online material was in 2001 in the Budapest Convention on Cyber Crime. Ireland signed it but has yet to ratify it.
Countries like Germany have passed laws which allow authorities to fine social media companies who fail to remove hate speech posts that violate German law within 24 hours with companies could be fined up to €50m.
The EU Internet Forum, established in 2015, has also been looking at violent extremism and terrorism in conjunction with representatives from major and minor social media companies.
With Ireland a member, one of the measures to come out of the forum is an EU Code of Conduct to counter illegal hate speech online.
It produced new proposed regulation combating the dissemination of terrorist content online which will be legally binding when it comes into force.
The fight against illegal #onlinehatespeech is far from over. We have no signs that such content has decreased on social media platforms. But we do have signs that that the Code of Conduct is a tool which can contribute to robust response to the challenge. https://t.co/HykqAAPTsb pic.twitter.com/zXuhNoVBu5

— Věra Jourová (@VeraJourova) February 4, 2019
At Government level, Ireland is ramping up its attention on these issues and how it deals with it is in the international spotlight as it hosts most of the world's major social media companies.
Planned before the Christchurch Call, RTÉ News understands that Minister for Justice Charlie Flanagan will host representatives of the technology sector and academics on the problem and discuss ways forward.
The closed session will be "frank" discussions on the existing structures and processes in place to report and remove illegal content, how they can be improved and what a future framework for tackling illegal content might look like.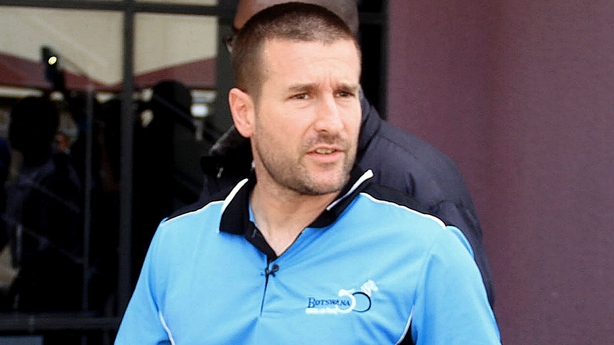 Targeting this extreme content from the right will be difficult though compared with addressing the threat posed by the so-called Islamic State's presence online, according to Prof Conway.
She argues that the so-called Islamic State did not have support of any significant constituency and the problem with regards to the extreme right is that there are world leaders who are "absolutely sympathetic" towards extreme right ideas.
With the European elections on the way, she said large constituencies supporting these ideologies will create barriers to address them online.
Who gets to determine what manifests as hate speech surrounding the content of free speech is the next step. Social media companies are the ones to determine that but new EU regulations and legislation may change that.
However, the way we choose to regulate online information should not have consequences for fundamental rights, according to the Irish Council for Civil Liberties.
While the ICCL has campaigned for many years against hate crime and hate speech, the organisation's Information and Rights Project Manager, Elizabeth Farries, said that preventing hateful or terrorist content online must not "further harm the human rights we are seeking to protect" and freedom of expression needs to be considered regarding online content moderation.
She said systemic mechanisms employed by both corporate and state entities have so far failed to do this effectively.
In the constant chopping and changing world of technology, there is no ignoring the issues, but the timings and approaches to tackle them will be key as the world, once again, moves into a new era of politics.