"Every day, when you get up in the morning or sometime during the day, you think, you don't own that house, and that tomorrow you could be out on the street."
That's how one woman, who along with her partner has been a victim of the tracker mortgage controversy, sums up where the trauma of the last decade has left them.
We'll call her Deirdre, but that's not her real name. She doesn't want to be identified as she doesn't want her children to know that the house they are living in is rented, not owned by their parents.
The start of the family's nightmare can be tracked back to 2006, when Deirdre and her partner bought a house using a tracker mortgage in a county neighbouring Dublin.
After the first year, interest rates began to rise rapidly and so the couple (along with many others) panicked, and decided to avail of an option to fix for three years to bring some certainty to their personal spending.
A change in job a year later to a position in Dublin city left both Deirdre and her partner with unsustainably long commutes.
And so the couple decided to move back to the capital to cut their journey times and bring them closer to Deirdre's parents, who were prepared to help mind their young child.
They wanted to put their house, which had dipped €10,000 into negative equity in the falling market, up for sale.
But the bank refused to let them sell and roll that shortfall into a new mortgage on their next purchase.
"It was a nightmare ... The only way I can describe the house was a noose around our necks."
A year on, left with no other option and having reached breaking point, the couple decided to rent out their home to tenants, and move to the city where they rented another property to live in themselves.
However, the rent they were receiving for their own house left them around €500 short each month when it came to paying its mortgage.
They managed to keep up the repayments for another two years, during which time the fixed mortgage period ended and their loan changed to a standard variable rate, rather than the lower tracker rate they had previously.
These higher rates, coupled with the general squeeze that accompanied the rapid onset of the economic crash and the happy arrival of another baby, began to put the couple under financial pressure and soon they were unable to continue topping up the mortgage.
A bad experience with unruly tenants in their rented property also left them significantly out of pocket.
"It was a nightmare," Deirdre said, fighting back the tears.
"The only way I can describe the house was a noose around our necks, because we couldn't afford it financially and the bank were constantly pressurising us to repay the full amount."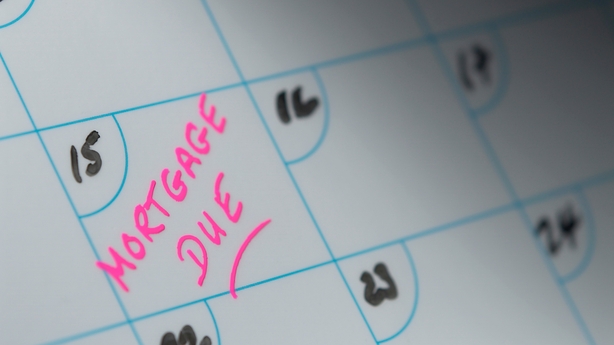 Eventually, as that pressure from the bank reached an unbearable level and the arrears grew, matters came to a head and the couple had a showdown with their lender.
It finally agreed in principle to let them sell the house through a voluntary assisted sale and, after a protracted legal wrangle between the couple and the bank, the property sold in 2016.
The sale left a residual balance on the mortgage of over €100,000 and a deal was eventually struck where the couple paid over €10,000 to the bank that they borrowed from their parents in full and final settlement.
Notwithstanding the traumatic experience, the family tried to move on, until last year when they received a letter from their lender saying their old mortgage had fallen within the scope of the Central Bank's tracker mortgage examination.
"We just kind of thought nothing of it ... to be honest with you as I just closed the door on years of hell," Deirdre said.
Eventually though, it emerged that they should have been given the option of returning to a tracker mortgage after the three-year fixed term had ended, but they hadn't been.
The bank made an offer of €43,000 in redress and €16,000 in compensation to the couple.
But there was to be an extraordinary sting in the tail, with the bank claiming that the €43,000 in redress would be offset against the residual balance of the mortgage.
In other words, the couple were given nothing at all by way of redress.
Today, they continue to rent a home, unable to save the necessary deposit to buy again. And even if they could scrape that cash together, there is a strong likelihood that no lender would ever give them a mortgage, because their credit rating is in tatters as a result of how they were treated.
"I know to some people €16,000 is wonderful, but we're still in a situation where we have to have a 20% deposit to buy a house," Deirdre explained.
"We could be told any day by our landlord, 'look I'm selling up, you have to go'. We're lucky, we're paying €1,500 a month, which is excellent compared to what some people are paying in Dublin.
"Like I say, the biggest thing is that our kids don't know any of this and they think that it is our house."
Deirdre says the bank claims the loss of the property was not caused by the withdrawal of the tracker, but she disagrees.
"I don't know whether I would have sold the property or not, so how do they know, because if my mortgage had been €800 and my rent was €750, you can be damn sure that we would have waited it out and paid a top up of €50 a month, rather than trying to top up €1,500."
Deirdre's story is far from unique.
Last Monday, the Central Bank published its latest update on the tracker mortgage controversy that has cast yet another dark shadow on the banking industry here.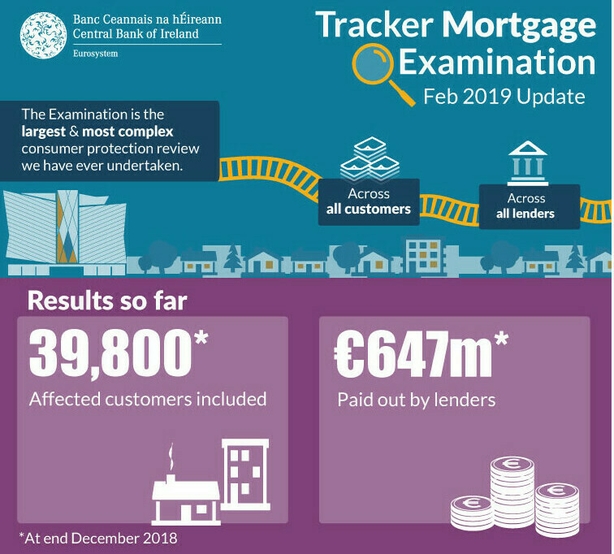 It has now identified and verified 38,000 borrowers who have in some way been mistreated by their lenders over tracker mortgages, following a trawl of two million mortgage accounts.
In some cases, the banks denied the trackers or, like in Deirdre's case, took them away from borrowers when the customers were in fact entitled to them.
In others, the interest rate margin applied on the tracker was incorrectly high.
While yet further cases arose when operational failures in the banks led to the mortgage holder receiving a flat payment rather than a fluctuating one.
These lenders at the heart of the controversy, of course, aren't subprime lenders, or so-called "vulture funds".
These are the six main retail banks - AIB and its subsidiary EBS, Bank of Ireland, Ulster Bank, KBC and Permanent TSB.
Together, they represent "pillars" of the banking system - indeed "pillars" of the community across the country, they would claim.
Yet, when it comes to their treatment of these nearly 40,000 customers, these "pillars" collectively propped up the largest overcharging controversy in the history of this State for many years.
So far, they've collectively paid out €647 million in redress, compensation and costs to the tens of thousands affected customers.
That's a figure that is likely to grow further, closer to the €1 billion that in total they have set aside.
The regulator, though, says its examination process is starting to wind up, with 97% of those borrowers verified as being affected by the controversy having received an offer of recompense by now.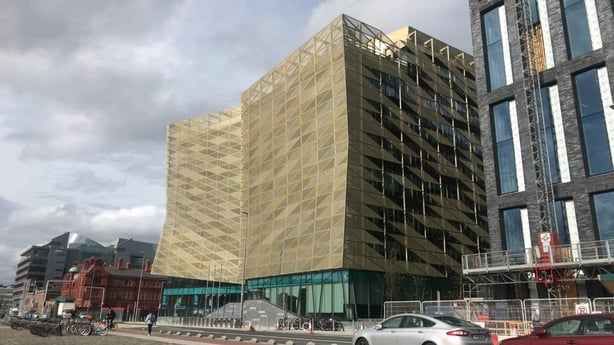 For many, this will indeed signal the end of the process.
Worn and weary from the stress and heartache that the sordid affair has caused them, they'll take what's been offered, walk away and try to get on with their lives.
But for very many others, like Deirdre, who have been caught up in the debacle, it's not over.
First, there are those who have received nothing by way of redress or compensation, and may never receive anything, because their case has slipped through the cracks of the examination process.
"There are cases that I would regard as being missed," said Padraic Kissane, a financial advisor who has helped hundreds of tracker mortgage customers.
"The Governor [of the Central Bank] had said previously that they had to give an assurance that they would leave nobody behind, as in no stone uncovered, and I believe there are still stones to be uncovered."
Mr Kissane said there are cases in all six lenders that still need to be resolved, and for those people closure may never be achieved.
Then there are those who were included in the examination, but who believe they didn't receive a fair or adequate payment of redress and compensation through it or the independent appeals boards set up by the lenders.
"There are many individuals and cohorts of customers who feel that they have not been adequately redressed," said Brendan Burgess, founder of askaboutmoney.com in a statement.
"The tracker story will not be complete until these cases have been decided by the Ombudsman or by the High Court."
One bank, for example, made what Mr Burgess calls a "derisory" offer of €1,615 to thousands of customers who weren't offered a tracker when their fixed rate expired.
Mr Kissane is also dealing with cases where banks have conceded that a tracker should be reinstated, but are arguing about what the rate should be.
"When you review the circumstances that pertained at the time [the tracker was taken away] vis-a-vis the retrospective positions being adopted later by the banks there is a differential between the two," he said.
"And it is really the circumstances that applied at the time that should apply ... So there is still resistance in some areas and I suppose the leopard hasn't fully changed its spots."
For customers who aren't happy with what they have been offered, the only remaining options are to either bring their case to the Financial Services and Pensions Ombudsman (FSPO) or take the risk of appealing to the High Court.
"€647 million has had to be paid to customers for this scandal and this will still not compensate many who were severely damaged by this scandal," said David Hall of the Irish Mortgage Holders Organisation in a statement.
"Many more can't afford to go to court after the redress appeal."
The FSPO, Ger Deering, already has more than 1,000 complaints awaiting adjudication and is still receiving more.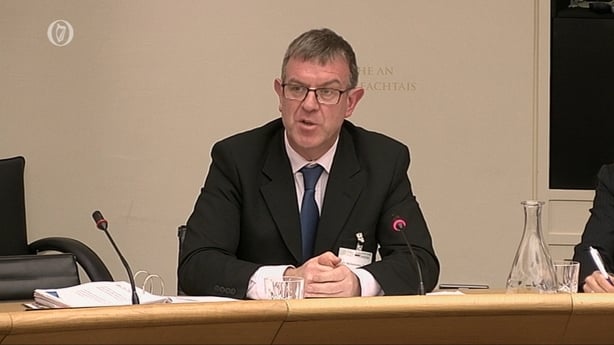 He agreed to put that determination process on hold pending the outcome of the Central Bank examination.
But his office has now begun working through the files, one by one.
Mr Deering says there are huge differences between the cases and so each needs to be examined on its own, through a process of investigation, adjudication and final decision.
"I'm not ruling out mediation," he said. "But the vast majority will involve full investigation and that will involve us looking at the material, adjudicating and making a ruling."
As a result it will take some time to complete, he cautioned, although the first decisions will start coming early this year.
If the appellants win their cases, the further cost to the banks financially will potentially be enormous.
Take, for example, the case published by the FSPO recently involving a couple who fell into arrears on a buy-to-let mortgage.
Mr Deering decided that the mortgage provider had adopted an obstructive approach and awarded the couple €90,000 in compensation.
Arrears and tracker cases aren't necessarily the same thing, but it does give an insight into how seriously the FSPO takes serious mistreatment of customers.
Then there are those for whom this issue will never end because of the permanent damage it has done to them and their loved ones.
Lost lives, lost homes, lost time, lost sleep, lost happiness - what should have been precious years for many, instead filled with an angst that can never be put right by monetary compensation.
Financial advisors and politicians share stories of sitting across tables from men and women, reduced to tears by these inexcusable banking practices.
They speak of young family futures, or dreams of stable retirements perhaps, torn apart by at best incompetence, and at worst deliberate calculated malevolent decisions.
These are the customers for whom financial compensation will never be enough and who will only be satisfied if/when those responsible are properly held to account.
So the big question in many affected borrowers minds, therefore, is whether the Central Bank's enforcement probe will deliver?
Running in parallel with the examination, redress and compensation process, the regulator has initiated formal investigations of all six lenders, to examine how what many deem a scandal was allowed to happen and who is responsible.
The sanctions available to it include fines of up to €10 million or 10% of turnover in the case of institutions or €1 million in the case of individuals.
The first of these findings could be published later this year.
"There are open enforcement investigations against all of the main lenders in this," said Derville Rowland, Director General Financial Conduct at the Central Bank.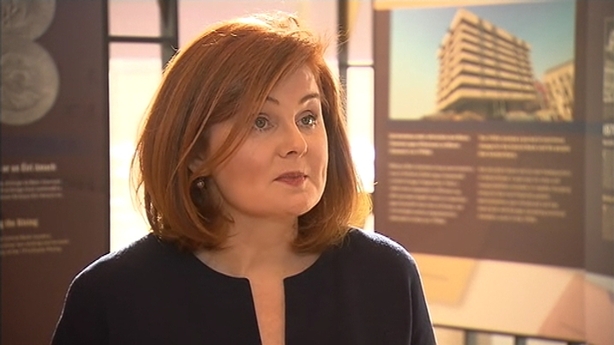 "All options are open including individual culpability. The conduct of the banks both in respect of when they originally gave out or did not give out tracker mortgages together with their conduct during the course of this examination is in focus in those examinations in enforcement."
When both processes do finally reach a conclusion, many will be left wondering what exactly has been learned, and could it all happen again?
The setting up of a banking sector "Culture Board" should, in theory, help prevent a repeat.
But bringing about change in a sector fundamentally driven by the need to deliver profits for shareholders and bonuses for staff won't be easy.
"It [the Culture Board] has an enormous job on its hands to change the culture across the banking system," said Fianna Fail's Finance Spokesman, Michael McGrath.
"Until the banks put the interests of the consumer at the heart of decision making at the highest levels, scandals like this will continue to emerge.
"There is now an urgent need for the Government to bring forward the senior executive accountability regime, similar to what exists in the UK and that has been promised here.
"This will require legislation in the Oireachtas and Fianna Fáil will support its introduction."
The Central Bank also says the banks need to rebuild trust with their customers and the wider community.
"We're cognisant that the banks have got to earn the trust of the Irish consumers because they owe a very serious duty of consumer protection to them," said Ms Rowland.
"And we are here to ensure they deliver on that promise.
"We've been in before the bank boards being very clear about what we expect to see from the lenders with respect to treating their customers.
"At all times, we expect a culture of consumer-centricity from the banks, which means they must treat their customers fairly and with dignity and respect."
In the meantime though, the twin probes, the work of the FSPO, the court cases and the struggle of affected borrowers continues.
The old Financial Regulator ad that features a man on a bus saying, "I don't know what a tracker mortgage is," has been the subject of many jokes during the more than ten years since it was first released.
But in 2019, there are very few people who find the subject of trackers funny anymore.
TRACKER CONTROVERSY BANK BY BANK
AIB & EBS:
11,900 impacted customer accounts identified
99% have received an offer of redress & compensation
BANK OF IRELAND:
9,700 impacted customer accounts identified
97.5% have received an offer of redress & compensation
More than €144.6 million paid out so far
ULSTER BANK:
5,500 impacted customer accounts identified
90% have received an offer of redress & compensation
Remainder to be redressed by end of April
PERMANENT TSB:
1,983 impacted customer accounts identified
99% have received an offer of redress & compensation
€61 million paid out so far
KBC:
Declined to comment as it is in a closed financial period ahead of the upcoming publication of its quarterly financial results on Thursday