Health and safety concerns, difficult living conditions and treatment by accommodation providers were among the complaints made to the Dublin Region Homeless Executive (DRHE) last year.
The number of issues raised with the DRHE halved in 2018.
But the complaints, obtained by RTÉ News under the Freedom of Information Act, show the challenging circumstances that some families in emergency accommodation find themselves in.
The DRHE provides emergency accommodation to around 1,300 families around the capital.
Last year, it received almost one complaint a week from service users. That is a 50% reduction on the number of issues raised the previous year.
Health and safety were among the biggest concerns.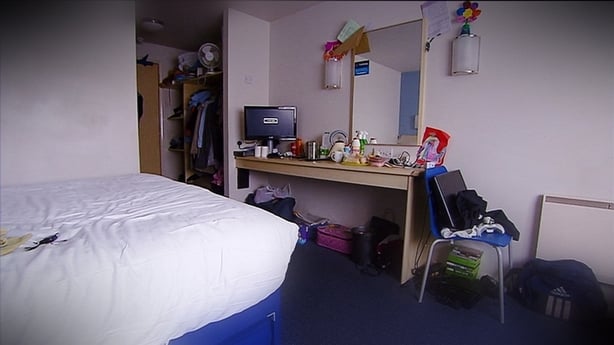 There were reports of rat, mouse and insect infestations; residents contracting scabies, bed bug bites and food poisoning, and complaints about the smoking of cigarettes and drugs inside emergency accommodation.
One resident with small children reported finding tinfoil with traces of heroin and needles in a wardrobe in her room, that there was a reluctance among the staff to clean it up and when they did they did not dispose of the items appropriately.
---
Read more:
Home truths: Concerns over emergency accommodation
---
"Pulled out her wardrobe to find tin foil with traces of heroin, needles, tray of prescription tablets and two empty bottles of vodka. Reported this to staff on shift ... was informed that the cleaner was not due until 3-3:30pm"
A lack of heating and hot water features regularly.
One resident reported a ceiling collapsed in a bathroom for some time, no hot water for a more than a year, and having to use candles and mobile phones to take a shower for seven months because of a light breaking and not being repaired.
"The ceiling in the bathroom collapsed nearly two years ago ... never repaired ... we had no hot water for over a year ... no light in the bathroom for the past 7 months so we have to use our phones or candles if we want a shower or a bath ... we are living in fear of one of us having an accident and I am suffering with insomnia"
Another described how sockets in their room were "smoking and sizzling", the wiring dangerous and that the level of condensation was making them sick.
"The sockets are smoking and sizzling, the wiring is dangerous, the plugs are all burnt ... the room is badly condensated ... becoming unwell"
But many of the complaints by residents were about how they felt they were treated by accommodation providers.
There were several allegations bullying by accommodation staff.
One claimed a cleaner in a hotel was constantly aggressive, making false accusations against them and threatening to have them removed from the hotel, saying "she is our master and we are her slave".
"She has been rude and aggressive since the day we moved in ... she told me ... we will be kicked out of the hotel ... she is our master and we are her slaves"
Another reports that an accommodation manager grabbed a child by the neck, threatened and verbally abused them.
"House manager ... became aggressive and started swearing at the children ... grabbed him by the neck ... leaving a red mark ... verbally abusive"
Another woman claims she is being discriminated against because she is a member of the Travelling community.
Others in family hubs reported problems associated with limited access to cooking and laundry facilities, playrooms that were locked with no toys, and restrictive rules around visitors and curfews.
There were several complaints of accommodation requiring families to leave by 7am or 8am in the morning leaving them with nowhere to go with their children for the day.
"The check out time of 7:30/8am ... it was too early for her and her children to have to wake up and stay on the streets"
The Dublin Region Homeless Executive says providing homeless accommodation is "not without its challenges".
It says it actively manages complaints and is using the process to learn, adapt and improve its services.
It says standards have significantly improved in recent times and will continue to do so as more family hubs and Single Adult Accommodation is developed across Dublin in 2019.