A report by the Office of the Regulator of the National Lottery (ORNL) has found that 38% of underage mystery shoppers were not refused National Lottery scratch cards.
The finding was published in a report based on research commissioned by the regulator.
The research, conducted by Ipsos MRBI, was carried out to examine the retail sector's compliance with rules in relation to the sale of National Lottery products to people under the age of 18.
According to the ORNL, the research involved visits to 510 shops around the country by mystery shoppers.
The shoppers comprised one Ipsos MRBI adult interviewer and one test purchaser aged 15, 16 or 17, with the aim of trying to purchase a €1 scratch card.
In Ireland, consumers under the age of 18 are banned from buying National Lottery products.
The report said that if the staff member agreed to sell the scratch card to the test purchaser, the purchase was abandoned and they did not buy any scratch cards as part of the exercise.
It also said that if they were questioned about their age, the purchaser gave their true age and if asked for ID, the test purchaser stated that he/she was not carrying ID.
Under the National Lottery Codes of Practice, shops must display an 'Over 18' sign and retail agents must ask customers for photo ID when they are underage.
The research found that 27% of retail premises did not have an 'Over 18' sign on display.
According to the report, 37% of underage test purchasers were not challenged about their age by staff when purchasing National Lottery products.
The report also found that refusal rates were 67% in stores where the 'Over 18' sign was on display, in comparison to stores where the sign was not on display (51%).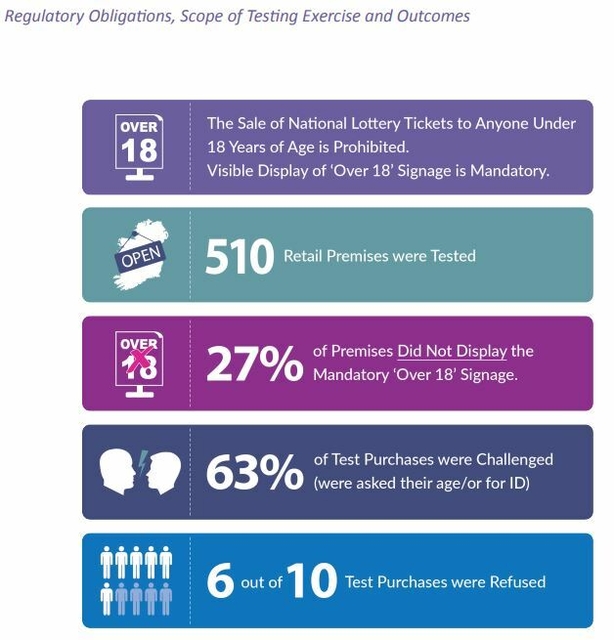 Regulator of the National Lottery Carol Boate said: "The findings of the research commissioned by my office show that the current level of compliance with those codes in the retail sector is not good enough."
In a statement, the National Lottery said that it acknowledged the findings of the report and it was committed to prevent the sale of its products to underage people.
It said that since the survey was carried out last July and August, a number of steps have been taken to verify the ages of players.
This includes the appointment of a Retail Compliance Manager and branding National Lottery equipment in all stores with age control messaging.
We need your consent to load this rte-player contentWe use rte-player to manage extra content that can set cookies on your device and collect data about your activity. Please review their details and accept them to load the content.Manage Preferences