Irish hauliers are deeply concerned that a no-deal or hard Brexit will lead to unworkable delays at UK ports.
They are already delivering huge quantities of non-perishable goods which are being stockpiled in both Ireland the UK amidst fears of Britain crashing out of the EU.
Speaking on RTÉ's The Week in Politics on the way to Holyhead in Wales, a number of drivers expressed fears that delays of 24 to 48 hours currently experienced at customs posts on non-EU borders could be replicated at the UK border.
We need your consent to load this rte-player contentWe use rte-player to manage extra content that can set cookies on your device and collect data about your activity. Please review their details and accept them to load the content.Manage Preferences
Up to 1,000 Irish trucks travel by ferry from Dublin Port to Holyhead every day - it is the shortest and busiest crossing between Ireland and Wales.
According to the Irish Road Haulage Association, 70% of the haulage traffic leaving Dublin on ferries use the UK as a land-bridge to continental Europe. 
On the 8.10am Stena Line ferry to Holyhead, drivers go into cabins and have some rest during the three-and-a-half hour crossing. Shortly before arrival in Wales, some of the drivers make their way to the Truckers' Lounge for tea or coffee.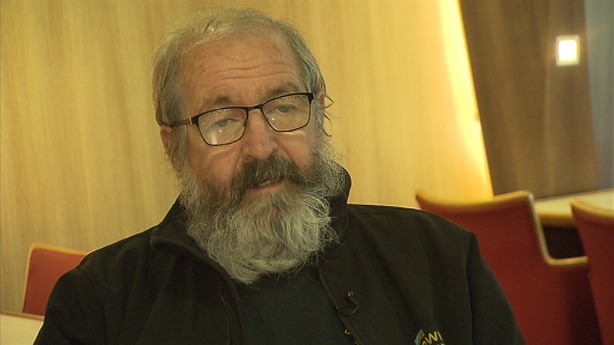 In this lounge, the prospect of a no-deal or hard Brexit is a cause of great concern.
Dundalk man Pat Murtagh has been a truck driver for 46 years. A driver with Browne Logistics, he recalls it taking half a day to get through the border between Dundalk and Newry a few decades ago. 
"If you were heading to Belfast from Dundalk, which is an hour's drive and you had to clear customs you may have [had] to add another four hours on top of that depending on the traffic," said Mr Murtagh.
He believes a hard Brexit will mean lengthy delays and is concerned about planning to go on a given ferry crossing because of delays. 
"You could be booked onto the 8am ferry and not get through customs until the 8.30pm ferry is going that evening," he said. 
He said that drivers are paid by the day or by the hour and the extra time taken to clear customs will increase the cost of freight. These increased costs will eventually be passed on to the consumer.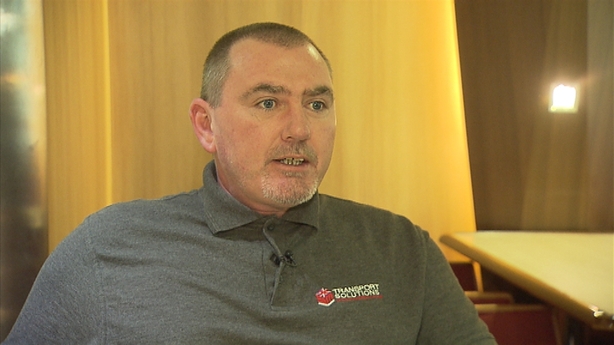 Another driver in the Truckers' Lounge was Lancashire man Jason Harker of UK company S&M Transport. He recalls how he had driven lorries into old Eastern Bloc countries outside the EU.
He said: "You could spend two, two-and-a-half, days on those borders and nobody wants to see that in the UK at Dover or Holyhead."
He pointed out that random spot checks are carried out by customs officials in many other European countries and believes this could be a more palatable alternative plan to having customs posts. 

Brendan Dixon, Operations Manager, Dixons International Transport, believes a hard or no-deal Brexit poses a huge threat to Irish hauliers. 
He asked: "Where would the 1,000 trucks that come off every day from Ireland into the UK via Holyhead - Where do they go? Where do they park? Where is the customs' clearance and what type of delay is going to be involved in that?"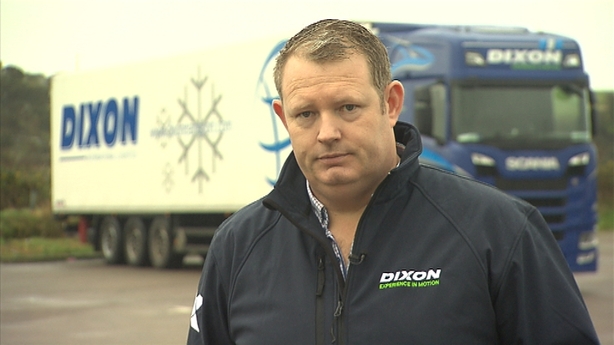 Citing the example of a non-EU country, he said his company regular drive into Turkey and it can take anything from 24 to 48 hours to clear customs into that country. 
"It is a six-day transit for us to drive from Dublin to Turkey to the border. When we arrive it takes anything from 24 to 48 hours to clear. We would drive in and offload and generally we would come off empty, because of the delay of coming back with a load and having to clear the customs again. It's not worth taking a load out of it.
"We are better off coming empty into Romania or Bulgaria and loading up back in Austria or somewhere else before coming back to Ireland or the UK."
In a bid to guard against the risk of major price hikes in a no-deal scenario, some products are being stockpiled.
Mr Dixon said: "We believe that there is a massive amount of stockpiling within Ireland and the UK at the moment. The short lifespan goods are not going to be stockpiled but the long lifespan goods are definitely being stockpiled in the UK.
"The fear for us would be that whether it is a hard Brexit or soft Brexit, is there going to be a fall off in transport or a decrease in our business because these stockpiles are going to have to be used?"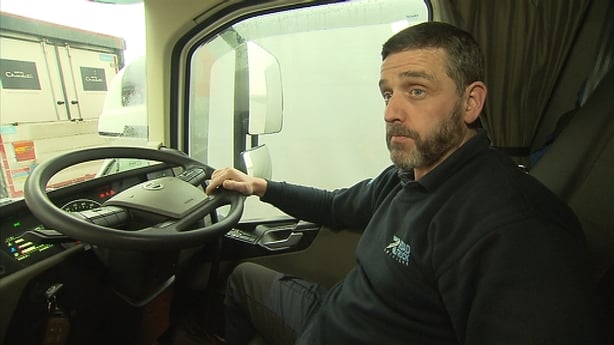 There were similar sentiments from Neil Pepper of Kildare-based Road Truck Services. He fears long queues at customs posts in Holyhead.
He said: "There are a few places in  Europe where you go to the border checkpoints and you could be sitting there for two or three days. That could be here. We just don't know."
All of the truck drivers that spoke to RTÉ were sceptical about the merits of last week's test running of lorries from an airfield in Kent to Dover in preparation for a no-deal Brexit.
The trial, called Operation Brock, saw lorries directed along the A256 towards Dover in a 32km journey, which should take around 30 minutes.
Mr Pepper said: "That's not going to mirror what is going to happen. Parking 80 or 100 lorries into an airbase is not realistic. You could double that, triple that, quadruple that given the amount of lorries that are going to go into the likes of Dover. They should have did the test run with 1,000 trucks to see what the impact would be."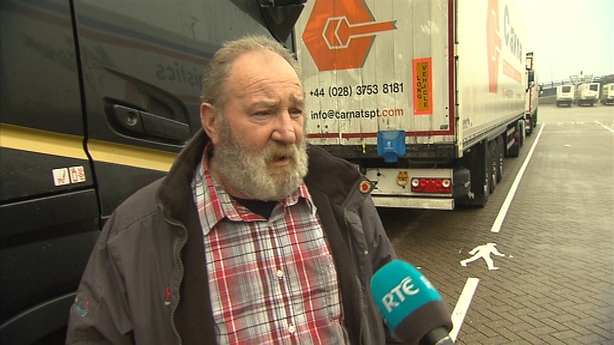 Archie Whitaker, of GK Kelly Transport, who deliver air freight and aircraft engines all over Europe, has been a truck driver for 48 years. 
He is concerned about a hard border in case it is "anything like the border I've been through in the past 12 months. Like Serbia, that took me 23 and a half hours to go from Serbia to Hungary. I even had to take a nine-hour break on the hard shoulder where there are no amenities for the drivers to stop". 
He pointed out that currently he "can go from here now as far as the Russian border without even being stopped. As long as you keep to the times that you can drive and keep to the times that you can through countries, you have no problem".
"But as soon as you come through a non-EU country you have to stop and go through all the formalities of customs."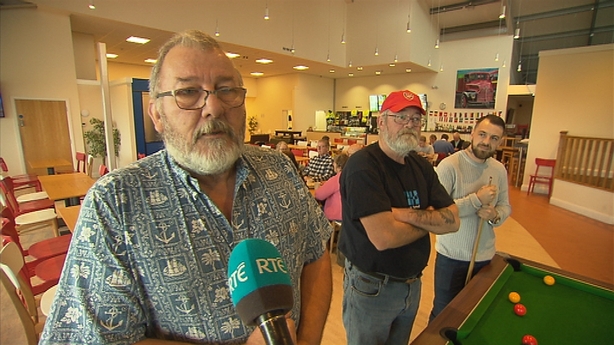 In the Roadking Truckstop in Holyhead, veteran driver John Hall of DG McArdle International Transport envisages another issue for drivers if they end up sitting in queues at UK border crossings.
He says it will be difficult for drivers "to keep our tacographs right with rest regulations, staying within certain driving times and working hours".
He added: "Hopefully the authorities will see the light and customs can be done online. The British and French and other European countries do spot checks on lorries.I don't see the need to have checkpoints."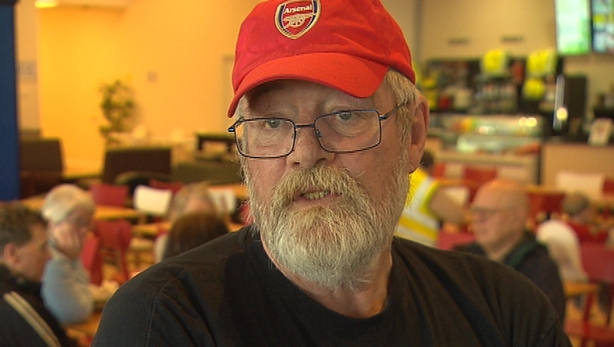 Doc Watson, a driver with Michael Dixon International says a hard border and the new advent of customs stops "will crucify us like it was 40 or 50 years ago".
He recalls being held up for six hours on the Swiss-Italian border two years ago.
The Welsh Government has ramped up its no-deal contingency planning in recent days. A number of sites close to Holyhead in Anglesey have been earmarked to turn into parking sites for lorries in case the port in unable to handle the traffic after Brexit.
As politicians in Cardiff plan for heavy backlogs, Irish haulage firms will pay particular attention to the political events in Westminster in the coming weeks. 
They will be united in the hope hope that these backlogs never materialise.