For the first time since his re-election in November, President Michael D Higgins will tomorrow cross the border.
He is travelling to Belfast for the funeral of a dear friend, 74-year-old Ian Adamson, who passed away last week.
The phrase 'Renaissance man' doesn't adequately capture the layers of Ian Adamson's life. On his own website, Dr Adamson described himself as "a British Unionist, an Irish Royalist and an Ulster Loyalist". That too only captured some of the colours of the rainbow.
In November 2013, President Higgins shook hands with Ian Paisley in Belfast City Hall. "You are making history," said the 87-year old former DUP leader.
Their host was the then Mayor of Belfast, Máirtín Ó Muilleoir. Shortly afterwards, the President and Dr Paisley and their wives were the guests of honour at a function to honour the legacy of Saint Columbanus. It was an occasion that allowed them to celebrate their shared history.
Michael D Higgins availed of the opportunity to talk publicly about his planned State visit to Britain the following year and his wish to make it an experience beyond politics.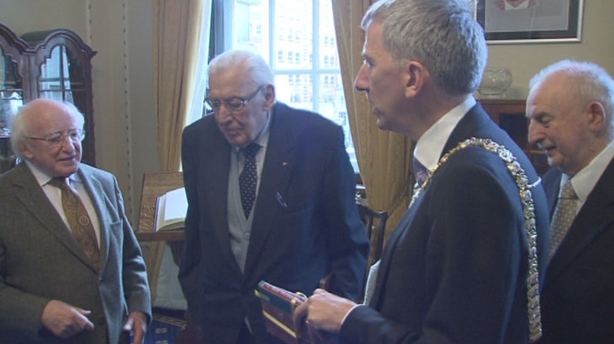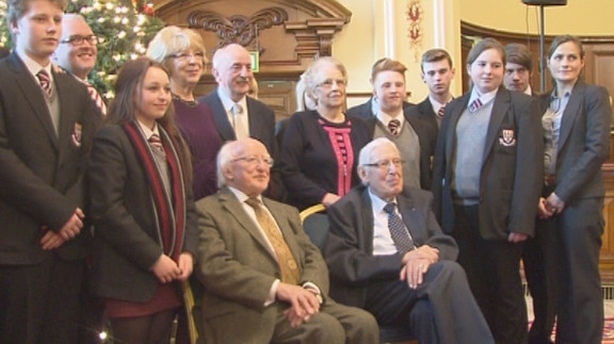 Dr Paisley and President Higgins then posed for photographs with musicians who had played during the City Hall Saint Columbanus function. Ian Paisley quipped as they sat together "he's at my right hand".
We didn't know it then but this would be our last opportunity to gather television footage of Ian Paisley before his death the following year. Dr Ian Adamson had been the discreet organiser of that event that brought Ian Paisley and Michael D Higgins together.
He was trusted completely by the Paisley family because, as well as being a scholar, linguist, historian and former Ulster Unionist Mayor of Belfast, Ian Adamson was also a qualified doctor and for many years acted as Ian Paisley's personal physician.
After the Good Friday Agreement, when North-South relationships blossomed, he developed trusted cross-border bonds in the Department of An Taoiseach, the Department of Foreign Affairs and Áras an Uachtaráin.
He was a supportive contributor to a number of the cross-border trips Ian Paisley made during the eventual final phase of his political career.
On a bitterly cold day in November 2016, President Higgins came north for another engagement organised by Ian Adamson. They travelled to a Church of Ireland building in the Co Antrim hills beyond Belfast, with history going back over 800 years.
The graveyard alongside Saint John's Church is the resting place of Samuel Ferguson, the Belfast-born Trinity graduate, a former President of the Royal Irish Academy, and the historian who rediscovered the legend of Cuchulainn.
Yeats once called Ferguson "Ireland's greatest poet". Ferguson was also the unionist who wrote the lament for Thomas Davis.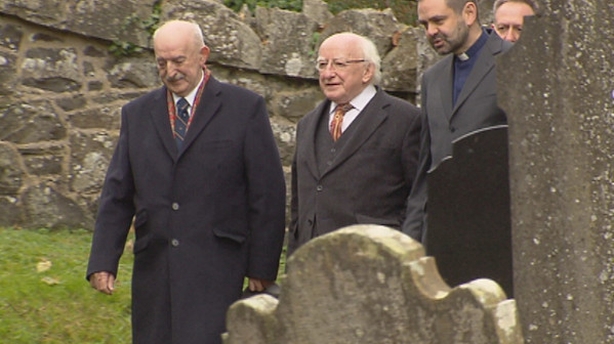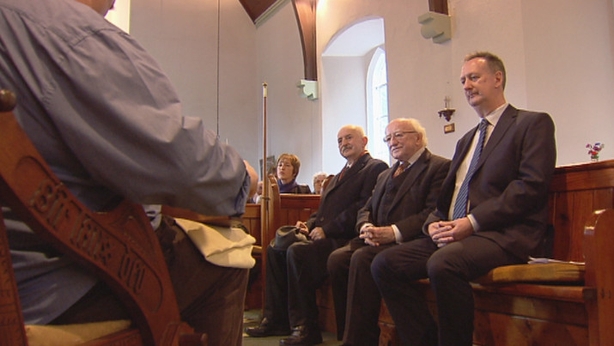 That afternoon, Ian Adamson and Michael D Higgins sat together in the centuries old church and they listened together to a musician play a version of Carrickfergus, played on a mountain dulcimer, an instrument linked to the Appalachian region of the United States.
It was a wonderful vignette of two men, interested in ideas, interested in history and delighting in their friendship.
Ian Adamson had extraordinary range and talent. He had a passion for languages and spoke both Ulster Scots and Ulster Gaelic.
He founded the Somme Association and established the Somme Heritage Centre in Conlig Co Down. He campaigned for the restoration of the Ulster Tower on World War I battlefield site at Thiepval in France.
A qualified paediatrician, he was a specialist in community child health. He was recognised for his work with disabled children and the unemployed of the Falls area of Belfast and was accepted as a member of the Medical Association of Lourdes.
He was an Ulster Unionist member of Belfast City Council from 1989 to 2011 and a UUP Assembly member for East Belfast from 1998 to 2003. He was Belfast's Lord Mayor in 1996/97 and the following year he was awarded an OBE for services to local government.
When he learned of Ian Adamson's death last week President Higgins said in a statement: "His legacy consists of not only his academic work, but also of his calls to courage and his practical solidarity with those most vulnerable. He consistently pointed to education as a key tool to overcome fear of the unknown and fear of the other."
Ian Adamson is survived by his wife Kerry.