A baby girl was born at Our Lady of Lourdes Hospital, in Drogheda, shortly after midnight - possibly the first of the New Year.
Baby Maeve was born at three seconds past midnight, to Michelle Montague and Simon Cox from Kilmessan, Co Meath.
She weighed in at 3.28kg (7lbs, 4oz).
In Dublin, a baby girl arrived just one second later at The Coombe Maternity Hospital in Dublin.
Amelia O'Brien from Clondalkin (below) was born at four seconds past midnight to parents Leanne Farrell and Alan O'Brien.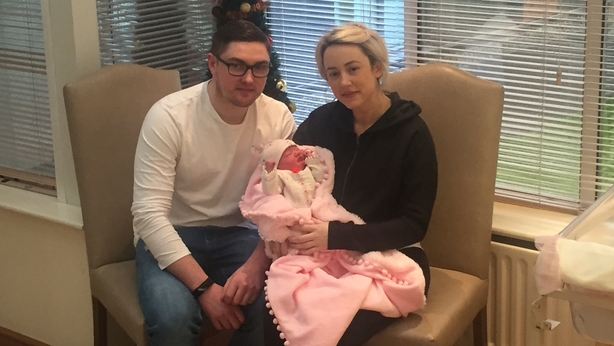 Amelia, who weighed 3.175kg (7lbs), is their third child and is the new little sister to big brothers Alfie and Charlie.
Three babies were born shortly after midnight at the National Maternity Hospital in Dublin.
A baby girl was born at 27 seconds past midnight to Natasha Philpott from Newtownmountkennedy in Co Wicklow.
Two other babies were born at 13 minutes past midnight and 44 minutes past midnight.
In Cork, a baby boy and a baby girl arrived shortly after midnight at Cork University Maternity Hospital.
The first baby to be born on New Year's Day at CUMH was a baby boy at 12.04am to Marie Hannigan-O'Brien and her husband Niall O'Brien, of Ardmore, Co Waterford. The baby weighed in at 3.420kg (7lb 8oz).
A baby girl was born at 12.16am to Máiread Flynn and her husband Joe Flynn, of Mitchelstown, Co Cork, weighing 3.720kg (8lbs 3oz).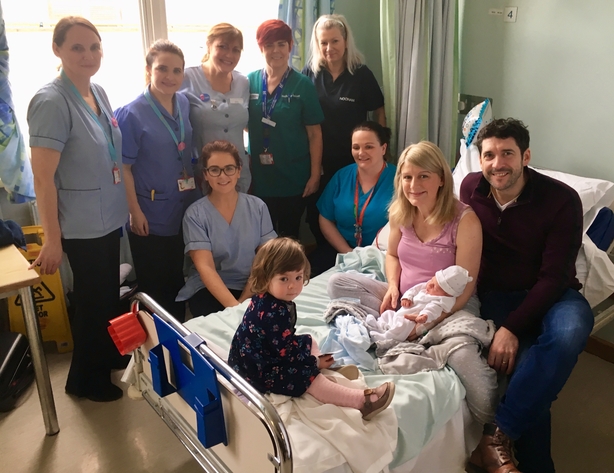 Baby Cillian with mum and dad James and Tara Mahon and sister Robyn at Our Lady of Lourdes Hospital Drogheda. Cillian was born a few minutes after 3am this morning.