A review into how Northern Ireland's criminal justice system deals with serious sexual assault cases has recommended the exclusion of the public from court proceedings.
Retired Court of Appeal judge John Gillen is leading an independent review following the acquittal of Irish rugby internationals Paddy Jackson and Stuart Olding of rape charges in Belfast earlier this year.
Two other defendants were also cleared of other charges relating to the same case.
Judge Gillen's preliminary report has been published with more than 220 draft recommendations, including restricting access to serious sexual crime trials to only close family members of the alleged victim and defendant and the mainstream media.
He said: "Confidence-building measures for complainants who fear the cruel glare of public exposure, particularly in high-profile trials in front of packed public galleries, are now vital.
"If we are to challenge the gross under-reporting, high dropout rates and an unacceptably daunting trial process, I consider the arguments in favour of restricted access measures carry convincing weight."
The public is already excluded in the Republic of Ireland, New Zealand and Australia, while in Scotland onlookers are barred when the complainant gives evidence.
Other key draft recommendations include creating new laws surrounding inappropriate use of social media, where the name of the alleged victim and even images may circulate and which in a small jurisdiction like Northern Ireland may seriously damage a person's anonymity.
The report urged strong judicial powers to control access to websites during trials and the making of fresh offences for jurors who offend against judicial guidance.
Under-reporting of serious sexual crime is "unacceptably low", around one in six tell police of their ordeal.
Early pre-recording of cross-examination could take place in a non-courtroom setting to make the process easier for alleged victims and encourage people to come forward, the preliminary report said.
The physical layout of older courthouses could be altered to ensure a victim and their accused did not meet.
A judge would consider whether certain questions could be asked of an accused beforehand.
Public funding would enable legal representation for the victim in cases where she or he may be asked about sexual history or face intrusive scrutiny of personal life.
The judge provisionally said measures should be introduced at the onset of the trial to combat rape myths which may influence a jury, like what type of clothing a victim was wearing, or the self-blame which many needlessly feel, or whether they struggled or not during an alleged attack - which can become an issue during court proceedings.
The draft report also called for better public education through the school system to combat myths surrounding sexual crime.
Most proposed recommendations do not require legislation but a minority, including those surrounding social media, would.
The devolved administration at Stormont has not sat for months following a row between former partners the Democratic Unionist Party and Sinn Féin.
The judge said steps should be taken to combat excessive delay in the justice system, which can make the process more onerous for victims.
Review will help Govt in 'formulating best practice,' says Flanagan
Minister for Justice Charlie Flanagan has said the review in Northern Ireland will "help and assist" the Government in "formulating best practice within our own jurisdiction".
He said that he has met all the advocacy services since the Belfast rape trial acquittal.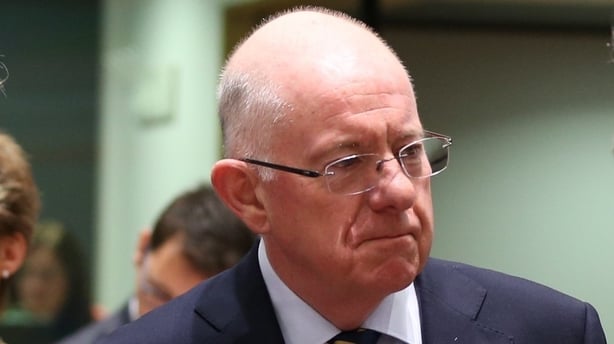 Mr Flanagan acknowledged the importance of the report published today and said there were numerous occasions over the summer where he would have like to have engaged with the authorities in Northern Ireland but said: "I can't do that because of the absence of the institutions".
He added: "I would say from what I have read of this morning's report that it will help and assist us in terms of formulating best practice within our own jurisdiction. Notwithstanding a difference of emphasis in many of the legal practices and procedures".
In August, the minister appointed NUI Galway law lecturer Tom O'Malley to examine how sexual assault trials are conducted in this jurisdiction.
Asked about the report into the Belfast rape trial finding that Ireland is one of the only jurisdictions in the world where defendants in rape trials can remain anonymous, Mr Flanagan said: "These issues are the subject matter of Tom O'Malley's report. I am very grateful that Tom O'Malley, a considered expert with years of experience, has undertaken to chair this working group. He is in close contact with all interested stakeholders. For example with the criminal justice system, the Garda Síochána, the DPP, the Courts Services".
Mr Flanagan said that he expects to hear from Mr O'Malley on the conclusion of his report by the end of this year or by "very early next year".