Local authorities and disability groups across the country have come together today to raise greater public awareness of the needs of people with disabilities in public spaces.
The aim of the 'Make Way Day' campaign is to highlight obstacles such as cars or vans parked on a footpath blocking the way, or bicycles chained to lampposts creating a trip hazard.
To help raise awareness, people will be posting pictures and videos of obstacles on social media with the MakeWayDay hashtag and a logo - which is a symbol of a hand encouraging people to stop and to think about people with disabilities.
This is being done to remind people that things like cars or vans pulled up on footpaths can often mean a person in a wheelchair cannot continue their journey any further, for example.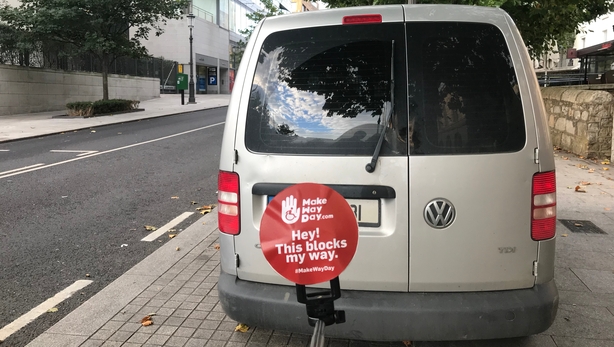 Mariam Madani , who is a wheelchair user, pointed out some of the hazards on South William Street in Dublin city centre, which she says makes her everyday life extremely difficult.
"I have a form of muscle myopathy and I use an electric wheelchair and it's been nicknamed 'Demon Monkey' and that's because the way I drive like a maniac and a lot of that is because I drive on the sides of the roads because I'm forced onto the roads due to blockages on the pavements.
"Like here we are coming up to a lot of bins left on the side of the road - they're blocking my way.
"Normally in a situation like this I would need to ask for help from a passerby to help me move the bins so that I can get past because if I drive past this now it's all going to burst open.
"Now there's another bike that's kind of... it's ok to park a bike at the pole but if they're sticking out into the pavement then they make it impossible for a wheelchair to get by."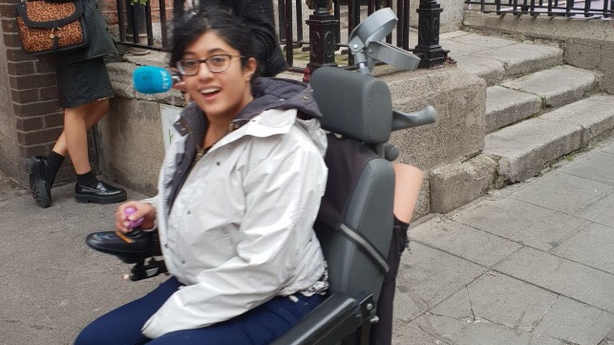 Spokesperson for the Disability Federation of Ireland Clare Cronin, is hoping that the campaign will make people more aware.
"We have been very heartened in DFI that once these obstacles are highlighted people have been very willing to make the small changes necessary.
"For example today in Dun Laoghaire the bins are out and the council has said to me that these bins are out a day early. So it's a small change like that - don't put your bins out a day early just think of the 13% of the population with a disability.
"The big one is always the cars and the vans pulled up on the street, bicycles are another big issue and I'm very happy to report that we don't have that issue in Dun Laoghaire because they have excellent legal parking for bicycles then the other that we see is billboards."
We need your consent to load this rte-player contentWe use rte-player to manage extra content that can set cookies on your device and collect data about your activity. Please review their details and accept them to load the content.Manage Preferences