As the water conservation message continues to hit home with householders in the Greater Dublin Area, Irish Water figures show that consumption in the Dublin area fell by another 3 million litres, or half a per cent, during Monday, just ahead of the imposition of the night-time water pressure restrictions in 34 Dublin city and suburban areas.
Irish Water defines the Greater Dublin Area to include much of the surrounding counties of Kildare, Wicklow and parts of Meath, as well as all of county Dublin. It stretches as far as the border between Kildare and Carlow and goes as far south as Co Wicklow.
Water conservation efforts particularly by householders in the region have been paying significant dividends in terms of saving water during the current dry spell.
Consumption on water in the Greater Dublin area had fallen to 556m litres by Monday 16 July. That was down from a peak of 615m litres per day at the height of the very warm weather during the last two weeks of June. That is a reduction of almost 10%. It has come on foot of a nationwide ban on the use of hose pipes, earlier moves by Irish Water to turn down the water pressures in the region, as well as a concerted campaign to drive home the conservation message to householders.
Nevertheless, although the fall in water consumption in the east has been noticeable, and relatively steady, it still appears to be progressing at a slower pace than might be possible.
Water usage has fallen by 12m litres per day over the past week, by 38m litres over the past fortnight, and by 48m litres since the imposition on the household ban on the use of hosepipes at the end of June.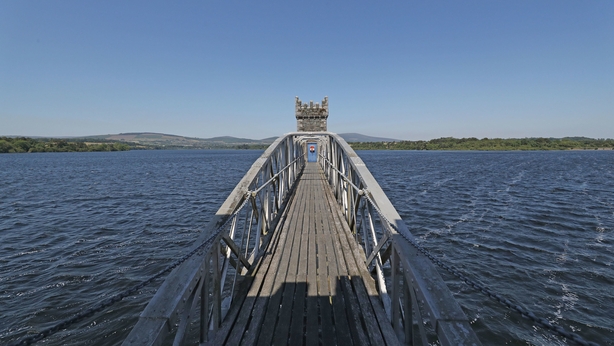 These are very significant improvements and Irish Water has been at pains to point out that they are very grateful to the public for all the efforts they have been making to cut back on water usage and hoping they will continue to do more.
The message about the urgency to save water could not be higher on the public agenda or higher in the public consciousness than it has been over the past month.
Yet despite all of the attention that has been paid to it, the reality is that water consumption right now is only running 8.8% below the absolute maximum amount that Irish Water says it can sustainably produce for the Greater Dublin Area.
At one level that might appear to be a lot. It is after all 54m litres per day below the maximum that can be securely supplied to the region. But at that rate it is still going to take 12 days of savings just to conserve enough water for one full day's future usage for the region.
And at any rate why should the absolute maximum production level of water be the barometer by which we judge our water conservation actions?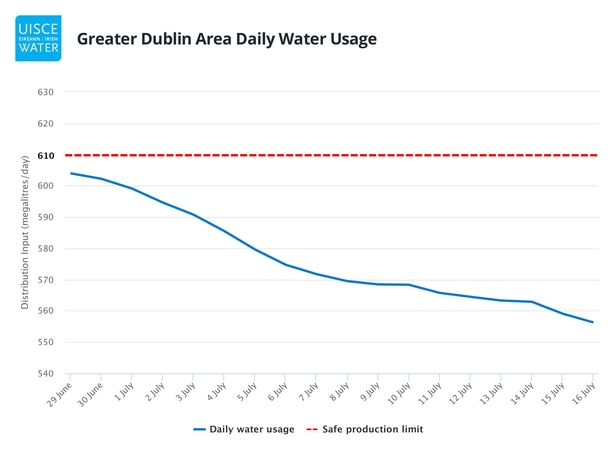 At 556m litres of water consumed on Monday this week Dublin's water usage is still only 1.5% below the average daily amount consumed in the region last summer.
That is after taking into account all the efforts, and all the appeals, and the conservation orders, and the pressure reductions that have put in place to date.
Surely there are many people who might have expected a bigger response than that.
There is no dispute about the poor state of our public water infrastructure, with almost half of the 1.7 billion litres of clean water produced by Irish Water every day lost through leaks before it ever gets to anybody's house or business. That is a really disappointing statistic.
So much more needs to done to fix leaks and Irish Water has earmarked €500m to that cause over the next four years. But those leaks are a separate issue to the water supply crisis that Mother Nature has sent our way.
The water conservation actions people are being asked to embrace do not cost money at all. In most cases they can be implemented with great speed and relative ease. It's really a matter of consciousness and a decision by the public to embrace them.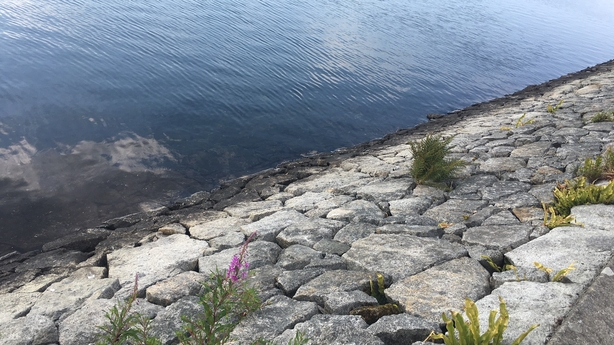 This is the driest and the hottest summer in the Dublin area of over 70 years. There has been a recent cooling in the weather and some significant rain in the northwest and in other parts of the country. But all of the signs suggest that the east of the country - and Dublin in particular - is likely to stay very dry right into August.
Reservoir levels have fallen sharply and soil moisture deficit figures suggest it will take about 10 centimetres of rain before Dublin's reservoirs will even begin to fill up.
There is no doubt that the decision by Irish Water to move to the next level of water restrictions and impose night time pressure reduction in Dublin from Monday night is inconvenient for many.
And that fact that there is no way of knowing how long these new restrictions will have to last is frustrating. But when one considers how serious the medium-term water challenge for the Dublin region really is then perhaps people should not be surprised Irish Water had to take this action.
Significant savings have been made by people who have become more conscious about the amount of water we waste. But with current consumption running only 1.5% below last year summer's average surely there must be more that many people can do when it comes to water conservation under these circumstances.