Same-sex marriage campaigners have insisted any deal to restore Stormont power-sharing must include reform of a controversial voting mechanism that has blocked a law change in Northern Ireland.
Up to 5,000 activists marched through Belfast to demand an end to the ban on same-sex marriage.
A similar demonstration was held in Derry this afternoon.
Demonstrators made it clear they would not support a revived power-sharing executive if it was not accompanied by a radical overhaul of the 'Petition of Concern'.
A majority of MLAs backed the introduction of same-sex marriage the last time it was debated on the floor of the Assembly before the institutions collapsed almost 18 months ago, but the use of the Petition of Concern (PoC) by the Democratic Unionists rendered that irrelevant.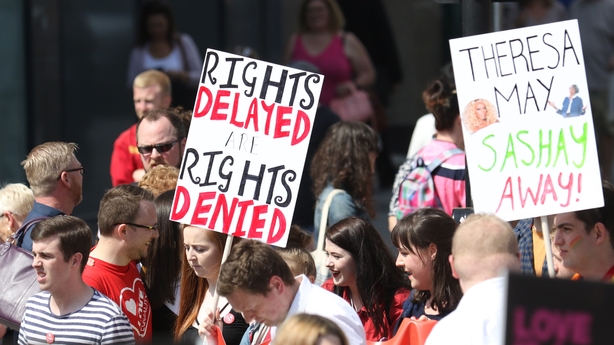 The petition, which is a peace-process construct designed to protect minority views in a post-conflict society, means a proposal can only be passed in the Assembly if a majority of unionists and a majority of nationalist MLAs support it, rather than a straightforward majority head count.
The DUP is far from the only Stormont party accused of abusing the mechanism, with rivals also criticised for deploying it on other issues many claim have little to do with protecting minority rights.
The party has also said it is willing to scrap the petition entirely if others, including Sinn Féin, agree.
We need your consent to load this rte-player contentWe use rte-player to manage extra content that can set cookies on your device and collect data about your activity. Please review their details and accept them to load the content.Manage Preferences
John O'Doherty, a prominent activist with the Love Equality coalition campaigning for a law change, told the rally any future deal between the DUP and Sinn Féin needed to encompass reform of the PoC.
"It has been almost 18 months since the Northern Ireland Assembly last sat," he said.
"I know many of our MLAs are here today. We thank them for their support.
"We know that at least 55 out of 90 MLAs now back equal marriage. Yet still they cannot deliver.
"No party or group of MLAs should hold a veto over people lives, over people's rights - and this campaign will not be held to ransom by those who seek to hold Northern Ireland back, who refuse to recognise the rights of LGBT people and our families.
"Our message is clear - any return of the Executive and the Assembly must include real reform of the Petition of Concern," Mr O'Doherty said.
The UK Government has come under pressure to legislate on the issue amid the ongoing absence of power-sharing.
Armagh-born Labour MP Conor McGinn, who failed in a recent bid to change the law through a private member's bill at Westminster, warned Mrs May the issue was "not going away".
"The message from the thousands here today in Belfast is loud and clear," he said.
"It is a message for the Prime Minister and the government, and it is: we love equality, we stand with LGBT couples, we demand the same rights as everyone else in the UK and the island of Ireland, and we want equal marriage now.
"We are on the right side of history. We will not give up. This is not going away. And we are going to win," said Mr McGinn.