Hundreds of people have taken to the streets of Dublin, Cork and Belfast to show their support for the woman at the centre of the rape trial in Belfast.
Two Ulster and Ireland rugby players, Paddy Jackson and Stuart Olding, were yesterday found not guilty of rape.
A third man was found not guilty of exposure and a fourth was acquitted of perverting the courts of justice and withholding information.
Protesters have raised concerns about the way the complainant was treated during the trial process.
Protesters in Dublin gathered at the GPO, at short notice, to express their views about the trial in Belfast as well as their worry about how the criminal justice system treats those who complain of rape or sexual assault.
In Northern Ireland, although complainants are granted anonymity, members of the public are allowed in to rape trials while they are under way.
This was something criticised by some of the more than 500 people who protested in Belfast.
Up to 300 people also took part in a protest in Cork city in reaction to the trial.
Holding yellow flowers as a symbol of solidarity, the gathering outside City Hall heard calls for changes in the legal system here and in Northern Ireland, and in attitudes towards sexual violence.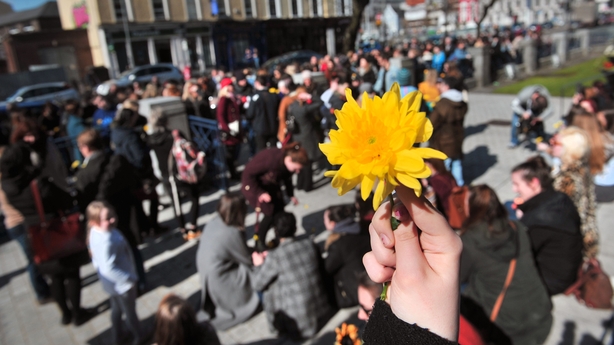 Afterwards the flowers were laid on the steps of the building as a show of solidarity with victims of rape and sexual assault.
Dutch woman Tjitske de Vries told the rally that she was raped by two men while on holiday in France eight years ago, but she never reported the attack.
She said she did not because she knew the statistics and she did not want to go through questioning over and over again.
Ms de Vries said society has to make sure that survivors of rape and sexual assault and abuses are being heard and feel safe in the justice system.
Some of the differences between the justice systems North and South were also highlighted in the Dáil today, where Tánaiste Simon Coveney said the trial could not have developed in the same way if it had been held in Dublin.
A further march is planned for Dublin on Saturday afternoon.
We need your consent to load this rte-player contentWe use rte-player to manage extra content that can set cookies on your device and collect data about your activity. Please review their details and accept them to load the content.Manage Preferences