In his contribution, Fianna Fáil Deputy Seán Haughey personalised his statement by telling the Dáil that he was born with a cleft lip and palate. He explained that the lip and primary palate develop during the first four to six weeks of pregnancy while the secondary palate develops around nine weeks. It requires corrective surgery after birth and treatment often into the late teens and early 20s.
Deputy Haughey said 2016 figures showed that the number of terminations with minor facial deformities nearly tripled in the previous five years.
He expressed concern over development in technology including 3D imaging, which could diagnose cleft in the first trimester up to 12 weeks and confirmed that he could not support a repeal of the Eighth Amendment.
Deputy Haughey was not the only TD who spoke about the potential screening for abnormalities.
Many deputies expressed concern over the potential screening for Down syndrome, otherwise known as Trisomy 21; or Trisomy 18 (Edwards syndrome) and Trisomy 13 (Patau syndrome).
However, Minister for Disabilities Finian McGrath, the father of a daughter with Down syndrome, warned that "Down syndrome should not be used as an argument from either side of the debate".
He expressed his support of repeal of the Eighth Amendment and a woman's right to bodily autonomy.
Chromosomal abnormalities were discussed and voted on by the all-party Oireachtas Committee on the Eighth Amendment.
The majority (18) of the 21-member committee voted in favour of the Citizens' Assembly recommendation for terminations when the unborn child has a foetal abnormality that is likely to result in death before or shortly after birth.
A majority (15) also voted against the next recommendation, to allow terminations when the unborn child has a significant foetal abnormality that it is not likely to result in death before or after birth.
So, what did the committee hear in relation to those recommendations centred on "fatal foetal or significant foetal abnormalities"?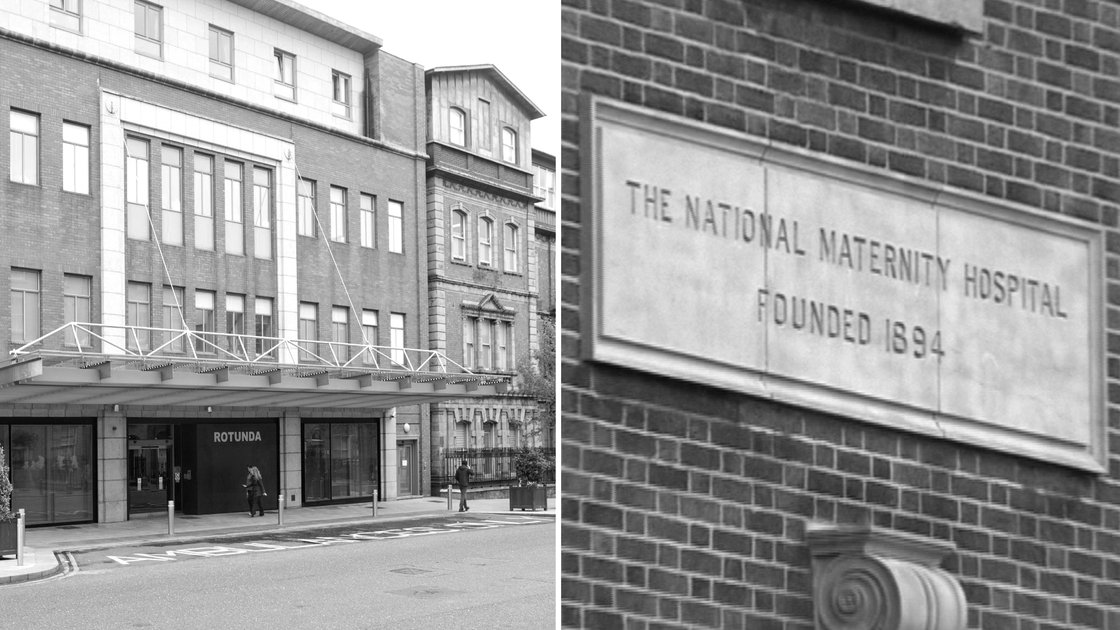 The Rotunda Hospital is the largest provider of prenatal screening and diagnostic services in the State.
Master of the Hospital Professor Fergal Malone told the committee that given that one third of pregnant patients are now over 35 years, genetic abnormalities such as Trisomy 21, Trisomy 18 and Trisomy 13 are becoming an increasing challenge in contemporary obstetric practice.
He said that prenatal diagnosis of foetal abnormalities, and the management of such pregnancies, is a major public health issue in Ireland.
Professor Malone said screening for genetic chromosomal abnormalities has changed significantly in the last five years.
The hospital has the potential to detect 95%-99% of foetal chromosomal abnormalities such as Trisomy 21 or Trisomy 18 at nine-ten weeks of pregnancy by means of a blood test from the pregnant woman.
Master of Holles Street Dr Rhona Mahony, who was at the same committee, noted that the opt-in maternal blood test is "very expensive". (€350).
Later in the proceedings, Prof Malone said the cost is partly because the intellectual property and patent is owned by international genetic companies which have profit built into the tests.
He said the cost could be reduced considerably if an appropriate genetic laboratory was developed here.
"At the moment, patients have to pay about €350 because a sample is sent to commercial laboratories in the United States or London," he said.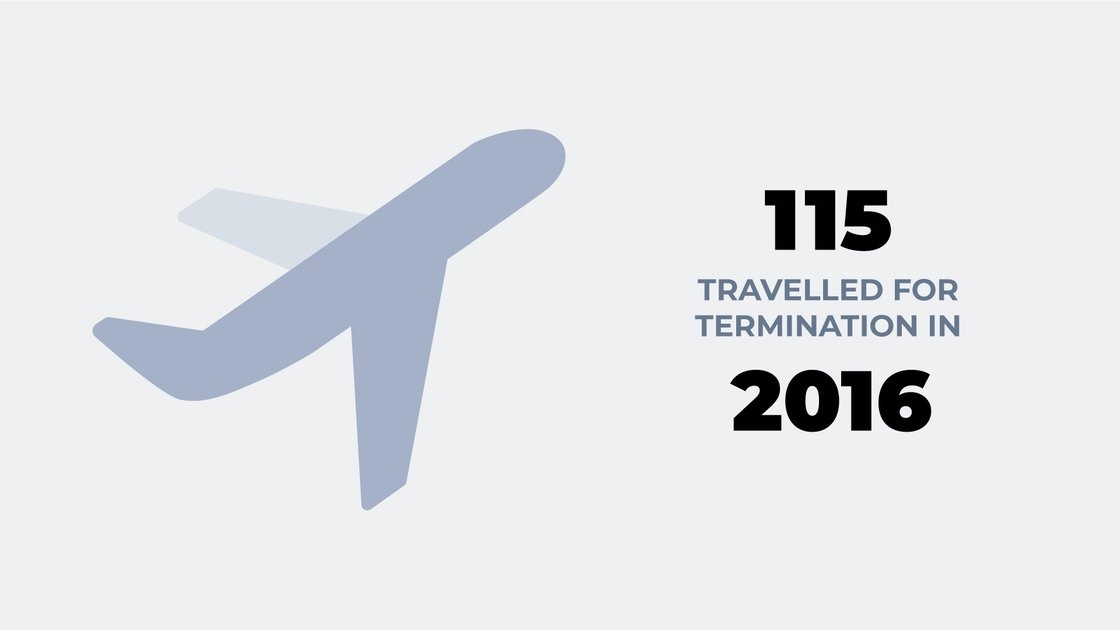 The committee heard that between the two hospitals, 115 women travelled for a termination of pregnancy in the context of potentially fatal foetal abnormalities or life-threatening conditions of the foetus in 2016.
Dr Rhona Mahony said approximately 400 foetal anomalies are diagnosed in the National Maternity Hospital annually and approximately 60 women travel.
"Of the 60 women who travel, they tended to be chromosomal and genetic anomalies. They tended to be neural tube defects, cranial abnormalities and complex heart abnormalities. They tended to have abnormalities that were at the severe end of the spectrum indeed," she said.
The committee heard about the potential effect of prenatal screening from two professors of health law at the University of Amsterdam in November.
Since 1 April 2017 the non-invasive prenatal test (NIPT) for the three aforementioned trisomies, became available for every pregnant woman in the Netherlands.
Before that, only women at elevated risk of having babies with Down syndrome, Edwards syndrome, or Patau syndrome were determined by the first trimester combined test.
The NIPT, which is currently available for every Dutch pregnant woman, is subsidised by the Ministry of Health, Welfare and Sports and is same price as the first trimester combined test.
Fine Gael TD Peter Fitzpatrick expressed concern to the Amsterdam University professors that screening would result in fewer babies with Down syndrome being born.
Professor of Obstetrics at the University Eva Pajkrt said the number of babies with Down syndrome had not decreased with the introduction of screening.
She said the increase in the uptake of prenatal screening was due to older women having babies, however she said 250 babies with Down syndrome are born in the Netherlands every year.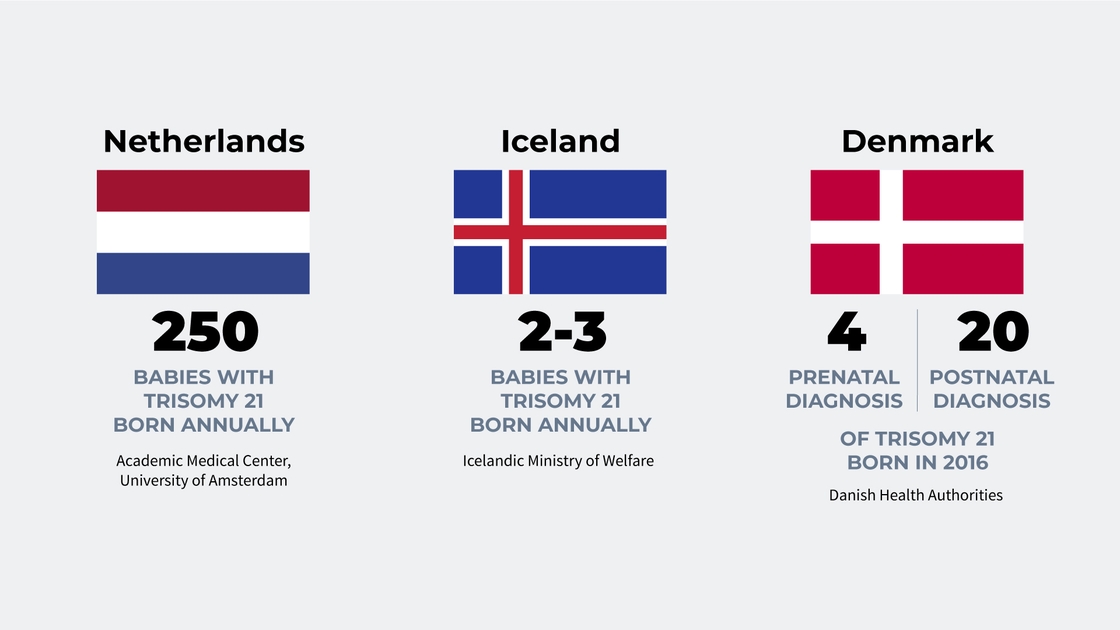 Iceland and Denmark were noted by the pro-retain side as countries seeking to eradicate Down syndrome.
Those comments resulted in written correspondence from the Icelandic Ministry of Welfare and the Danish Ambassador to the committee.
The Icelandic Ministry said 80%-85% women undergo screening which reveals whether there's "an increased probability of the foetus having Down syndrome".
On average, two to three children have been born each year with Down syndrome in Iceland, it said.
In her correspondence, the Danish Ambassador confirmed that it's possible to have an abortion in Denmark after 12 weeks, if there's a danger that the child will have a serious physical or mental disorder, due to hereditary systems or damage or disease in the foetal condition.
However, she said permission has to be sought in such cases, because if the foetus is viable, the existence of Down syndrome in the child is not sufficient to get an abortion.
The committee heard from a representative group called Terminations for Medical Reasons (TFMR).
The Chairperson Gerry Edwards noted that most parents in the group receive the first indication of their baby's development at the anomaly scan between 19 and 22 weeks.
He said those who have had a history of foetal anomaly or who are at increased risk may have discover it sooner through earlier scans or tests.
The TFMR representatives described the devastation of families when they hear their babies will die or that their quality of life will be severely impacted.
He explained the difficulties of parents travelling abroad for terminations in such circumstances and asked the committee to bear this in mind during its considerations.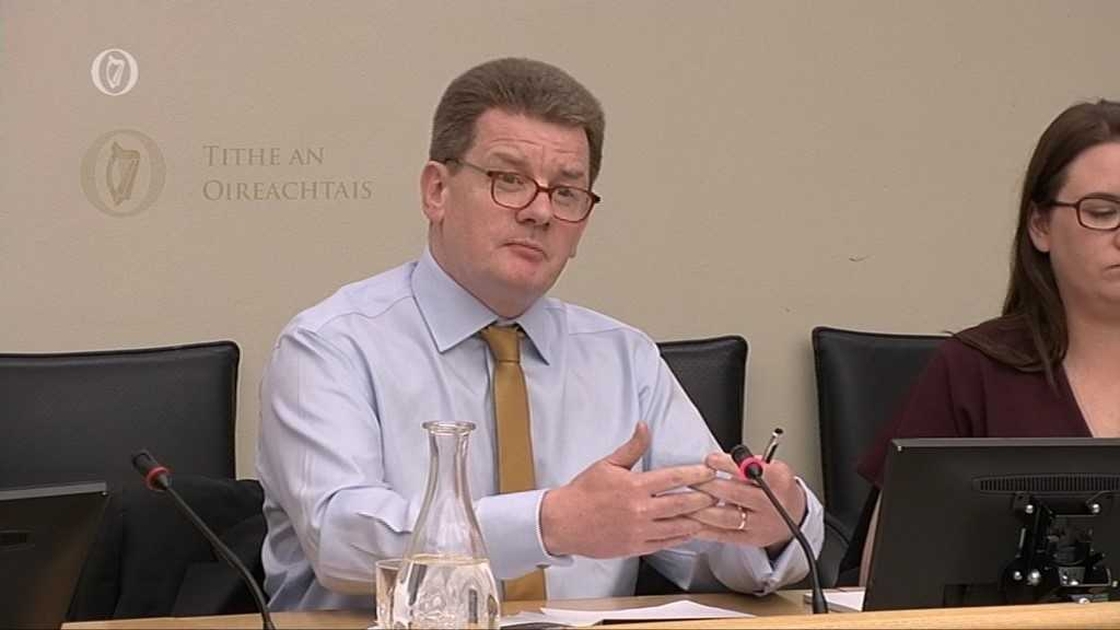 On the other side of the argument was Liz McDermott of One Day More, a support group for parents of babies who have received prognoses of potentially fatal foetal abnormalities.
She said the consultant obstetrician who looked at her 24-week scan said her baby's limbs had not grown, that her son would never do anything but lie on a bed and if she wanted to travel to England, it would not be a problem.
Her son John was born in 2003. Other than the physical abnormality he was "hale, hearty and healthy".
Ms McDermott said pressure from hospitals and medical staff to abort babies with special needs happens and she said such pressure "must logically account for the current position in England where 90% of babies diagnosed with Down's syndrome are aborted".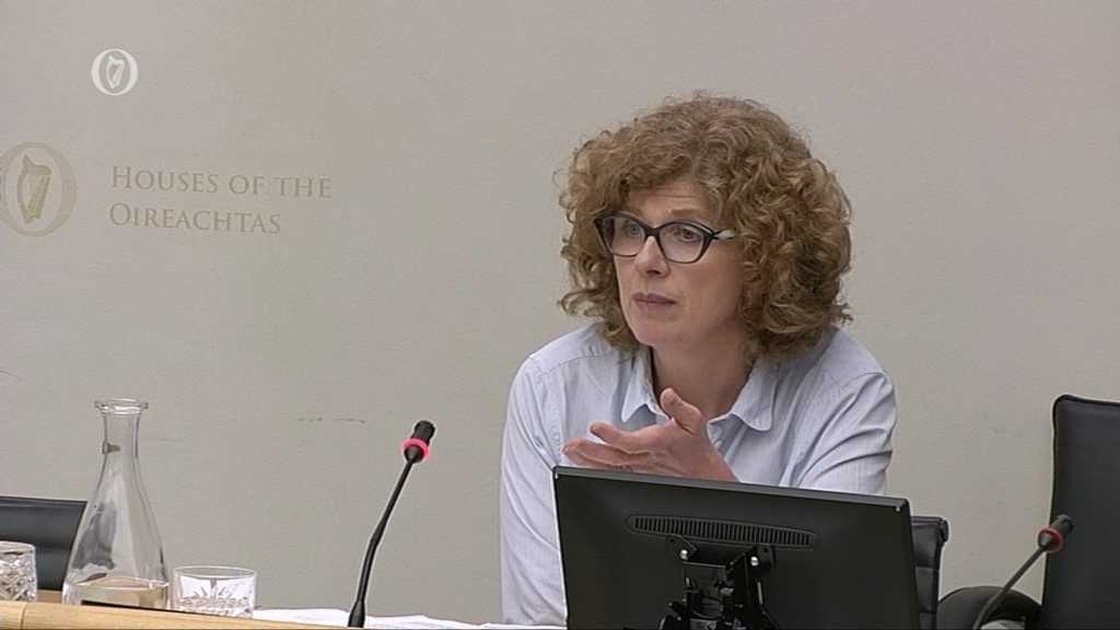 Turning to England and Wales, where the majority of Irish women travel for terminations, there are clauses for termination of pregnancy under the Human Fertilisation and Embryology Act 1990, which amended the original bill introduced 40 years ago.
Clause E of that Act allows for termination where there is "a substantial risk that if the child were born it would suffer from such physical or mental abnormalities as to be seriously handicapped".
PJ Thompson who is a Consultant in Foetal Medicine at Birmingham Women's and Children's Hospital said that of the 4,810 women who underwent termination of pregnancy in England and Wales in 2016 whose post code was outside those two countries. 68% were from Ireland and a further 15% from Northern Ireland.
Of the 3,265 Irish citizens, 141 women travelled to England or Wales in 2016, most commonly Liverpool, London or Birmingham to have an abortion under clause E of the Act.
The foetal indications for these abortions are shown below.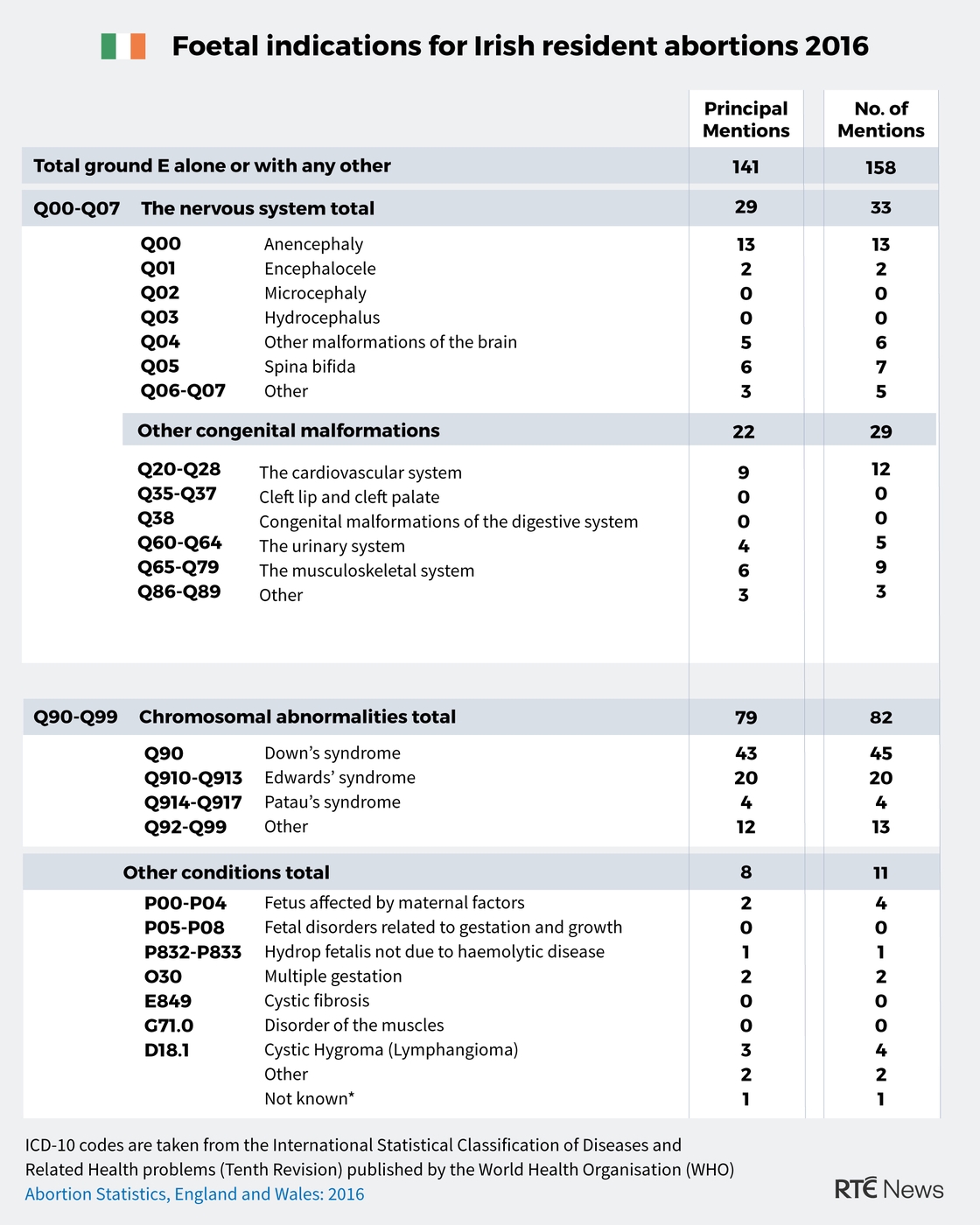 Concerns have been raised since the publication of the Oireachtas Eighth Amendment report over the potential of terminations being carried out here based on the detection of Trisomy 21 or Down syndrome.
In January, the Institute of Obstetricians and Gynaecologists, claimed that suggestion was misleading.
In a statement, it said the results of the screening tests available within 12-weeks of gestation are rare and are not 100% reliable and further diagnostic tests must be performed.