More than 300 complaints were made to the body in 2017 according to documents released to RTÉ under the Freedom of Information Act. One third (36%) of the complaints came from residents living in emergency accommodation. But the majority (64%) were made by those providing emergency accommodation.
The DRHE only released the complaints made between January and October of 2017. They show that hardly a day went by without an issue being raised. There are two sides to every story and often these emails only present one version of events. And it's unclear from the correspondence if and how these issues have been resolved. But the documents paint a graphic picture of the challenges facing those living in and providing emergency accommodation.
Conditions
A large number of the complaints related to conditions in emergency accommodation. Several reported cockroach infestations. Bed bugs were also found in a number of places. Ants, mice, and flies were also reported. A number of outbreaks of headlice and one of scabies also feature in the correspondence.
Excrement was found on the wall of one place. Blood, vomit, and mouse droppings on the interior of another.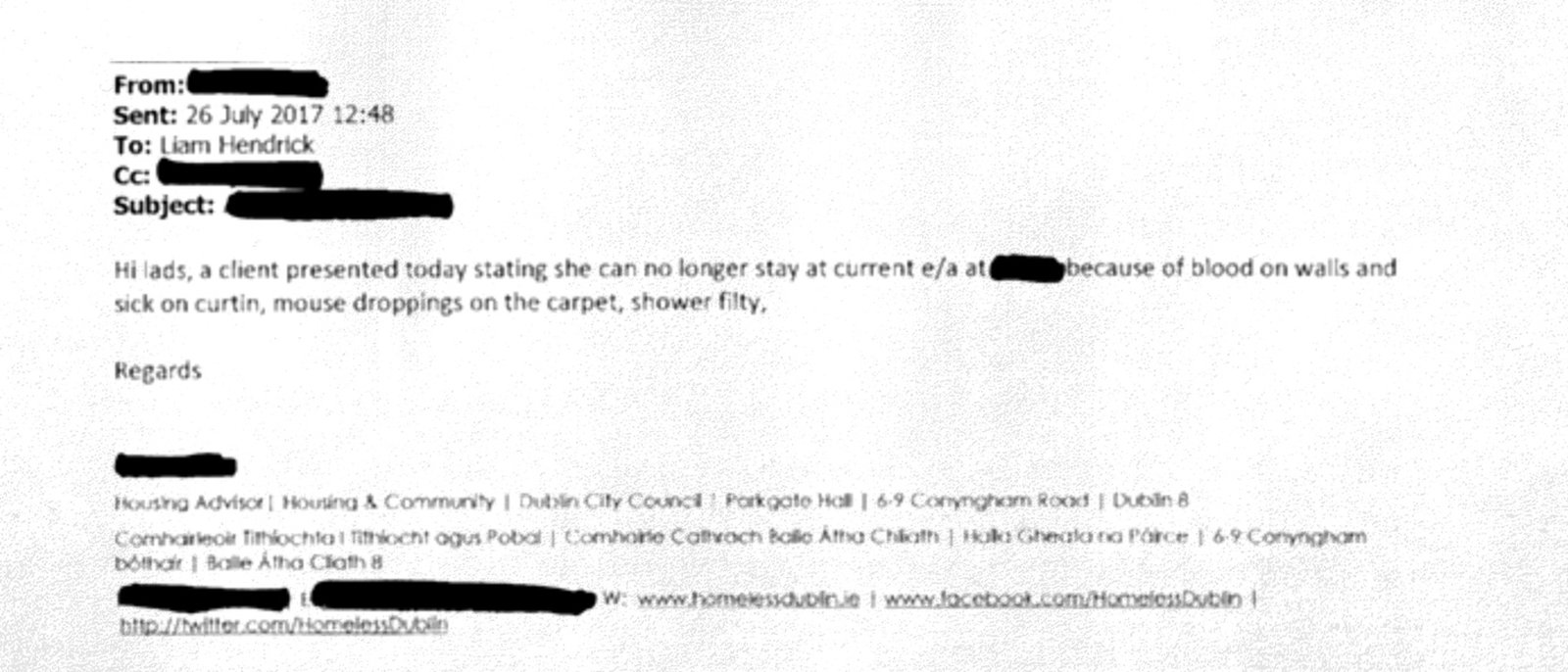 Damp, mould, flooding, and leaks also feature. As do reports of broken heating, toilets, showers, and washing machines. In one place, steel bars were put on the windows, in another, windows were nailed shut, raising fire safety concerns.
Children in Emergency Accommodation
Others highlight the difficulties of living with children in hotel accommodation.
There were reports of hotel entertainment keeping children awake at night, glasses being left in the area where children play, and a family missing breakfast because the opening time of a restaurant in a hotel was moved to a later time.
One mother reports that her son's neck got caught in the chord of a hairdryer in the room and that this was dealt with by staff pulling it from the wall, leaving live electrical wires behind.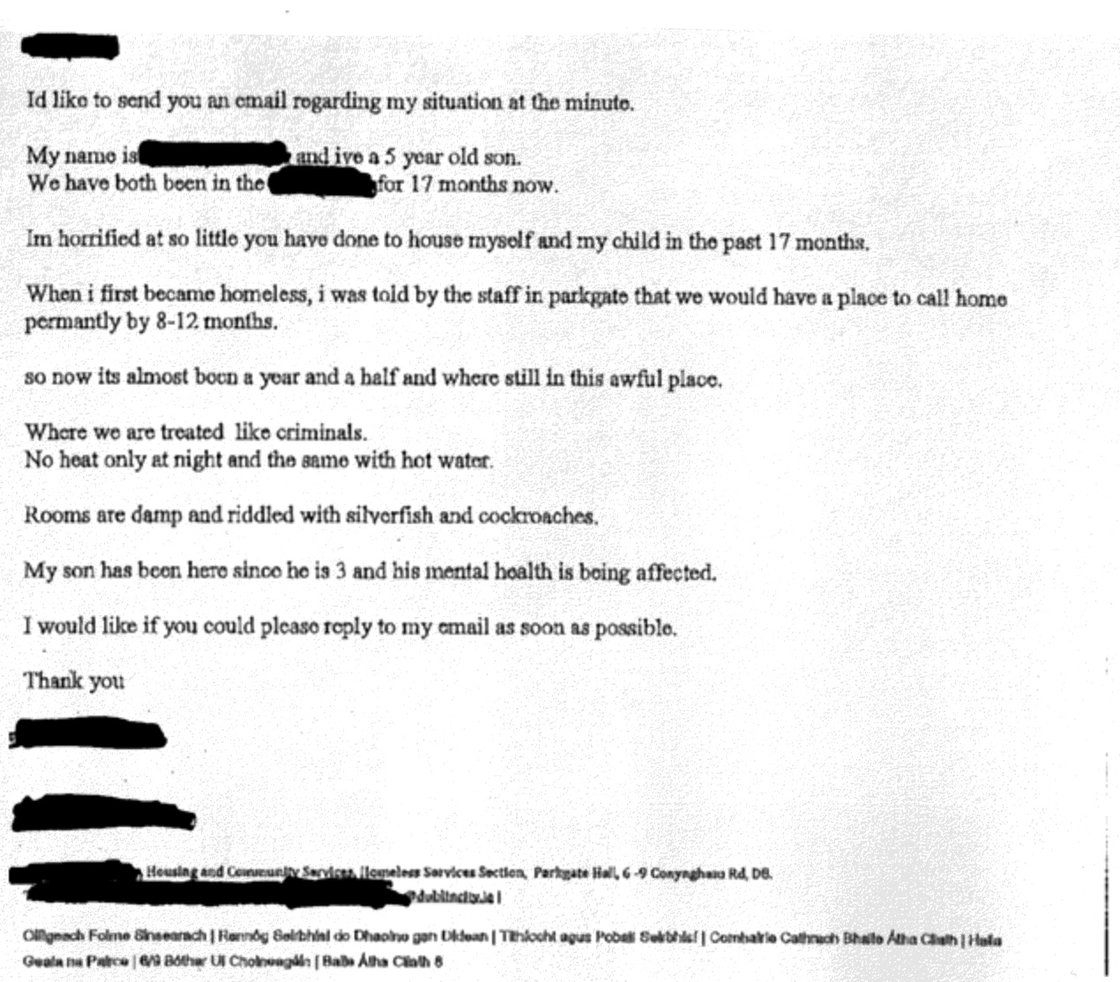 In some of the emails, residents explain the impact the conditions are having on them. One mother who lived with her five-year-old in emergency accommodation for 17 months said they were treated like criminals and that it was having an impact on her son's mental health. Another says living with cockroaches, sewage smells, damp, and loose electrical wiring has caused her to become anxious and depressed.
Health professionals also write to the Dublin Region Homeless Executive to express their concerns about conditions.
In another email, a public health nurse highlights the case of a mother and two children living with mould when the youngest child has spent time in intensive care with a respiratory condition.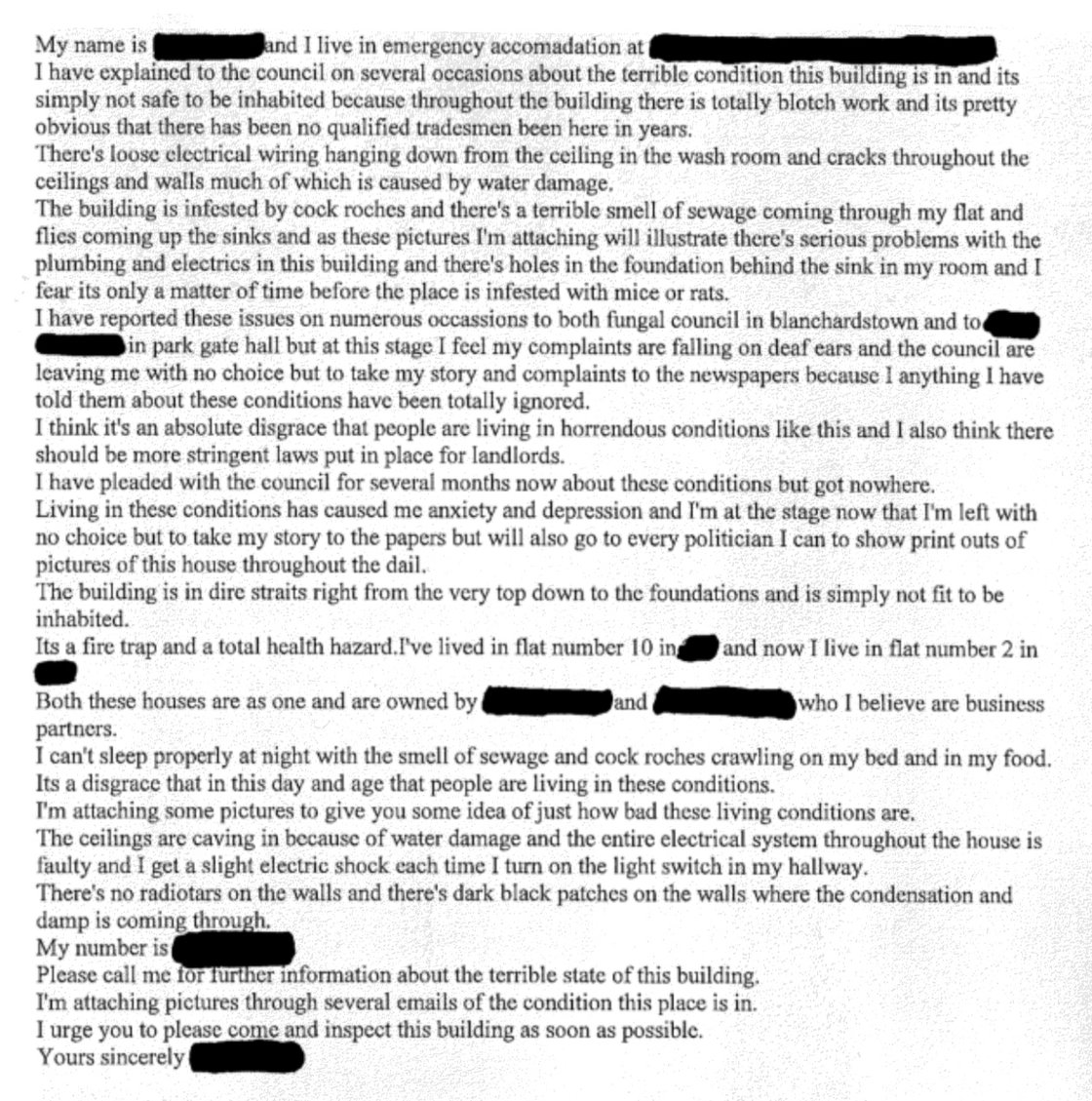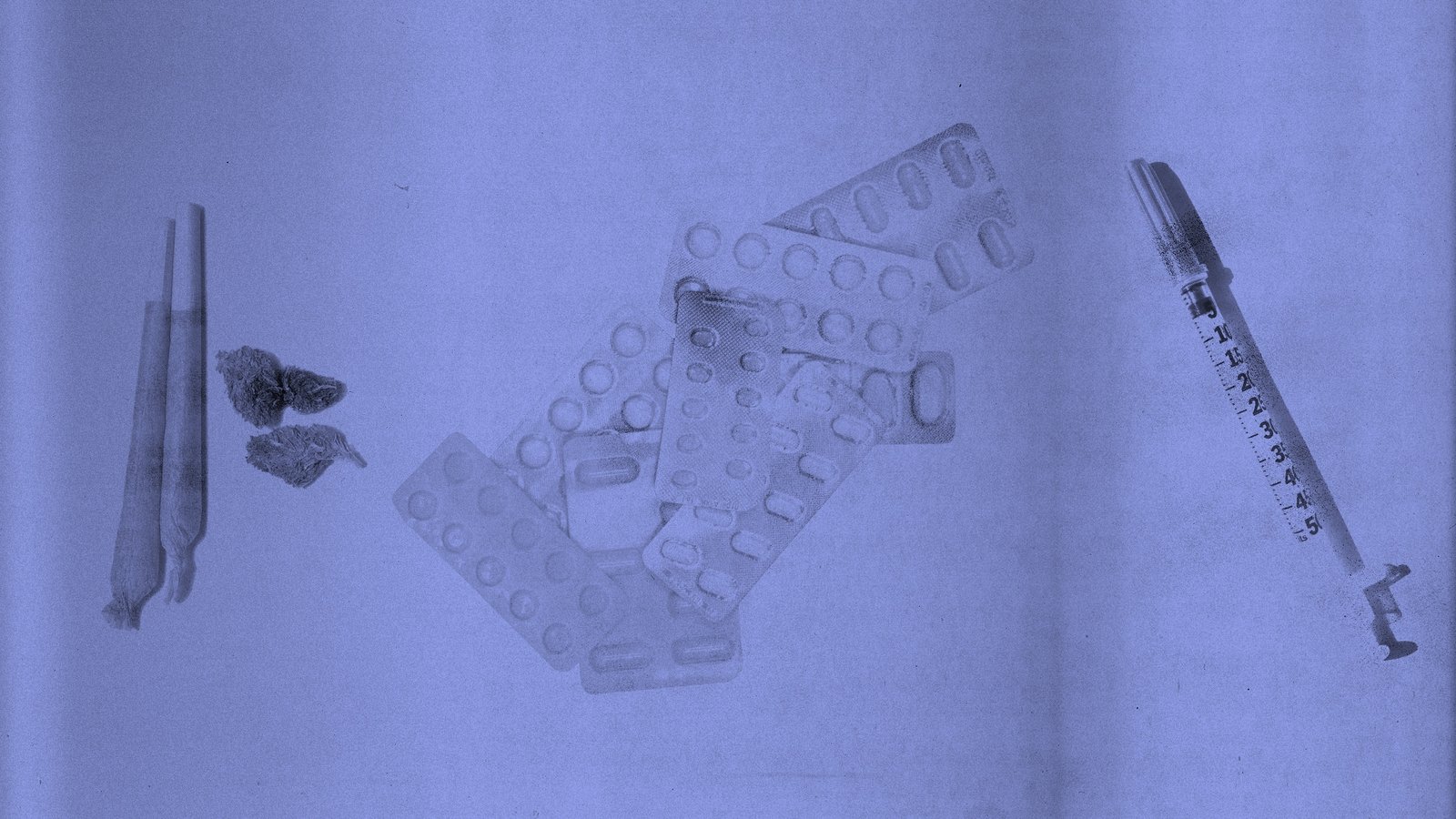 Drug Abuse
Drug use is another issue raised on numerous occasions by both users and managers of emergency accommodation. One resident says she is being exposed to heroin and marijuana smoke in her accommodation and that she and others were experiencing headaches as a result.
Another claims that "crack" is being smoked and the smell is coming through vents into rooms where children are staying.
Another email reports an "enormous" and "chaotic" level of drug use in a hotel, with mothers taking tablets, cocaine, and smoking cannabis in their rooms in the presence of children. It says the hotel is not acting on complaints.
Drug dealing in emergency accommodation is also mentioned in a number of complaints.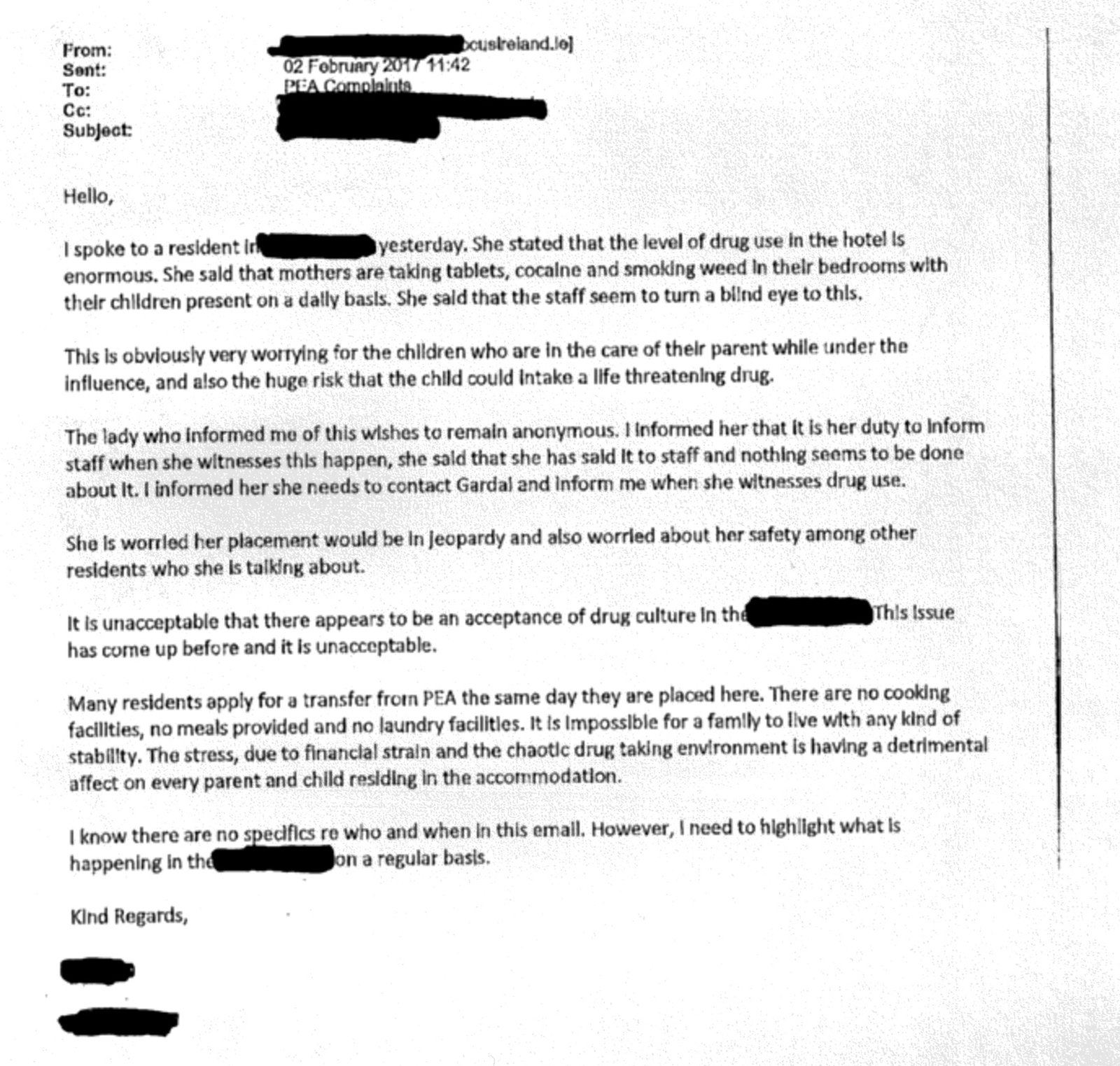 Child Protection
One of the most regular issues to be raised by accommodation providers is that of child protection.
There are several complaints about children being left unsupervised in bedrooms for long periods of time while parents go to other rooms or areas of the accommodation, sometimes to socialise with other adults.
In one case staff report having to look after a baby because the mother was intoxicated.
Another expresses concern about the welfare of a one-year-old who was found crawling out of a room close to stairs on more than one occasion.
A project worker raises several concerns about child protection issues in a Family Hub including an incident of a child whose mother rarely stays there and who is fed by other residents and given money by staff members.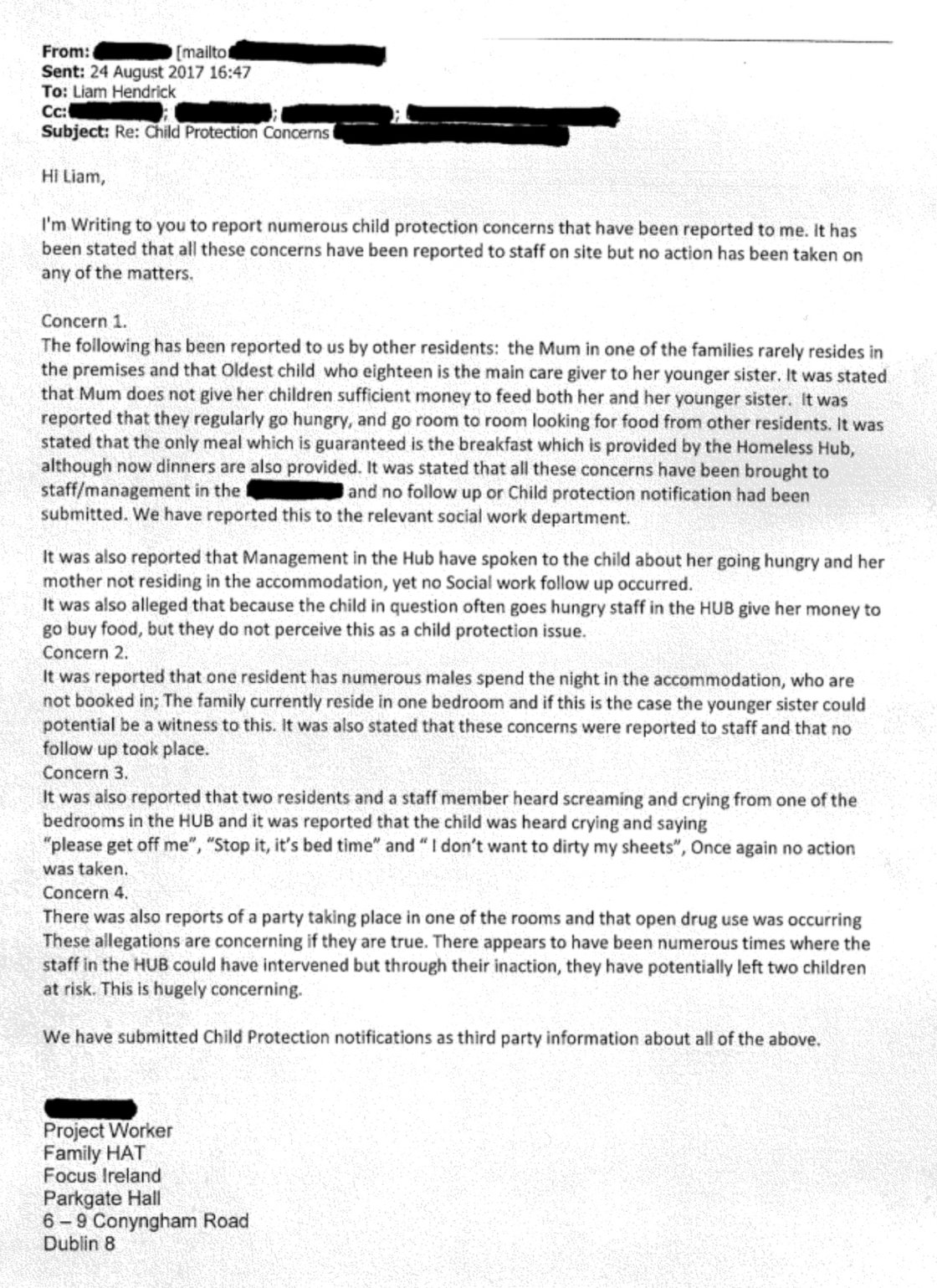 Another email alerts the DRHE to the fact that a nine-year-old has been left alone in a hotel and is being fed and looked after by other residents and staff, and hasn't been attending school.

The author asks the executive how to deal with the situation and how to involve child services.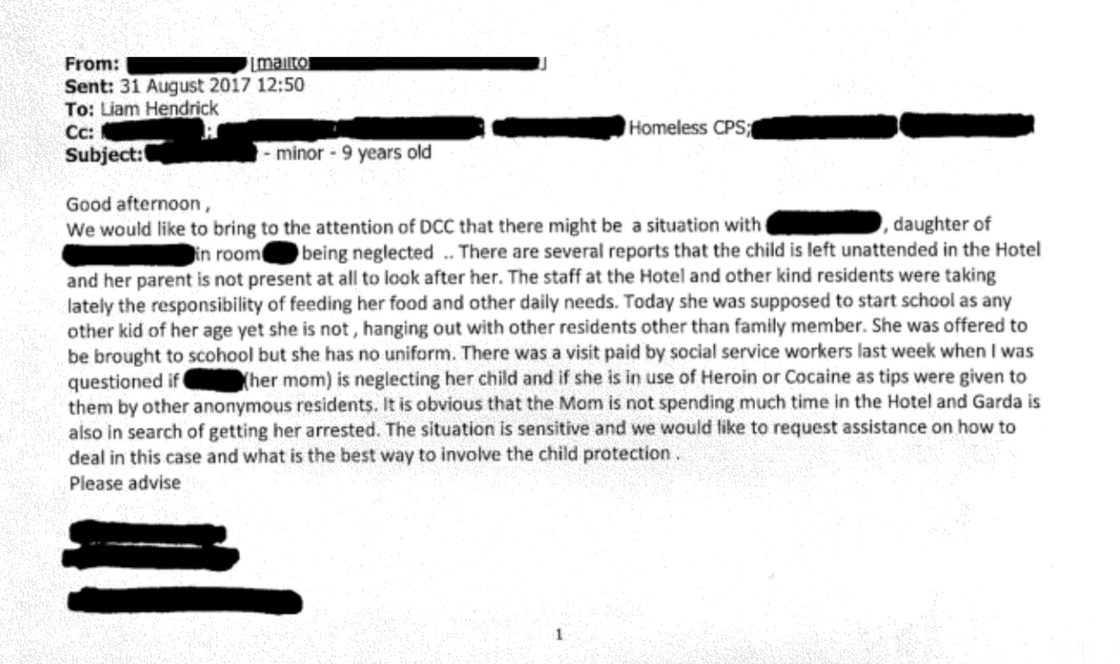 Mental Health
Mental health is another issue being dealt with by homeless people and emergency accommodation providers. Homeless people outline their anxiety, depression, and in one case suicidal feelings, about their situation. 
Others outline how the lack of privacy and their treatment by accommodation managers is exacerbating mental health issues they're already experiencing.
Several accommodation managers made contact with the DHRE noting incidents of concern and asking for guidance in how to deal with these episodes.
Medical professionals also contacted the DRHE about the mental health of some people in emergency accommodation. A number of cases of overdoses and attempted suicides were also reported by accommodation managers to the executive.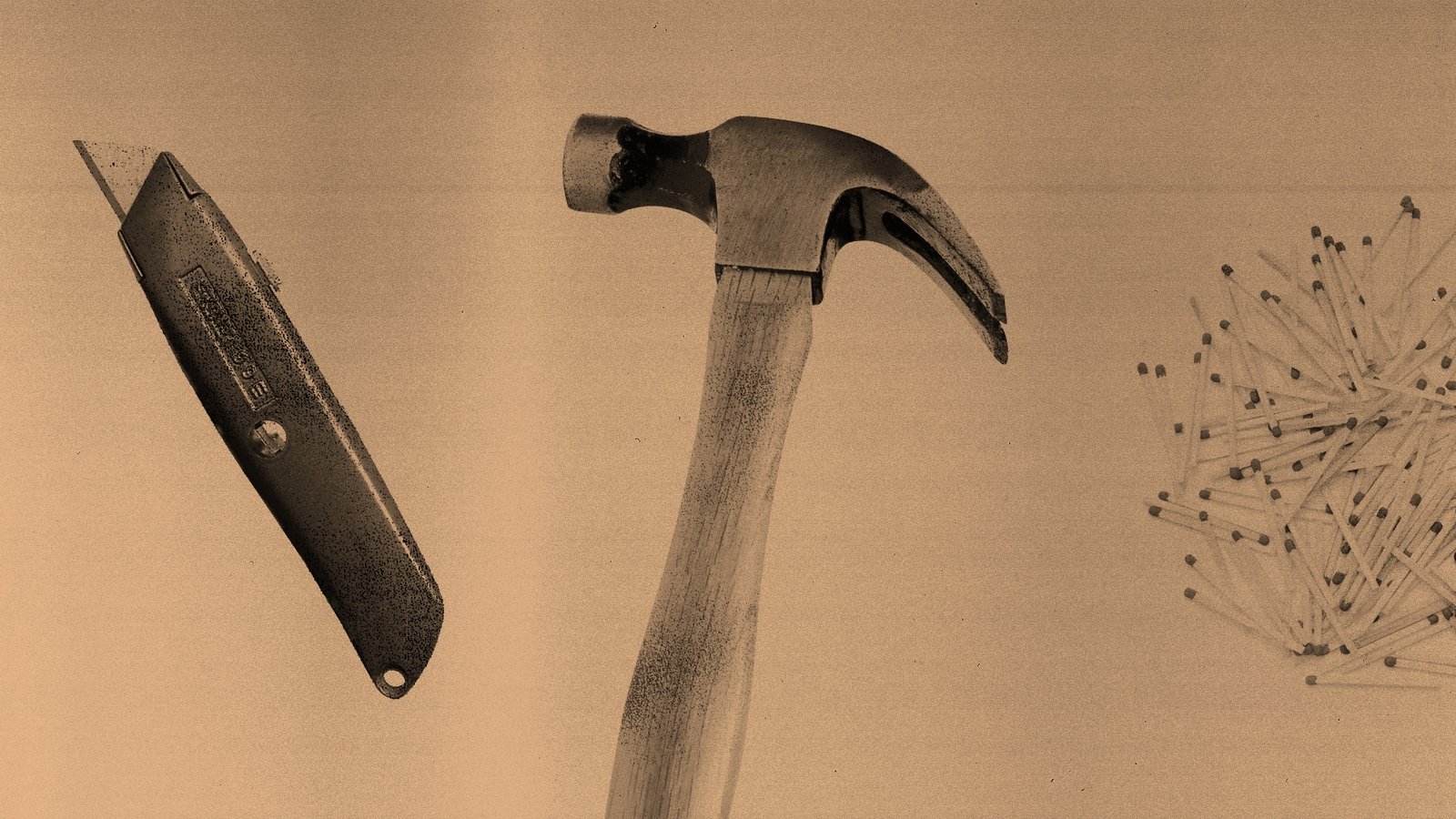 Violence
Violent and criminal behaviour is also a regular feature of the complaints. Accommodation managers report that residents have been found breaking into cars and local shops.
There are reports of accommodation staff being bitten, punched in the stomach, threatened with boiling water, told their cars would be smashed, that the place they worked in burned down and subjected to racial abuse.
Holes were kicked in the walls of some rooms and hallways. It was also reported that residents had bones broken, were cut in the face with Stanley blades, threatened with knives, u-locks and hammers, and spat at during disputes with each other.
At least two residents claimed they feared for their lives after threats from another resident.
A security guard left one residence because of alleged bullying by a resident. In this case the manager asks that resident be moved on but not be informed of the complaints because staff fear of how he might respond.
The Garda Armed Response Unit came to deal with an incident in one place. There are two reports of people entering accommodations with suspected firearms.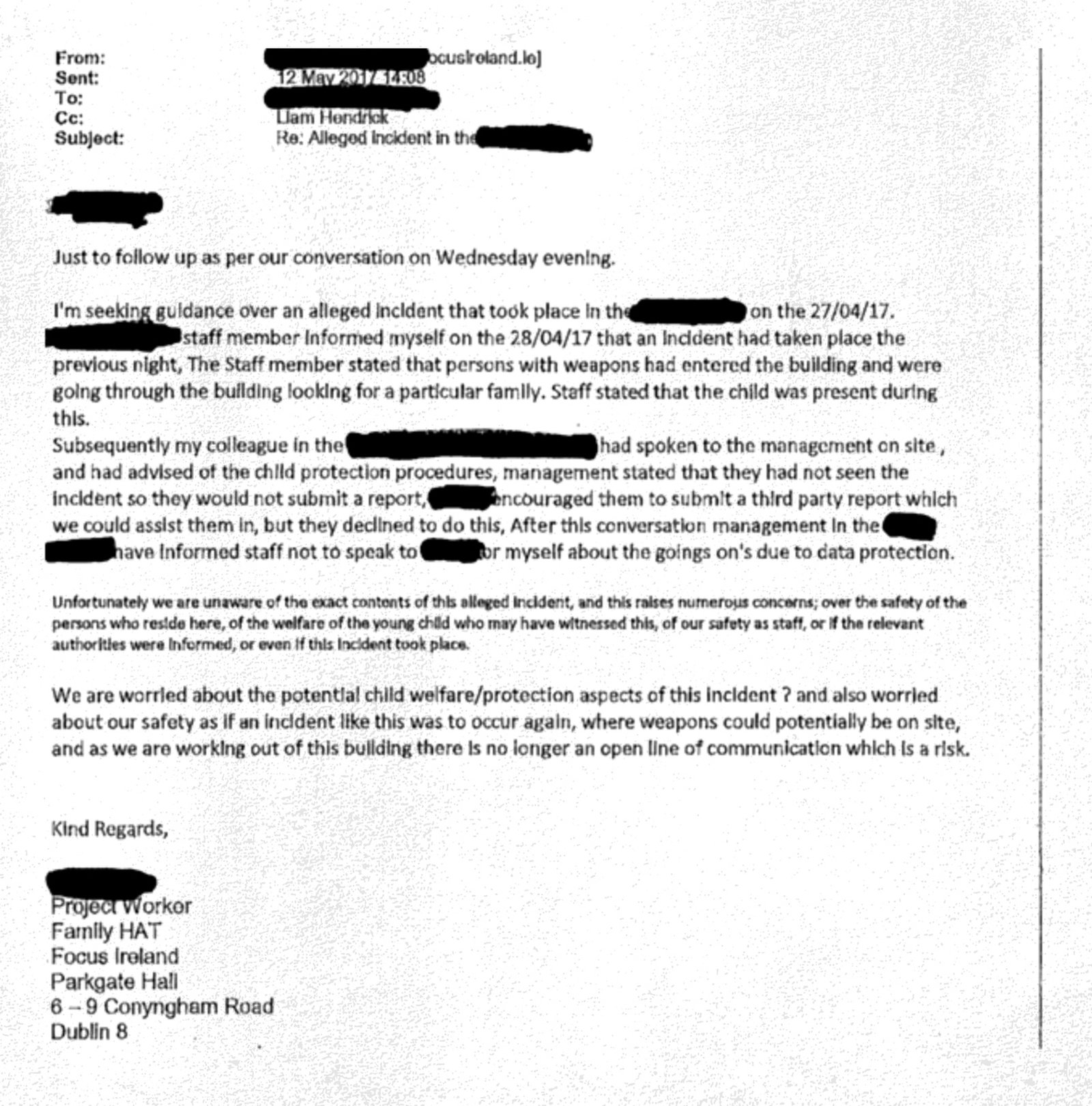 Tensions
A number of complaints also relate to tensions and difficult relationships between residents and accommodation managers.
Residents report feeling bullied and undermined by the rules and the manner in which they are imposed in some emergency accommodation.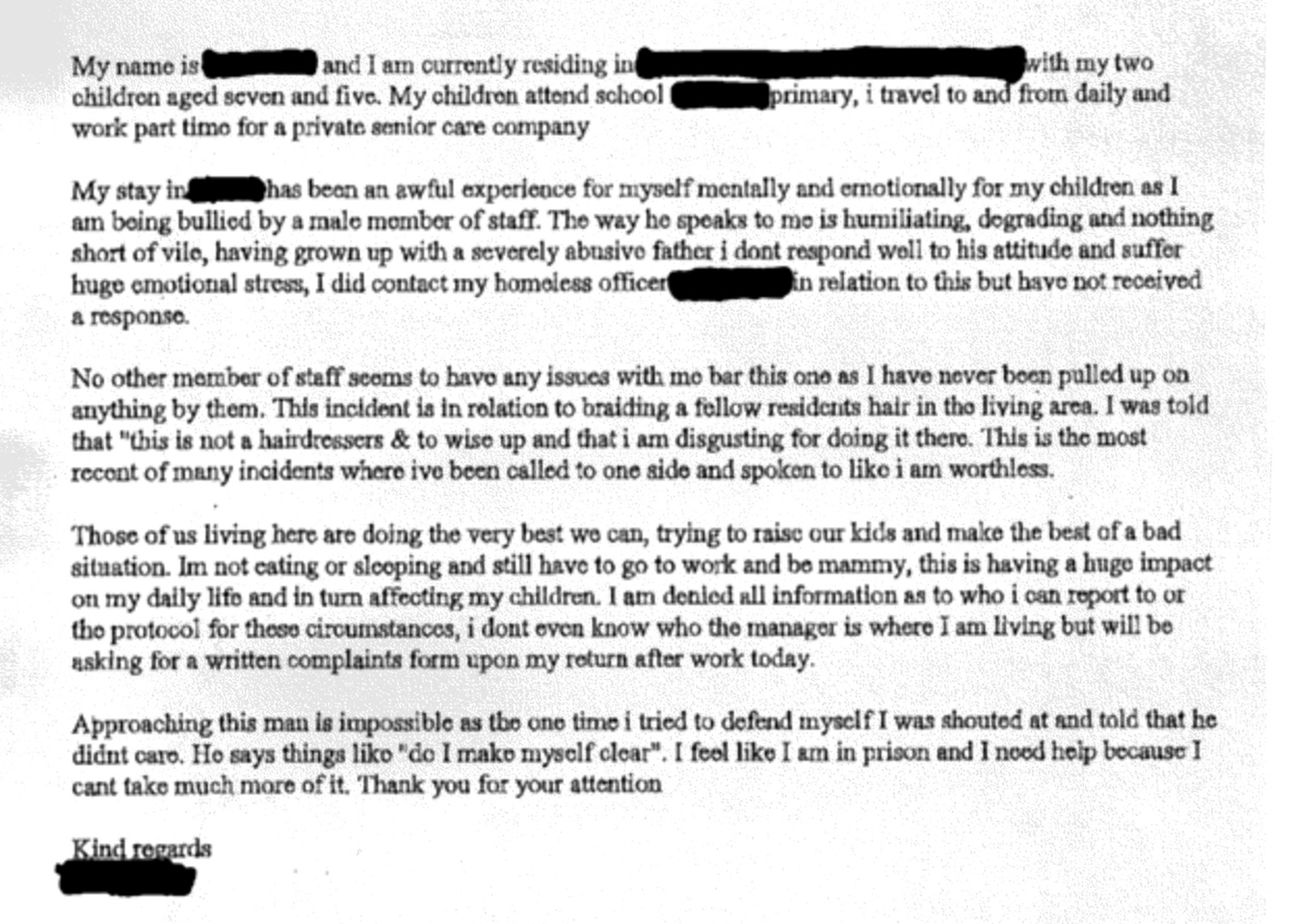 While accommodation managers also appeal for advice and help in dealing with these difficult situations.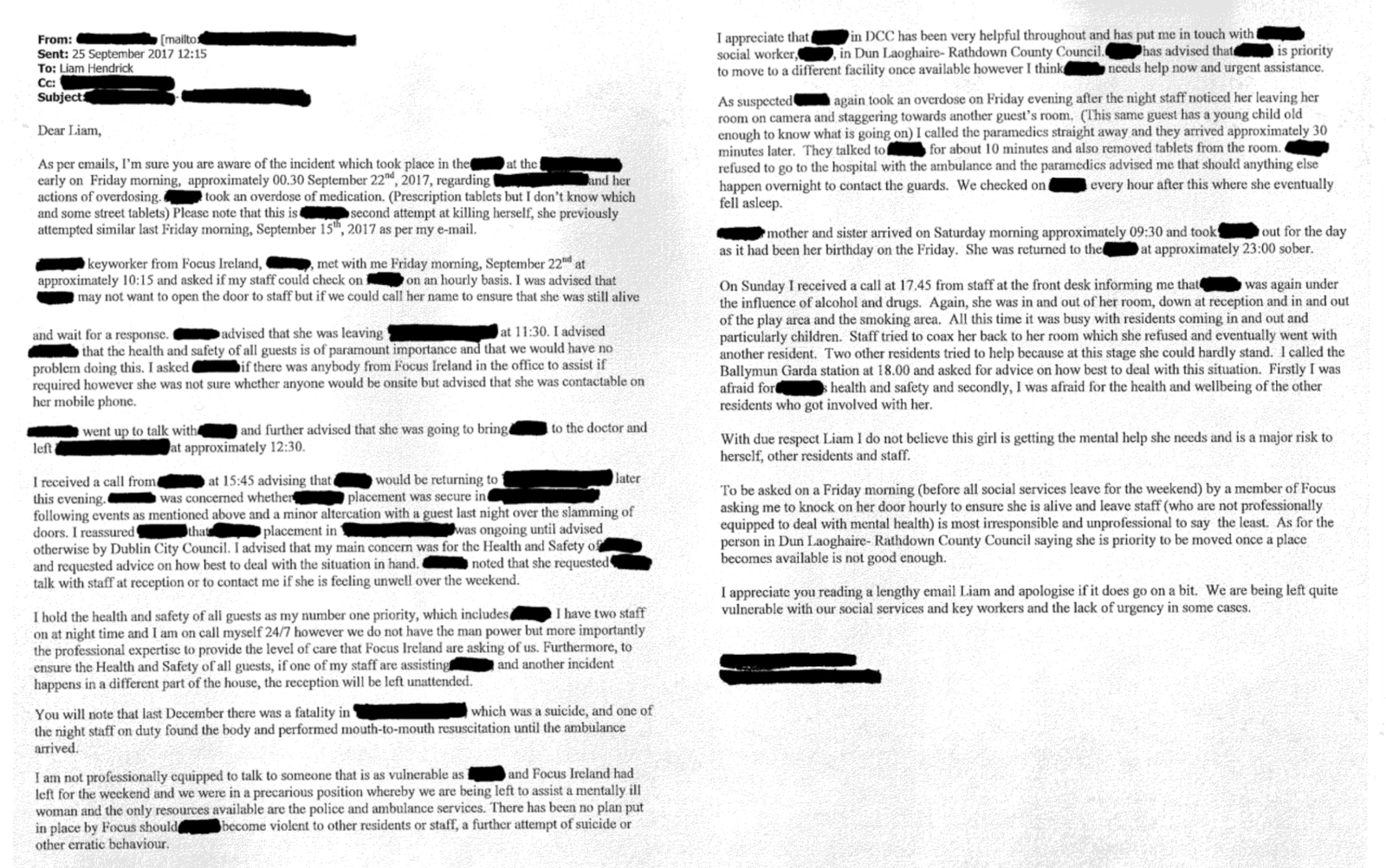 Empty Rooms
A number of complaints also detail how rooms are occupied with belongings but that people are not staying in the accommodation every night. In some of these cases the accommodation place is cancelled.
Unregistered guests staying is also a regular issue to be raised.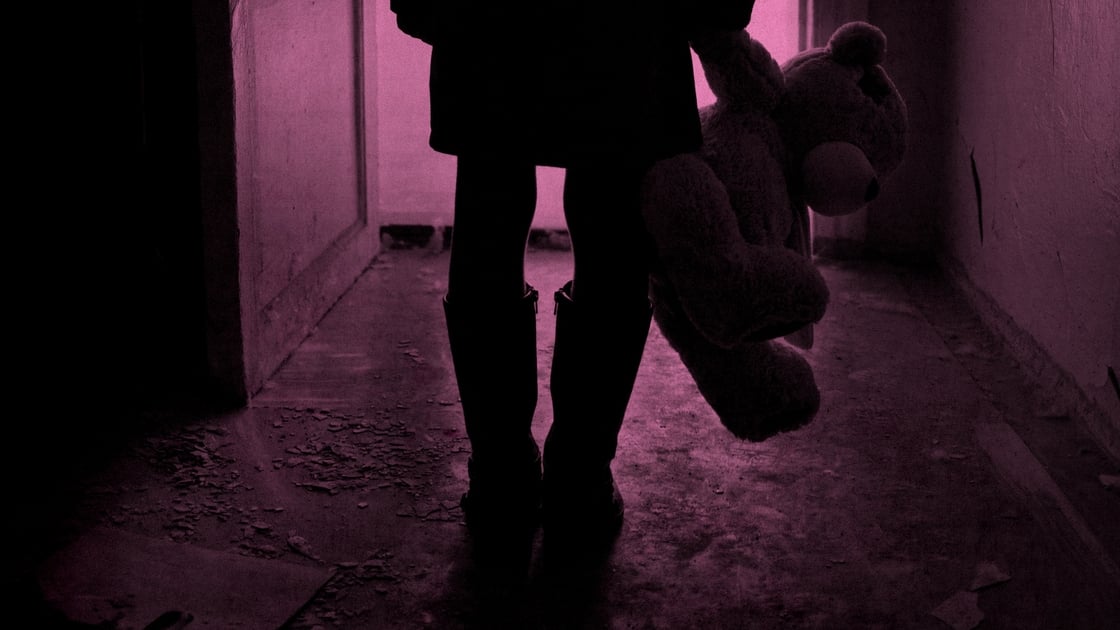 Response
Focus Ireland said the number of social issues arising among those living in emergency accommodation is worrying.
Director of Advocacy, Communications and Research Mike Allen said the complaints show it is inappropriate to have a large number of families in an institutional environment.
He said although a small number of families in emergency accommodation account for these problems, that staff in hotels and B&Bs in particular do not have the appropriate training or experience to deal with this, as their background is tourism and hospitality.
He said that training is being provided to accommodation managers and that is welcome.
He added that the DRHE has put a lot of effort into improving standards and conditions of emergency accommodation with the assistance of Focus Ireland and other non-Governmental organisations that work with homeless people but that the answer to the problems is to provide families with an exit from homelessness and sustainable housing.   
The Dublin Region Homeless Executive says the complaints it receives provide it with an opportunity to learn and each one is investigated.
The Deputy Director of the DRHE, Darach O'Connor, said the correspondence helps highlight issues but that over the past year standards have increased due to the introduction of Family Hubs and new single adult accommodation being made available.
He said the executive is now in a position to be more selective about where it sends its clients.
And he says they are working closely with providers and their partners in the NGO sector to provide customised training for accommodation staff to deal with issues that arise such as child protection.
He said incidents of violent and criminal behaviour occur in the minority of placements and that they deal with it seriously nd promptly with the assistance of the Gardai.
He said the complaints must be considered in the context that there are 1,000 families and 2,000 single adults in emergency accommodation and that the DRHE is seeking to eliminate complaints altogether and improve standards across the sector.  
The Irish Hotels Federation said it's aware of issues that some hotels have had with guests in emergency accommodation but that it was a matter for individual hotels.
But it said it highlights how unsuitable hotels are for long-term accommodation.
IHF Statement:
"There are times of the year when hotels have surplus accommodation, which they can make available to agencies to provide temporary accommodation for families affected by the housing shortage. 
"All arrangements are handled directly between the local authorities and the individual hotels concerned. The IHF is aware that there have been issues concerning some guests in emergency accommodation. 
"Guest relations is a matter for individual hotels and in such instances the hotels would have taken the necessary steps to resolve the matter or bring to the notice of the appropriate authorities.
"What these issues do, however, is highlight how unsuitable hotels are for long-term accommodation. Hotels were not planned, built, fitted out or marketed on the basis of providing long-term accommodation for families. 
"This is a very difficult situation for those affected and requires a long-term solution as the use of hotel accommodation can only be seen as a short-term and temporary measure."