Minister for Education Richard Bruton has indicated that the Department of Education may not favour proposals put forward by school and teacher organisations aimed at addressing the current shortage of substitute teachers.
School management bodies, school principals, and teacher unions have all requested that supply panels, through which teachers would receive a salary and be allocated to substitute roles in a region as required, be introduced.
However, speaking at a conference of the Irish Primary Principals' Network, the minister said the Department of Education's previous evaluation of supply panels had found them to be both expensive and ineffective.
He said that a steering group he was going to establish may look at this proposal, among others.
Mr Burton also told primary school principals the department will be writing to schools to remind them that career breaks should only be granted if the schools can fill the vacancy that will be created.
There are currently 2,264 teachers on career breaks of up to five years. That is around 3% of total teacher numbers.
They would include teachers who have decided to work abroad in places such as Dubai for a number of years.
This is an increasingly popular option with young teachers who may be saving for deposits to buy homes.
In his speech, the minister said the career break scheme was to facilitate personal development, voluntary service overseas, childcare or self-employment - not to enable a teacher to take up another full time job.
The minister said that while he knows schools take their responsibility in this area seriously, the granting of a career break meant a permanent position in a school was replaced with a temporary one, which was less attractive to teacher applicants.
Mr Bruton also said his department would be lifting the restriction that allows teachers on a career break to work as a substitute teacher for just the equivalent of half of the school year.
School principals have welcomed this. They, along with teacher unions and school management bodies, had asked for the restriction to be eased.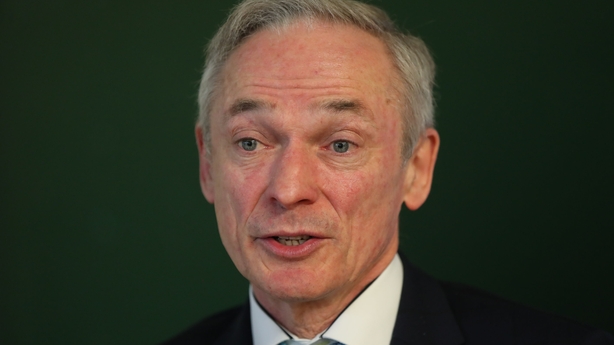 ---
Govt to announce measures to deal with shortage of teachers
Calls for strategy to tackle substitute teacher shortage
---
The General Secretary of the Irish National Teachers' Organisation Sheila Nunan said overall she is "disappointed at the approach the Minister for Education has taken".
Also speaking on RTÉ's Morning Ireland, Ms Nunan said Mr Bruton's plan "to a certain extent it is divisive" and distracts from what needs to be the solution.
She said it will not solve short-term substitution, where it is a problem to find cover for teachers at short notice.
Ms Nunan defended the career break and said teachers are committed to their jobs.
"I think it is a system that has worked well. I think a career break has been a very positive aspect of teachers' lives," she said.
"Young teachers do like to take career breaks, people further on in their career like to take career breaks.
"But they come back and retention is really important for a Minister for Education."
"It is a 40-year career and a fairly intense career. And the opportunity to go off and work is a really positive thing for the system."
The Teachers' Union of Ireland has said any attempt to restrict career breaks will make the retention of teachers at second level even more difficult.
The union's president, Joanne Irwin, said the minister's comments were yet another ill-advised sticking plaster approach that ignored the urgent need to remedy a much more serious problem.
She also accused the Government of a flagrant contradiction in policy, with the Taoiseach suggesting people work abroad in order to secure a deposit for a home, while the Minister for Education was effectively seeking to restrict young graduates from taking career breaks.
Ms Irwin said teachers took career breaks for a variety of reasons, many of which ultimately benefitted the education system.
Ms Irwin said restrictions on career breaks seriously risked exacerbating the crisis both in the recruitment and retention of teachers.
Minister aware of Clonkeen situation
Mr Bruton also commented on his role in relation to attempts by the Edmund Rice Schools' Trust to remove the Board of Management of a Dublin school in a row over the sale of land.
The Board of Management of Clonkeen College is taking legal action in an attempt to prevent the Christian Brothers from selling playing fields attached to the school.
Any dissolution of a school board must be approved by the Minister for Education.
Asked about this, Mr Bruton said he had a statutory role to evaluate whether the case was justified.
He said he needed to hear from all sides and would be taking the time and space to weigh this properly and make an informed decision.