The winners of the €38.9m EuroMillions jackpot have made contact with the National Lottery.
A spokesperson for the National Lottery said that the winning ticket has been verified and arrangements are being made for the winners to collect the jackpot later this week.
Earlier, it was confirmed that the winning ticket was sold in the Dublin region.
The winning quick pick ticket was sold on Friday 29 December.
The winning numbers are: 04, 08, 22, 23, 48 and Lucky Stars: 01, 12.
The jackpot is being collated in the nine European countries that play the EuroMillions and the lottery expects the funds to be ready by Thursday or Friday.
It was the third Irish EuroMillions jackpot win during 2017 and the 12th overall.
The 12 Irish Euromillions winners: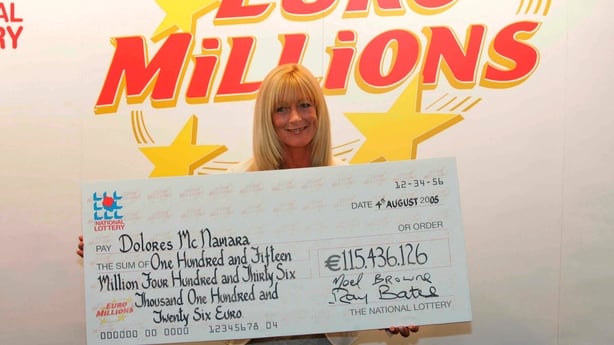 July 2005: Dolores McNamara from Limerick was Ireland's first and biggest EuroMillions winner scooping over €115m.
July 2008: A ticket bought in Carrick-on-Suir in Co Tipperary won a player €15m.
June 2009: A family syndicate shared the jackpot with a British winner, taking home over €29.4m.
June 2013: A winning ticket sold in Beaumont, Dublin, shared a jackpot worth over €93m.
September 2013: A young man from the southeast shared a jackpot of over €25m with a player in Spain, taking home over €12.8m.
April 2014: A jackpot prize worth €15m was claimed on a ticket sold in Castlebar, Co Mayo.
September 2014: An €86.7m jackpot was won by a syndicate. The ticket was sold in Centra, Ballybrack, Co Dublin.
January 2016: A syndicate of friends won over €66m, splitting the jackpot of €132m. The ticket was sold in Eason's store, Fairgreen Shopping Centre, Carlow.
July 2016: 22 colleagues from Dublin Bus won €23.8m. The ticket was sold in O'Hanlon's in Portarlington.
January 2017: A Dublin work syndicate claimed the €88.5m jackpot. The winning ticket was sold at the Applegreen Service Station on the M1 Northbound in Lusk, Co Dublin.
July 2017: A west of Ireland syndicate scooped almost €29m.
December 2017: A €38.9m jackpot ticket sold in the Dublin region.