Dublin Fire Brigade has urged people to work with emergency services to ensure a safe Halloween night.
Between 4pm and 8pm this evening, the fire brigade dealt with 159 fire call-outs and 72 ambulance call-outs.
A spokesperson said the figure was comparable to the same period last year.
Community leaders repeated warnings of the dangers associated with bonfires and fireworks.
Earlier, Minister for Justice Charlie Flanagan urged people not to use fireworks themselves but instead to attend organised events run by professional operators, who are putting on approved displays in safe locations.
Mr Flanagan issued a reminder that fines of up to €10,000 or five years imprisonment can be imposed on people convicted of breaking the law by dealing with, supplying or being in possession of illegal fireworks.
Fire officers advised people to stay well back from bonfires and to be aware that some Hallowe'en costumes can easily catch fire.
Our live map is now up & running. All fires will be assessed. #Halloween

https://t.co/MVbPn8on9R pic.twitter.com/x3QyUIAZMR

— Dublin Fire Brigade (@DubFireBrigade) October 31, 2017
Dublin Fire Brigade are providing live updates of which fires it is dealing with online.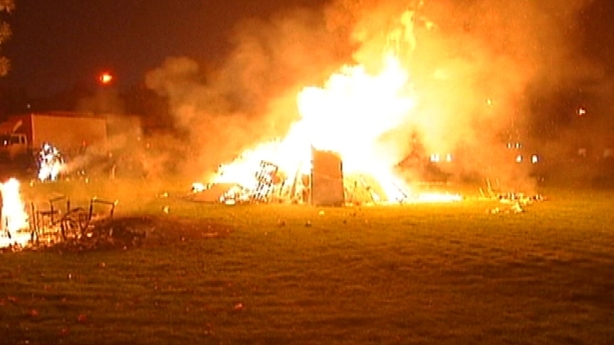 The AA has urged drivers to slow down near bonfires as visibility may be reduced because of smoke.
There was also a warning from the Irish Society for the Prevention of Cruelty to Animals to pet owners to keep their animals safe this Halloween
With many finding the noise distressing, the advice is to keep pets indoors where possible.