Sinn Féin has called for an Irish unity referendum within five years.
The republican party said ending partition of the island had gained a new urgency following the Brexit vote.
The party added Northern Ireland should enjoy designated special status within the European Union after the UK exit.
The remaining 27 member states have declared that Northern Ireland can resume membership if Ireland is united.
Sinn Féin leader in Northern Ireland Michelle O'Neill predicted another "groundbreaking" poll on general election day on 8 June.
The manifesto said: "Sinn Féin believes there should be a referendum vote on Irish unity within the next five years.
"The imposition of Brexit and cuts from the Tories demonstrates the unjust and undemocratic nature of partition and the union.
"Ending partition has now taken on a new dynamic following the Brexit referendum."
The party said the EU had shown itself flexible in handling different forms of integration and relationships for member and non-member states.
It added: "Designated special status would preserve access to the single market and customs union, ensure that we retain the Common Travel Area and maintain access to all EU funding streams."
The electoral blueprint promoted a message of anti-austerity, integrity and respect.
It supported front line health service staff, a secure education system, an all-Ireland charter for fundamental rights and help for farmers.
Northern Ireland voted to remain in the EU by a majority of 56% to 44%, although large swathes of unionist territory opted to leave.
Ms O'Neill said Northern Ireland was being treated as collateral damage by the Tories and dubbed it the most important election of a lifetime.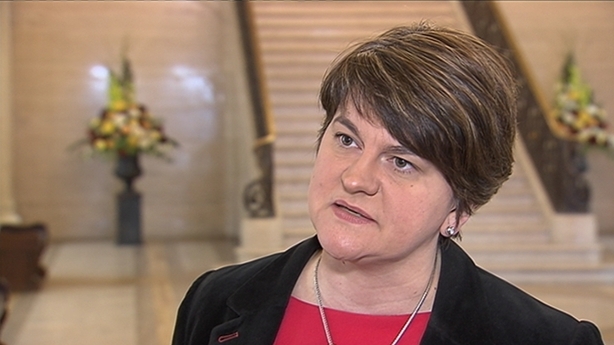 Meanwhile Democratic Unionist Party leader Arlene Foster has said Northern Ireland was "very close" to reaching a Brexit agreement before the pausing of talks last month.
Mrs Foster said that the Stormont parties had almost reached a deal, and expressed her hopes that they would "pick up where we left off" after the General Election.
The former first minister of Northern Ireland told a meeting of the pro-Brexit Bruges Group in central London: "While the general election is likely to give the Prime Minister a stronger hand to push for the kind of Brexit that she wishes to see delivered, in Northern Ireland it has run the risk of polarising an opinion that was coalescing around an agreed way forward.
"At home we may not have agreed on the leave or remain issue, but we were very close to agreeing on the kind of EU exit that we wanted to see.
"And on this basis, I believe that there is room and a reason for optimism."
Mrs Foster added: "I hope that once the election dust settles, yet again we can once again pick up where we left off."