The scale of the housing crisis has been outlined in a new report taken from Census 2016.
The latest figures from the Central Statistics Office reveal a chronic shortage of supply, evidence of increased overcrowding in urban areas, a decline in the home ownership rate and a drop in the number of vacant properties.
They also show that renting has overtaken home ownership to become the predominant form of housing tenure in urban towns and cities.
CSO census statistics point to massive housing supply shortage pic.twitter.com/h13SrqSEj9

— RTÉ Business (@RTEbusiness) April 20, 2017
The country's housing stock grew by just 8,800 (0.4%) between 2011 and 2016, compared to a rise of 225,232 in the preceding five years.
The population increased by 3.8% during the same period, which was the slowest increase for 20 years.
The new figures on housing also show home ownership rate in Ireland, which fell by 2.1% to 67.6%, is at its lowest rate since 1971.
The figures also show that the number of persons per household increased for the first time in 50 years with a 28% increase in the number of households with more persons than rooms.
This is a key indicator of crowding, bringing to 10% the proportion of the population living in such circumstances.
The statistics, which are derived from 2016 Census data, indicate a sharp reduction in the number of vacant dwellings across the country.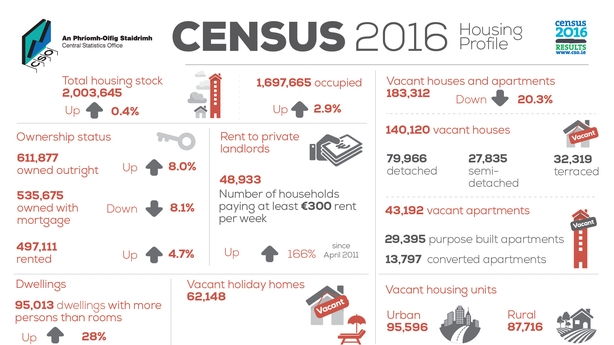 Between 2011 and 2016 there was a 15% drop in the number of such properties to 245,460.
However, three towns - Blacklion in Cavan, Keshcarrigan in Leitrim, and Kilgarvan in Kerry - all showed vacancy rates of at least 43%.
While among larger towns, with a population greater than 10,000, Letterkenny (14.9%), Longford (14.6 %), and Ballina (14.3%) ranked highest in terms of vacancy.
The CSO figures also indicate renting is more common than owning before the age of 35.
This age has steadily crept up over the past quarter of a century, with an equivalent age of 26 in 1991.
Average weekly rent paid to landlords also increased between 2011 and 2016 - going from €171.19 to €199.92.
The highest growth in rent was in Dublin city, which increased by almost 30% while rises in excess of 20% were also recorded in Dún Laoghaire-Rathdown, Fingal, South Dublin and Kildare.
The figures also show that apartments are now the main dwelling type in Dublin city replacing terraced houses for the first time.
The Chief Executive of the Housing Agency has said the agency has bought 400 vacant properties from the banks this year.
Speaking on RTÉ's Drivetime John O'Connor, who is head of the Government body set up to work with local authorities and housing bodies in the delivery of housing services, said the agency is identifying vacant properties across the country with a focus on "getting them back into use".
He said there needs to be a supply of more houses, but that housing development is increasing, adding "it will take time".