A garda internal inquiry was told that members of the force had shared confidential evidence gathered as part of the Sophie Toscan du Plantier murder investigation with the media and had assisted journalists to make direct contact with witnesses, RTÉ's This Week has learned.
The allegation was made in 2006 by a local farmer living in west Cork at the time of the initial garda murder investigation.
The man alleged that gardaí had not only given confidential witness statements to journalists but they had also accompanied members of the Irish and British press as they drove around west Cork speaking to witnesses.
The previously unseen evidence was given by a Cork farmer, Steven Farthing, to an internal inquiry led by then-assistant garda commissioner Ray McAndrew. The internal inquiry was launched after a key witness claimed she felt under pressure to implicate journalist Ian Bailey.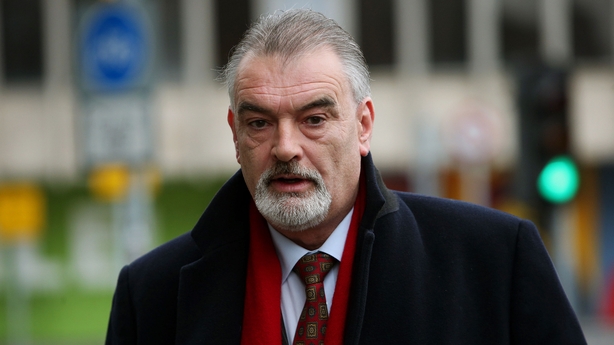 The McAndrew Report, which arose from that internal inquiry, has never been published.
Mr Farthing's original evidence to the garda murder probe mostly related to the movement of vehicles around the area at the time of Ms Toscan du Plantier's killing, in December 1996, and also to dealings he had with Mr Bailey, who he said he did not know particularly well.
He was later interviewed as part of the internal McAndrew inquiry.
In his statement to the internal probe, which has been seen by RTÉ's This Week, Mr Farthing said that he was "working at home - when two cars drove into my yard. A third car stayed outside. People from one of the cars approached me and also a man from the car outside the gate".
"That man identified himself as a member of the gardaí. He produced his identification to me and told me his name but I don't remember it. He was not one of the gardaí from Drinagh or Schull. He wasn't any of the gardaí I knew from Bantry or the area around there," his statement claimed.
"The guards told me that the others were from the British and Irish press and he went off to his car. The press people had copies of virtually everything I ever said to the guards and had copies of statements in relation to the investigations into Sophie's murder," Mr Farthing's statement said.
He goes on to say that he demanded to know how and where the journalists had obtained the information. "I challenged them as to how they got the information and I tried to take it from them. The guard came back in and told me to calm down. The press people were travelling in hired cars ... There were two guards. The driver stayed in the car while the other got out and spoke to me. He seemed to know me but I didn't recognise him. I didn't know the driver either. I haven't seen either of those two guards since. I can't describe them at this stage."
Steven Farthing, who still lives in west Cork, has confirmed to RTÉ's This Week that he still stands over that statement, which he made in February 2006. He said that after he gave the statement, he never heard anything further from the gardaí. The garda press office declined to comment.
Last week, a commission of investigation under Mr Justice Nial Fennelly found evidence that gardaí were "prepared to contemplate altering, modifying or suppressing evidence that did not assist them in furthering their belief that Ian Bailey murdered Ms Toscan du Plantier".
The judge found no actual evidence that any statements in the Toscan du Plantier case had been interfered with, but he said there were two instances when gardaí appeared willing to contemplate allowing or encouraging false evidence to be given.
And he also found that some gardaí had made "improper and inappropriate disclosures" about the case, mostly to journalists - raising questions about the close relationship between the media and gardaí in pursuit of Ian Bailey.
Mr Bailey is facing possible extradition to France following a request by a magistrate there to place him on trial in France in relation to Ms Toscan du Plantier's murder, which Mr Bailey has always denied. He is challenging the indictment in the French courts.
A decision is also awaited on an appeal being taken by Mr Bailey, on 17 separate grounds, against his unsuccessful civil action against the State for alleged conspiracy to frame him for the murder of Ms Toscan du Plantier.
Meanwhile, a GSOC probe into the handling of the Sophie Toscan du Plantier murder case is awaited.